Africa is home to an incredible abundance and diversity of life. However, our ability to protect this biodiversity, particularly in the context of global climate change and increasing anthropogenic pressures, hinges on a foundation of knowledge of the current geographical distribution of biodiversity across the African continent. Our knowledge of the distribution of many African mammal species is based on either outdated or unverified information. This compromises our ability to effectively manage and conserve some of Africa's most charismatic biodiversity. To address this information paucity, MammalMAP (the African Mammal Atlas Project) – an initiative of the University of Cape Town (UCT) and the University of Pretoria (UP) in South Africa – aims to generate 21st Century range maps for all African mammal species.Through collaborations with scientists, conservation organizations, wildlife authorities and citizen scientists across Africa, all reliable evidence of current mammal occurrence is consolidated into a single open-access digital database. The database software automatically generates online distribution maps that are instantly visible and searchable. The information within this database is crucial for species and landscape conservation policies and provides an excellent platform for educating the public about the challenges facing Africa's biodiversity. This project involves data sharing and collaboration between MammalMAP and the Map of Life, an online biodiversity integration and visualization infrastructure project headed by the U.S. partners, Prof. Walter Jetz and Prof. Robert Guralnik. The collaboration will also facilitate the integration into the Map of Life database of 15 million records of southern African biodiversity distribution data that are currently curated by UCT.
The information within this database is crucial for species and landscape conservation policies and provides an excellent platform for educating the public about the challenges facing Africa's biodiversity. The work relates to the primary development goals of conserving biodiversity within the context of habitat change and climate change, preventing species extinctions, sustainably managing landscapes, and advancing and disseminating scientific knowledge. In terms of science and technology innovation and education, this research is expected to promote and facilitate interdisciplinary and international collaboration amongst scientists and conservation practitioners, with potential benefits to the advancement of conservation science. Furthermore, both the project input stage (data collection) and output stage (data dissemination) offer interactive, dynamic, and widely applicable education tools suitable for both the formal and informal education sectors. In addition to the informal education of citizen scientists involved in the project, formal training will be provided to project interns in mammal taxonomy, statistical ecology, and conservation education. During the course of the project, through collaboration with teachers, NGOs, and government, this research team aims to repackage MammalMAP data into generic material suitable for lessons and projects for primary, secondary, and tertiary scholars across Africa.
Summary of Recent Activities
The African Mammal Atlas Project has come to an end. The final assessment in terms of project objectives that the PI and his team had proposed to achieve are as follows:

Objective 1. Consolidate mammal distribution data. The PI and his team agree that that this was one of MammalMAP's big successes. The project assembled more than half a million records of mammal distribution from a large number of sources. This incredible resource now sits in a single open-access data. This database is a monumental achievement of the initial project coordinator, and her teams of interns. Each of these records needed to be scrutinized to a greater or lesser extent. In particular, various taxonomic lists had to be merged into a single up to date taxonomy.

Objective 2. Involve and educate citizen scientists. The team was not as successful with this objective as they would have liked to have been. Nonetheless, they managed to average around 4000 submissions of records of distribution to the MammalMAP section of the Animal Demography Unit (ADU) Virtual Museum. They in particular put effort into maintaining and providing leadership to the MammalMAP group on Facebook, which currently has 3189 members. (There is also a far smaller MammalMAP Facebook page, which was initiated experimentally.) One of the weekly highlights in relation to MammalMAP is Mad Mammal Monday. This is an important component of the education thrust of this objective.

Objective 3. Effective data processing. High standards in the identifications of records submitted to MammalMAP have been maintained. 10 ID panel members have been responsible for the identification and confirmation of identification of MammalMAP records in the reporting period.

Objective 4. Improvements to technology. The ADU's information systems team (and especially Nosipho Mali) have developed software such as APIs which enable communication both into and out of the MammalMAP database. The software team in their NST partner was incredible helpful in providing guidance on this. Continuous enhancements have been made to the website.

Objective 5. Ensure relevance and usefulness. All the ADU's taxon databases are continually used by the biodiversity assessment component of Environmental Impact Assessments. The downloadable databases are the best of their kind in the country, and the ADU Virtual Museum is the resource of choice for most EIA consultants.

Objective 6. Integrate with Book of Life. MammalMAP data has been transferred to the Book of Life project of their NST partner. The entire ADU database, consisting of some 20 million records, will shortly be available through GBIF. They have recently installed and successfully tested their IPT server, linked to Global Biodiversity Information Facility (GBIF) through South African Biodiversity Information Facility (SABIF).

One other success of the project is that the team is engaged with the Department of Environmental Affairs helping them to develop systems that generate "flags". If a developer wants to develop a site, the website will flag the concerns that relate to the site. In other words, if a rare or threatened mammal occurs at the site, the flag will tell him the the biodiversity assessment conducted for the EIA must specifically address the issue of this species. The development of this tool really does need to the outcomes of the Mammal Red Listing exercise to be made available.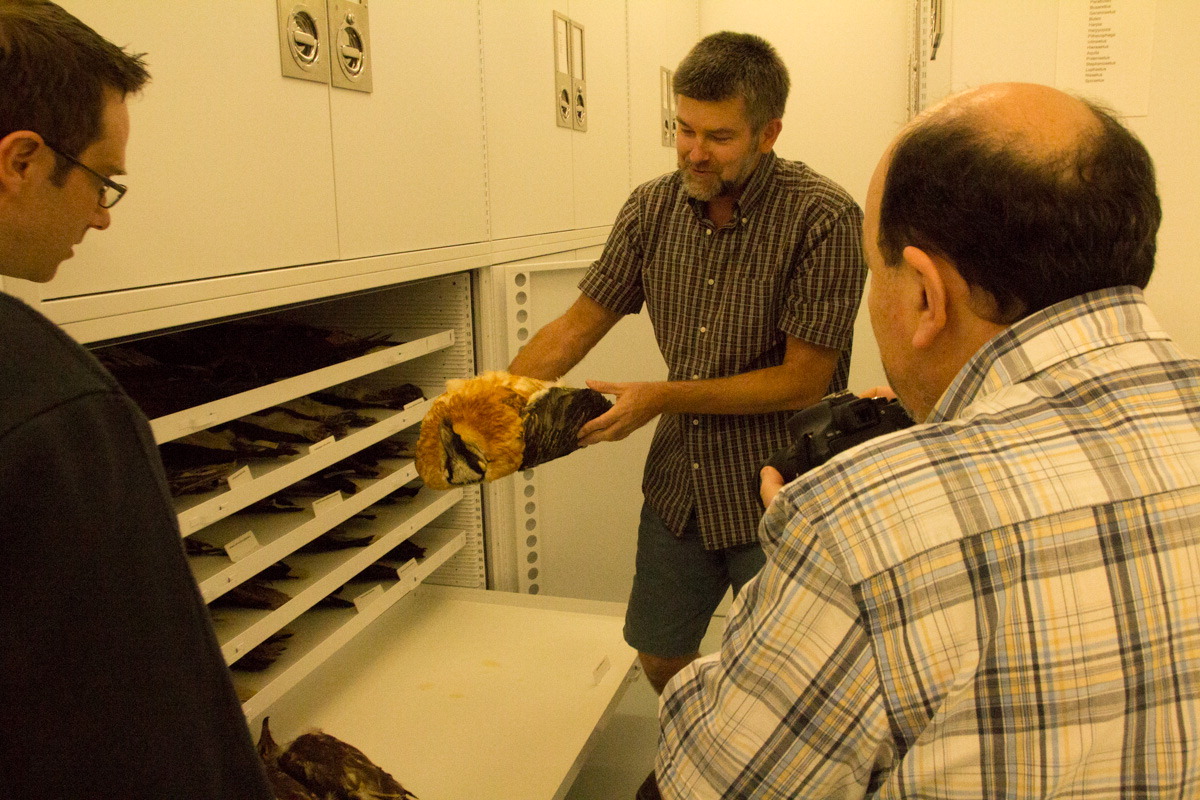 Research team visiting U.S. partner at Yale. Photo credit: Prof. Les Gordon Underhill
Back to PEER Cycle 2 Grant Recipients