Effects of climate change on cryosphere-river linkages: Insights from seasonal and inter-annual variation of glacial melt discharge in the headwaters of the Ganges River
U.S. Partner: Bernhard Peucker-Ehrenbrink, Woods Hole Oceanographic Institution
Project Dates: September 2014 to July 2017
Global warming and climate change issues have been adversely affecting the Himalayan glaciers, which feed a number of large rivers in Indian subcontinent, including the Ganges River. The increase in snow and ice melt runoff in the Ganges River basin and increased flood risk situations, as well as future supply of potable water and food security issues, have caused major concerns. However, the impact of climate change on the hydrological budget of the Ganges River is currently not well known. This research project aims to assess how climate change affects the linkages between the Himalayan Cryosphere and large river systems.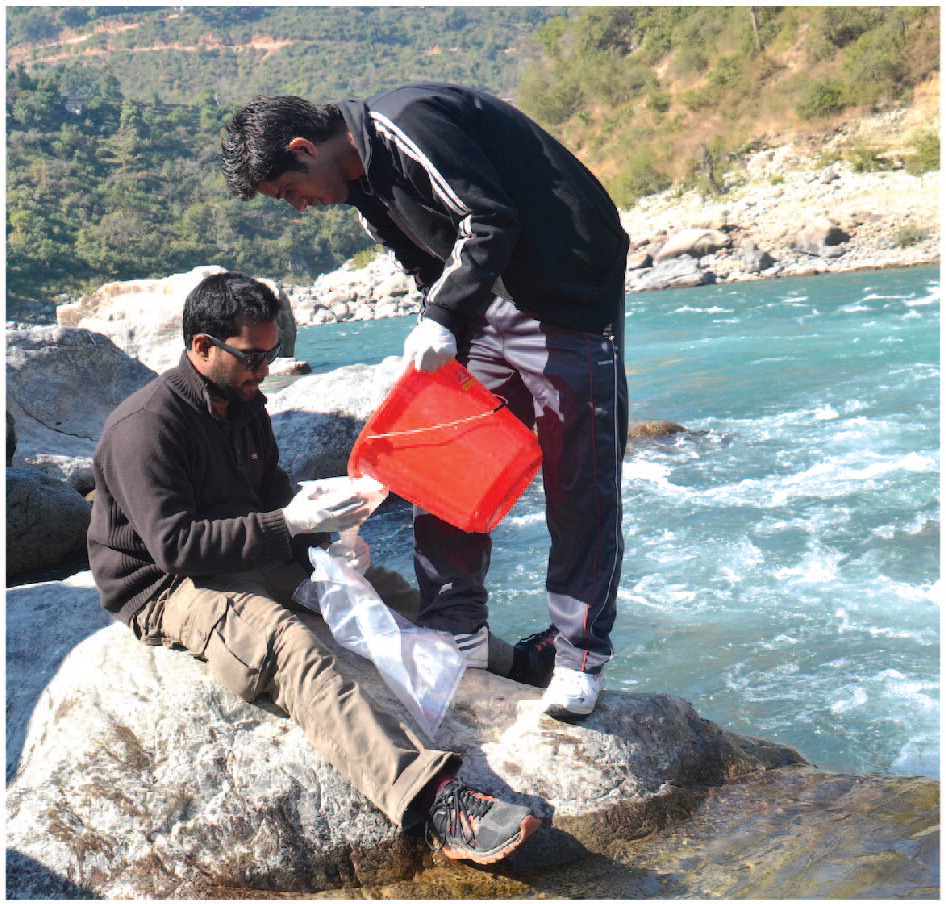 Field sampling: collecting water and suspended river sediments in wine bags (Photo courtesy Dr. Sen)
The research team will investigate the impact of climate change on the hydrological regime of the Ganges River. Temporal variability in contributions of snow and ice melting over seasonal to inter-annual timescales will be quantified. In order to trace current contributions from glacial meltwaters, the project will develop a hydro-geochemical model for snow/ice meltwaters to the headwaters of the Ganges River. The model will be developed using time-series observations of water discharge, physical and chemical parameters of water samples near glaciated Ganges headwaters. Seasonal and inter-annual δ18O and δ2H variability of Ganges River headwaters will be characterized and multi-component isotope and geochemical mixing models will be constructed to quantify the relative contributions of rainwater, glacial melt, snow melt, and groundwater flow to the total discharge. Source apportionment of river water will be used to assess the impact on downstream ecosystem services due to the modification of hydrological regime, and will enable future predictions of change. The findings of this project will provide important insight into the effects of climate change and retreating Himalayan glaciers on the hydrological budget of the Ganges River. The results obtained in this study are expected to be of broad interest to researchers working on climate change, glaciology, hydrology, and river dynamics. The findings are expected to generate significant attention from researchers who work on water and food security issues. A river water storage facility at IIT-Kanpur will be built to archive water samples for future analytical work. The project will collect additional time series water samples to support other researchers' work as well. Since access to these remote locations is challenging, additional samples will be an asset to the scientific community interested in understanding impacts of climate change on dynamics of large river systems.


Summary of Recent Activities
According to schedule, the PI and his research team carried out fieldwork activities near glaciated Ganges headwaters for the pre-monsoon season in March 2016. All analyses were done in the facilities of IIT-Kanpur, and the PI presented the data in a workshop conducted by Woods Hole Oceanographic Institution (WHOI) in Thailand March 15-23, 2016. Thanks to existing PEER grant funds, a supplement provided by the program, and internal funds from IIT-K, the team recently completed the purchase of a 4-wheel-drive vehicle for field activities, after special permission was secured from USAID. This vehicle will allow the researchers to travel more safely to and from their field sites, which are in mountainous regions where the roads are often in poor shape. Using rental vehicles has been a problem for the team, as few agencies will allow their vehicles to be taken into the regions where the researchers need to travel, and those that do permit such rentals charge very high prices.

Dr. Sen will be presenting the outcomes of the project at Goldschmidt Conference in Yokohama, Japan, June 26 through July 1, 2016. His presentation entitled "Hydrological Dependence of River Ganges on Himalayan Cryosphere" has been accepted by the conference organizers. His student, Mr. Arijeet Mitra, will present his paper on "Emerging Airborne Contaminants in Developing Countries: A case study from India" at the 4th International Workshop on Highly Siderophile Elements in Durham, UK, July 11-15. Mr. Mitra was one of only five students to receive a special award from the Geochemical Society to participate in this workshop. In addition, another IIT-K student supported by the project, Ms. Soumita Boral, will be spending four months at WHOI May 20 to September 20. Besides conducting research in the Marine Chemistry and Geochemistry Department under the sponsorship of U.S. partner Dr. Bernard Peucker-Ehrenbrink, she will also have the opportunity to attend lectures and seminars at the institute during her stay.


| | |
| --- | --- |
| | |
| Field sampling (Photo courtesy Dr. Sen) | Snout of the Gangotri glacier - the source of the Ganges River (Photo courtesy Dr. Sen) |
A documentary directed by Dr. Sen highlighting river science can be viewed online at: https://www.youtube.com/watch?v=yyacLgSRTTA

Back to PEER Science Cycle 3 Grants