Cycle 3 (2014 Deadline)
Three Circles of Alemat: creating collaborative multicultural networks for women in the sciences
U.S. Partner: Gillian Bowser, Colorado State University
Project Dates: September 2014 to July 2017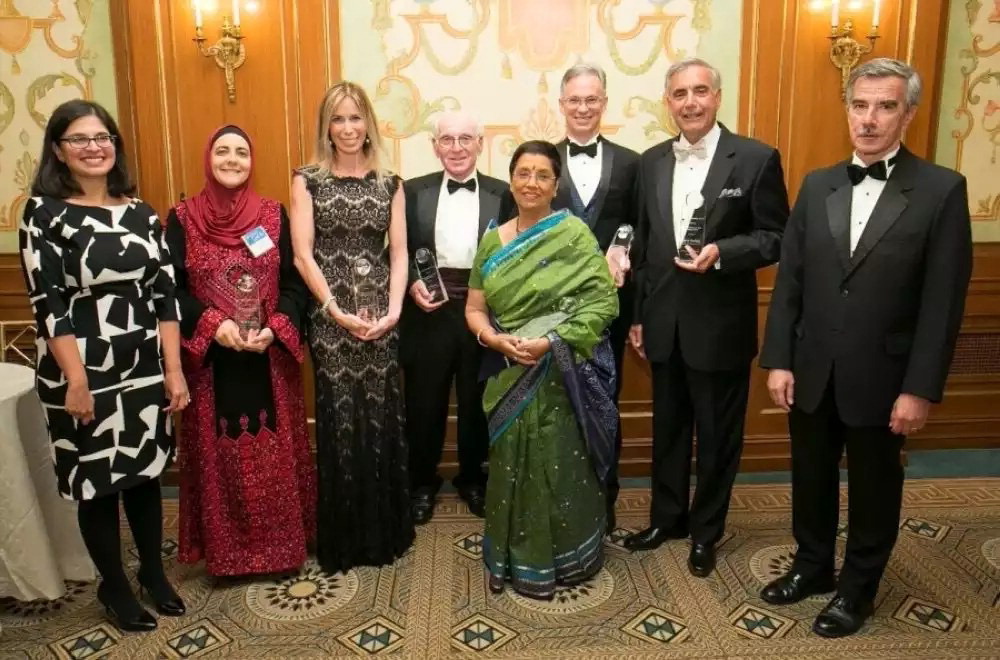 Dr. Dajani was among those awarded the IIE Global Change Maker award at the 70th IIE gala in September, 2017 (photo courtesy of Dr. Dajani).
Women are underrepresented in the academic sciences worldwide. In many developed countries, women are also part of the scientific diaspora who could provide critical encouragement to women and girls back in their home countries. Research suggests that by providing social networks and peer support, the number of women participating as professionals in the science fields can be increased. This project focuses on creating a new generation of women scholars and promoting multidisciplinary and multi-cultural research that combines all fields of science. The research team will develop a framework model of mentoring designed to be evaluated first within a country and leading towards a replicable model for engaging women and women of the diaspora in science globally. Three Circles of Alemat (Arabic for female scientists) uses social networking analyses to explore the strength and persistence of networks of women across multiple cultures. The Three Circles of Alemat collaborative partnership will tie mentoring to and among cultures and gather women of the STEM diaspora across the international boundaries. Circle 1 (DEMN), within Jordan, will investigate whether mentoring networks work within a specific country where a pilot framework is designed locally. Circle 2 (BAYN) is among cultures, and the team will investigate how mentoring networks engage across multicultural landscapes. Circle 2 brings women scientists together from different cultures to create a mentoring network based on the elements from Circle 1. Circle 3 (TAJAMUGH) will address the question of how to engage women of the STEM diaspora within and among countries to gather (TAJAMUGH) women into the sciences globally. DEMN, BAYN and TAJAMUGH represent three cohorts built over a stepwise process of creating mentoring networks that can successfully span international boundaries. Thus, the program will include a mentoring circle and mentoring activities over a period of three years creating three interlinked cohorts within Jordan (DEMN), among cultures (BAYN), and globally (TAJAMUGH).
This research is expected to contribute to USAID gender programming that affirms the critical role women play in accelerating progress in development and advancing global prosperity and security. The goals of the project are to (1) design mentoring networks for women in academia across discipline and cultures; (2) evaluate the elements of network success in promoting and mentoring women in academia; and (3) develop research collaborations among institutions in STEM disciplines that support female faculty. The developmental impact on local, regional, and global communities goal is to create a replicable model at an international scale that focuses on the contributions of academic women to science, to increase communication and connect female scientists to a larger network of academics to promote leadership and mentoring of female academics to empower future generations of female academics and leaders, to raise awareness about female faculty issues, to provide guidance and support to female academics to achieve tenure, promotion, and advancement while balancing family and work; and to increase excellence and productivity among female academics by developing research collaborations. The women in academia mentoring project will broaden participation of underrepresented groups by building a global network of women scholars from different ethnic and racial groups engaged in scientific research. Through local and international workshops and mentoring programs, the research team will develop scholarly collaborations on various projects. The effectiveness of these methods in educating and engaging women as scientists at a global scale will be assessed enabling the project to make significant advances in our understanding of how to promote the inclusion of women in science and sustainability research.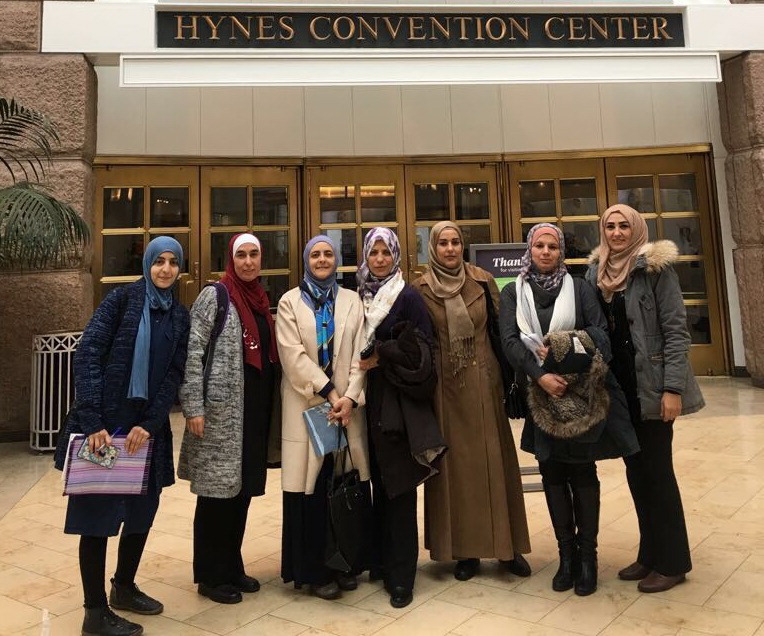 Three Circles of Alemat at AAAS 2017 conference in Boston, MA
This three-year project was completed in July 2017. The project results and impacts include: (1)
Database
of female scientists in Jordan, Arab world and US Diaspora; (2)
Quantitative and qualitative research
on the mentoring program; (3)
Website
: the website has different resources for mentoring as well as a database for networking and sharing stories; (4)
The policy report
which includes lessons learned as well as recommendation for institutionalization of mentoring so that organizations can implement mentoring in their workplace; (5)
Toolkit
which includes step by step guidelines for individuals and organizations intending to adopt mentoring. This is available online on the
website
. (6)
A film
capturing the essence of mentoring as an important vehicle to personal and professional growth; (7) A gallery of
images
on the meaning of mentoring from all over the world; (8)
Social media
through which interested individuals can share stories and ideas through FB, LinkedIn and Twitter, Research Gate and YouTube; and (9) Material to write books about the project. In Rana Dajani's words, "the impact of the project is long term and is exhibited in the female scientists who have been part of the program and who will disseminate the program to others. The impact of the program on these scientists is both on the personal level and the professional level. The research impact and policy brief impact will affect policy makers and decision makers by adopting and incorporating mentoring into their organizations and institutions."
Articles by Rana Dajani about women scientists and the mentoring program:
http://www.fletcherforum.org/home/2016/11/4/valuing-compassion-why-cant-we-redefine-success
http://www.universityworldnews.com/article.php?story=20161212121515275
https://www.asm.org/index.php/archives-cultures/378-international/internationalaffairs/cultures/cultures-archives/94928-cultures-magazine-3-4

Dr Rana Dajani's video about the PEER project: https://www.youtube.com/watch?v=cRA3-XBwBj4

| | |
| --- | --- |
| | |
| AAAS 2017 conference in Boston, MA (Photos courtesy of Dr. Dajani) | |
Press Conference under the patronage of Ms. Majd Shwaikai, the Minister of Telecommunication and IT, and Minister of Public Sector Development Three circles of Alemat launched the mentoring tool kit and policy report and an inspirational video on June 31, 2017, at the end of PEER project, with 50 journalists and academics in attendance.



Deliverables


A policy report was written to share with stakeholders including government, private organizations both academic and non academic. Xiomara HurniCranston helped write the report. The report was translated into Arabic to dissemination among stake holders. The mentoring tool kit was further refined and uploaded onto on

the Three Circles of Alemat website.

Project Website

Facebook Page

Article in Nature by Dr. Dajani



Back to PEER Cycle 3 Grant Recipients