Cycle 5 (2015 Deadline)

Understanding the phenomenon of open mapping: creating open-source map data as a critical information infrastructure for disaster preparedness and development

PI: Nama Budhathoki (nama.budhathoki@gmail.com), Kathmandu Living Labs
U.S. Partner: Kenneth Anderson, University of Colorado Boulder
Project Dates: December 2016 - September 2022

Project Overview: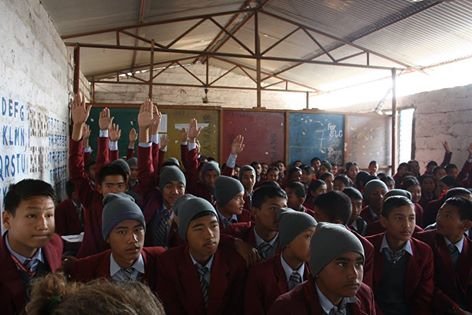 Students participating at the Open Mapping presentation. Photo credit: Dr. Budhathoki

Virtual Mapping Training, Nov 27, 2020. Photo credit: Dr Budhathoki

The main goal of this project is to investigate the phenomenon of open mapping and develop a framework and guiding principles to conduct outreach, motivate, train, and engage citizen volunteers, particularly youth, in mapping. Nepal has one of the most active open mapping communities in the developing countries. There is a huge potential to engage digital volunteers and map unmapped parts of the world (Goodchild, 2007). Citizens can contribute their local knowledge to open mapping platforms using the Global Positioning System (GPS) capability of their mobile devices and the Internet. Citizens do have a wide range of intrinsic and extrinsic motivations to participate in open mapping, yet despite such potential, our scientific understanding on how to recruit, engage, and retain citizens in open mapping remains poorly understood, especially in the context of developing nations.

This study aims to fill the above research gap. The study will employ action research methodology, as this makes it possible to expand mapping work alongside research activities. Eight mapping workshops will be organized in two cities in Nepal during the project period. In addition to creating maps, the research team will also train a wide range of potential users and develop their skills to use open map data effectively. The research should open avenues for the young local technology community to develop public participation software applications using open map data, catalyzing a new market. The research will also engage Nepal in the emergent areas of open government and open mapping, which are cutting edge in the United States and other advanced countries. This will prepare Nepal to garner full benefit from the inevitable arrival of these concepts.

Major activities:
Youth engagement in Open Mapping through Digital Internship and Leadership Program (DIAL)
Creation of map data
Research
Integration of Open Mapping in university curriculum
Project activities during 2021


During year 2021, the project team trained over 300 university and college undergraduate program students on the basic concept of open mapping (OSM). The training was mostly provided remotely due to the COVID-19. However, the team was also able to provide in-person training at Kathmandu University and on Pachimanchal Campus. The objective of the training was to help the students develop their skills in OSM as a means to connect spatial dimensions to their personal, academic, and professional goals. The PEER team also conducted two sessions of online OSM training to youths from various parts of Nepal, interested in learning more about OSM; with the aim to engage them in mapping local areas of Nepal. Further, the team organized an online mapping party to map Bardiya district of Nepal to celebrate the 17th birthday of OSM. During an online event entitled 'Community building tips, tricks and challenges' organized by the Community Working Group, Humanitarian OpenStreetMap Team (HOT) the PEER team shared tips and tricks to build the OSM community.
During this past year the project team focused more on women as open mapping so far has been dominated by men. An event called #VisibleWomen on International Women's Day was organized with the main objective to introduce OSM as a tool to address gender-based issues. 57 (29 new to OSM) women registered and 40 of them attended the event. The event was facilitated by six women from the OSM community.

The tourism sector of Nepal was deeply affected by the pandemic. During the second quarter of 2021, COVID cases in Nepal declined, which allowed conducted an in-person event to map the pandemic stricken tourism industry in Kathmandu. 31 young volunteers mapped 751 businesses (more than 40 categories of tourist amenities). Afterward, the team validated and uploaded the collected data on OpenStreetMap. For the businesses that were already on OpenStreetMap, the team updated their attributes and details.
During the reporting period, the team also presented their research paper at The Impacts of Civic Technology Conference (TICTeC)organized by MySociety. The event convened an international mix of researchers, practitioners, policymakers, philanthropists, and tech giants to examine how civic technology is shaping society. The project team shared their findings that OSM mapping developed multiple skills in the mappers including effective learning, technical skills and digital literacy, cognitive skills, geography-based knowledge, and professional skills among others.

Potential development impacts:
The project is anticipated to inform how more young people can be engaged in mapping and creating freely accessible map data for a wide range of development projects, as well as inform how open mapping can be used to achieve and measure progress in sustainable development goals at local level
The team so far has made progress in the use of open mapping for sustainable local governance and ways to engage young people to contribute in creating maps that will be useful for local development. According to the project PI, the understanding of the effectiveness of different ways to engage youth in mapping has increased, especially around the participation of local communities for understanding own communities better and communicating local knowledge globally. Knowledge about engaging youth in contributing to societal needs might be applicable to other areas of development as well. The PI indicated that now they have an increased understanding of the geo-referenced data needs based on priorities of local government in Nepal. This knowledge will be shared with local governments during the remaining months of the project implementation in 2022.
Back to PEER Cycle 5 Grant Recipients