Cycle 6 (2017 Deadline)

Climate change adaptation of rural households in charlands of Bangladesh

PI: Humnath Bhandari, h.bhandari@irri.org, International Rice Research Institute (IRRI)
U.S. Partner: Charles (Chuck) W. Rice, Kansas State University
Project dates: March 2018 - April 2022


Project Overview: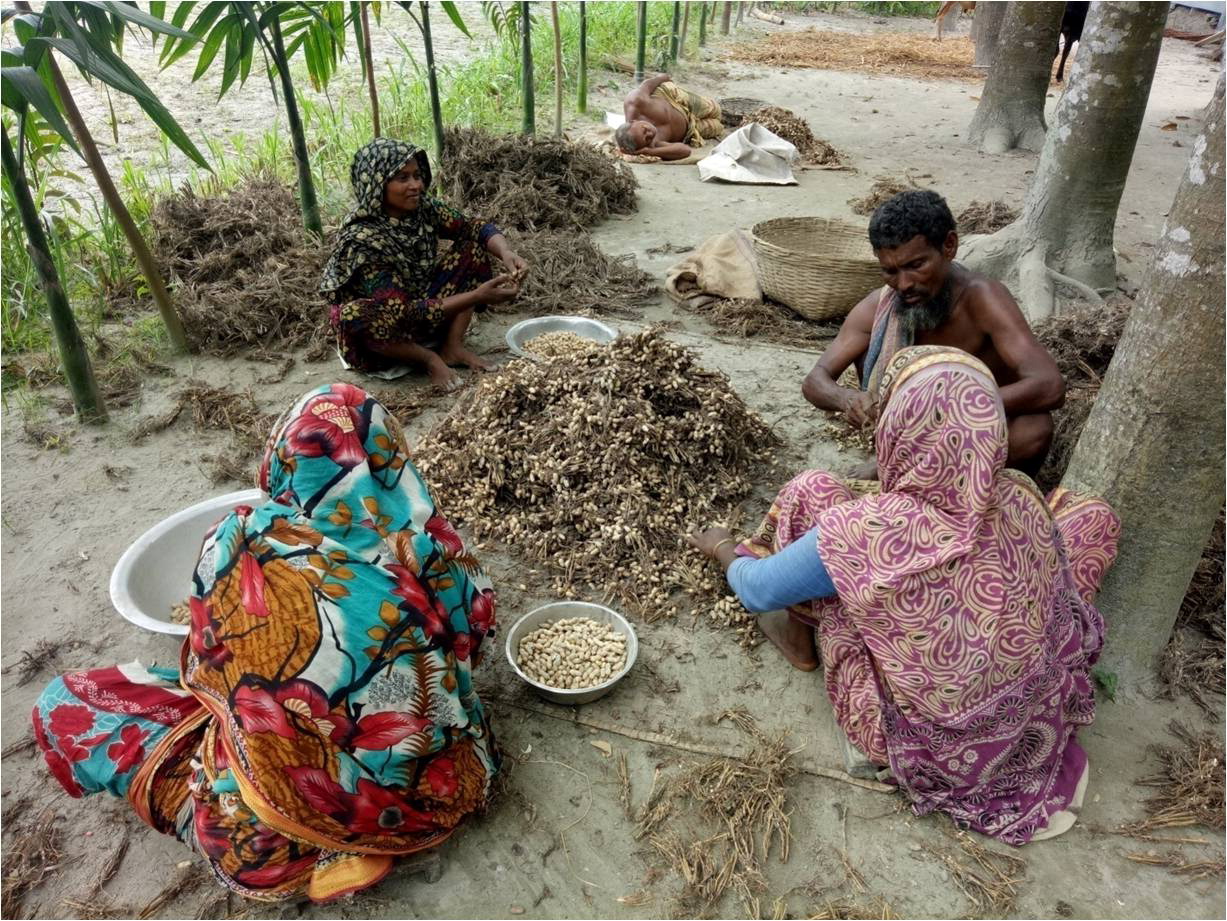 A smallholder farm family preparing groundnuts to sell in a market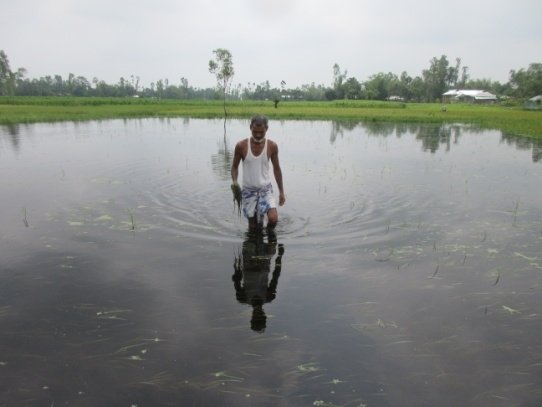 Aus rice first transplanting damaged by flood and second transplanting, Char Ganai, Rangpur, Apr-Jun 2020

The agricultural production system in the charlands of Bangladesh is characterized by rainfed cultivation, low nutrient levels in the soil, the raising of traditional crop varieties with conventional management practices, poor access to agricultural technologies and services, poor linkage to markets, and low cropping system intensification and diversification. In addition, charlands agriculture is highly prone to climatic stresses (flood, drought, salinity, river and coastal erosion, moisture stress, and tropical cyclones), and local farmers suffer losses every year. The changing climate will amplify these problems in the future and make charland livelihoods precarious. The adoption and adaptation of climate-smart agriculture options (such as different crops or varieties, cropping systems, or management practices) can significantly reduce the negative effects of and build resilience to changing environmental conditions. Not all these climate-smart options, however, are appropriate for every location. Their use is determined by several factors, such as biophysical and socioeconomic characteristics, climate conditions, technological suitability to the local ecosystem, farmers' perceptions and behavior, market systems, and economic viability.

The charland areas have been largely neglected by the government and development agencies and hence such information is often lacking. The main objectives of this project are to understand charland characteristics and the livelihoods of local residents, examine households' vulnerability and adaptation to changing conditions, and promote climate-smart agricultural technologies in charlands.

To achieve these objectives, the project team will work in two charland sites representing flood-, drought-, and salinity-prone ecosystems:

(i) Ganai Char located in Kaunia Upazila in Rangpur District representing the Charlands of the northern region and
(ii) Shaula Char in Bauphal Upazila in Patuakhali District representing the Charlands of the coastal region.

In the representative study sites, the project will conduct baseline, endline, and special purpose surveys; analyze factors determining adoption of climate-smart technologies; assess economic viability (profitability and risk) of existing and new cropping systems; test and evaluate climate-smart technologies; and recommend economically viable and demand-demand climate-smart technologies for dissemination. Researchers from Kansas State University, who have vast expertise on climate-smart agriculture, will provide technical support and guidance to design and implement project activities and help build research capacity through training on advance research methods and tools.


2021 project updates:



The main objective of the project is to understand charland households' vulnerability and adaptation to climate change and to promote climate-smart agriculture that foster charland livelihoods and increase resilience to climate change.

The project directly addresses development challenges such as poverty (SDG1), hunger (SDG2), malnutrition, gender equality, youth mobilization, and empowerment of disadvantaged groups.

Bangladesh has about 0.83 million hectares of Charland area. These areas face climatic risks such as flood, drought, salinity and river erosion. These climatic risks cause huge loss to crops and livestock, threats to biodiversity, and adverse impact on rural livelihoods. The PEER project implemented climate change adaptation activities in Rangpur and Patuakhali districts.


During 2021, the PEER Project implemented the following climate change adaptation activities to build climate and livelihood resilience of rural households in the Charlands:


(1) the project conducted socioeconomic surveys of rural households to generate data and knowledge on climate risk, vulnerabilities and coping mechanisms of rural households in the Charlands. Flash flood, river flood, drought, salinity, and cyclones are the major climate risks in the Charlands. Rural households use out migration, off-farm jobs, cultivation of short duration crops, adopting climate-smart agricultural practices, and low application of inputs as main coping strategies to minimize the impacts of climate risk.

(2) the project introduced and evaluated improved and climate-smart rice and non-rice crops and varieties as climate risk adaptation strategies.

(3) the project created awareness among men and women farmers on climate-smart agriculture and trained them on cultivation of climate-smart agriculture.

(4) the project introduced improved varieties of rice and non-rice crops to increase agricultural productivity, jobs, income, and livelihoods.
| | |
| --- | --- |
| | |
| Local TV news crew interviews PEER PI Humnath Bhandari in Rangpur on the goals and impact of his research project. | PEER project team demonstrate their project sites in Rangpoor to USAID and NAS representatives November 2019. |
| | |
| NAS and USAID meeting community participants in Rangpur, November 2019 | NAS and USAID site visit in Rangpur, November 2019 |
| | |
| Rangpur field site community members gather to share experiences with the visiting delegation from USAID and NAS | Local community women |
| | |
| Maize harvested in Char Ganai, [Photos courtesy of Dr. Bhandari] | |
| | |
| | |
Back to PEER Cycle 6 Grant Recipients