Cycle 6 (2017 Deadline)

Unmanned aerial systems-based assessment of tree cover and deforestation dynamics in Bangladesh

PI: A.B.M Kamal Pasha, drpasha@daffodilvarsity.edu.bd, Daffodil International University
U.S. Partner: Demetrios Gatziolis, The United States Forest Service
Project dates: December 2017 - December 2020


Project Overview:


| | |
| --- | --- |
| | |
| Typical conditions in the Sundarbans Forest Bangladesh [Photo credit WorldOnTravel.com] | Study area (red oval) in the Sundarbans (mangrove) forest of Bangladesh [courtesy of Dr. Pasha] |
The main advantages of photogrammetry based on unmanned aerial vehicles (UAVs) compared to traditional aircraft imaging campaigns are low cost and flexibility. In addition, aircraft-based image acquisition usually requires months of planning and must cover a substantial area to justify the cost. UAVs can be deployed at a moment's notice and require practically no maintenance. They can also be deployed at easily customizable above-canopy altitude, camera orientation, trajectory, and speed. They are thus ideal for imaging small areas of forests, such as over individual tree stands, management units or inventory plots (Gatziolis et al., 2015). Most developing countries do not yet have the capacity or knowledge base to support modern forest inventories and typically depend on satellite imagery and applications developed elsewhere to meet their needs, including the obligation to report on the status of their forests if they participate in the international REDD initiative. Satellite-based assessment is adequate in many instances—for example, to assess deforestration in the Amazon basin. It can be problematic and biased, however, when the anthropogenic interventions and ensuing disturbances are either gradual or have a spatial footprint much smaller than the resolution of the satellite imagery employed. The advent of novel, inexpensive technologies, including UAVs, and the development of affordable software capable of performing complex photogrammetric tasks hold promising potential into assisting the assessment of forest resources in developing countries and facilitating their verifiable participation in efforts to mitigate the effects of deforestation and forest degradation.

In this project, the PI and his team will devise and optimize a fully-automated UAV-based image acquisition protocol compatible with generating comprehensive (gap-free), high-density, precisely geo-referenced point clouds representing forest canopies for areas centered on selected locations in the Sal and Sundarbans forest types that host national forest inventory plots of the Bangladesh Forest Department (BFD). The researchers will generate canopy surface and canopy height rasters for each selected inventory plot and its surroundings, as well as estimates of canopy cover for each subplot of every selected inventory plot, and compare them to those obtained by inventory personnel during field visits. Using the data they will gather, they will develop forest type-specific models of forest biomass and outline a framework for forest change detection and quantification based on periodic satellite imagery and incorporating UAV-derived information over selected areas. Methodologies, findings, and results will be shared with the United Nations Food and Agriculture Organization, representatives of the U.S. Government technical cooperative program SilvaCarbon in Bangladesh, BFD officials, and ultimately the public.

Project updates


Although the project officially began in January 2018, preparatory project activities began soon the announcement of the grant award in fall of 2017. With USAID/Bangladesh assistance, the PEER team was introduced early on to other colleagues in the field who are working on forest monitoring efforts. USAID/Bangladesh convened USAID-funded forest conservation representatives from the UNREDD program, SilvaCarbon, the Food and Agriculture Organization of the United Nations (FAO), the RIMS unit of the Bangladesh Forest Department, and other specialists from this sector. Although unable to attend in person, U.S. partner Dr. Demetrios Gatziolis participated at the meeting via Skype as well. Since the PEER team is required to obtain a permit from Ministry of Environment and Forest (MoEF) to conduct their data collection campaign in the forests and a permit from Civil Aviation Authority of Bangladesh (CAAB) to fly drones for the data collection, the process also began soon after the award was announced, and the process is still ongoing. USAID/Bangladesh Mission sent letters of support to relevant governmental offices to facilitate the team's permit applications.



USG Partner Visit in Dhaka, Bangladesh, February 26-March 5, 2019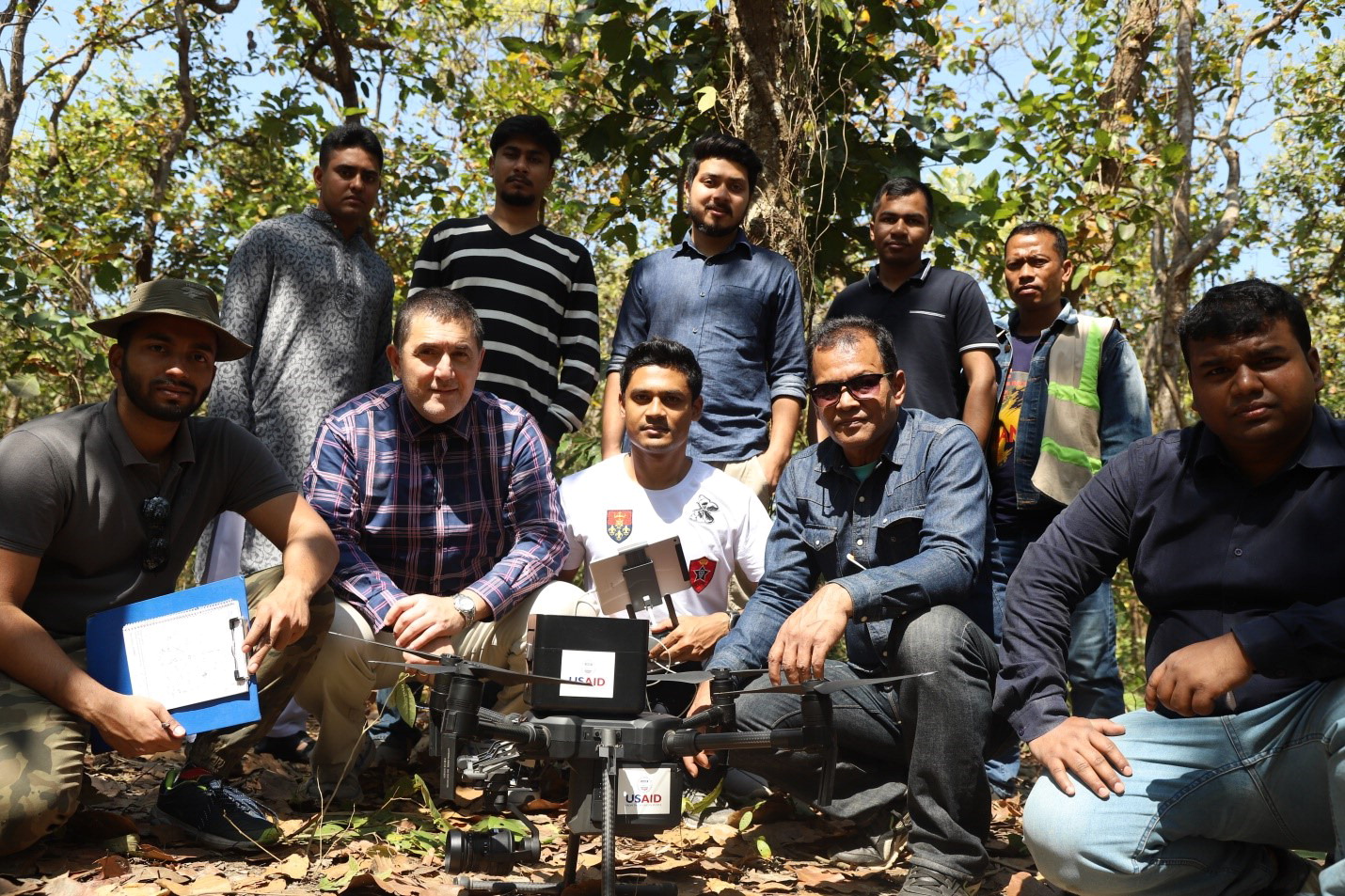 With USFS, USAID Mission, and PEER Supplement support, Dr. Gatziolis visited the PEER team in Dhaka with the goal to (1) evaluate science, logistics, efficacy, and identify vulnerabilities of operations protocols designed to support field data collection and subsequent data analysis; and (2) to encourage material, personnel, and information contribution from local government organizations.



During the visit, Dr. Gatziolis incorporated amendments to data acquisition and analysis protocols dictated by in situ evaluation, obtained commitment by Bangladesh Forest Department (BFD) to support the upcoming field data campaign with national forest inventory data and expert(s) paid by own resources and secured commitment by the GIS Laboratory of the BFD to permit processing of time-consuming analysis of remotely sensed field data to their computer hardware. BFD Deputy Conservator agreed to provide a hierarchical list of Sundarbans plots and their locations, stratified across classes of forest conditions, to be visited by the field campaign, which will be of immense help to the project. Last but not least, Dr. Gatziolis conducted training of Daffodil International University research team on data collection, processing, and analysis.

Meeting with Bangladesh Forest Department, February 26, 2019

Bangladesh Forest Department had been a key collaborator in this project, as the PEER team relies on their support throughout their data collection campaigns. Furthermore, the national forest inventory (NFI) data plays a vital role in shaping the project research. On arrival in Dhaka, Dr. Gatziolis attended a meeting with the collaborator at Bangladesh Forest Service, Deputy Conservator of Forests, Zaheer Iqbal, his team, and Food and Agriculture Organization (FAO) official leading the satellite data-based land use mapping effort for Bangladesh. During this meeting, Dr. Gatziolis and BFD stakeholders discussed different aspects of forest management efforts and the role of the this project's research outcomes. Dr. Gatziolis and Mr. Iqbal also discussed operational strategies of data collection campaigns in Sundarban and other places. Although he PEER team at Daffodil International University maintained strong connection with BFD, the visit of Dr. Gatziolis to BFD played an important role strengthening BFD commitment to collaborate. As a result, (1) BFD inventory specialist trained by Dr. Gatziolis' colleague Dr. Olaf Kuegler (Forest Inventory and Analysis, Portland, Oregon), will accompany the PEER research team to all inventory plots with his expenses covered by BFD resources, (2) BFD will identify a subset of plots to be flown with the UAV, stratified across classes of canopy cover and structure, and (3) BFD will. provide the team access to any workstation in the BFD GIS laboratory that is idle. Dr. Gatziolis examined all workstations and confirmed that are equivalent in terms of hardware configuration to the one purchased by PEER project funds and residing in the DIU. In return, Mr. Iqbal asked the DIU team to train BFD personnel on UAV mission control and flight parameter configurations, and Mr. Iqbal committed to continue supporting the DIU team's efforts to obtain the UAV flying permission over forested areas from the armed force authorities in Bangladesh. Thanks to his endorsements and those of USAID Bangladesh, permits have already been secured from all other agencies, including the Civil Aviation Authority of Bangladesh.

Seminar on "The status of remote sensing in forest inventory and management with emphasis on unmanned aerial system"


The seminar was arranged by the department of Environmental Science and Disaster Management, Daffodil International University February 27, 2019. The seminar was attended by DIU leadership, faculty members, and at least one hundred students. Students asked numerous questions, an indication of their interest in remote sensing, and management and preservation of natural resources. Certain questions revealed synthesis of adequate background in theoretical and technical issues. N. Ferdous and J. Gani, the two students of the team, flew recreational grade UAVs equipped with video cameras that streamed live video to the overhead projection screen within the lecture hall. Faculty members extended their appreciation to the American taxpayers who support the project and emphasized that (verbatim) "USAID grants serve our [their] country as a springboard to the future". Thanks to the efforts of Dr. Pasha, the event was advertised extensively, with announcements even on the façade of the main university building facing a main Dhaka Avenue. An official university Facebook posting detailed the event, including numerous photographs and video excerpts of the seminar.

Field trip to Bhawal national park, Gazipur, March 1, 2019

The purpose of the trip was to evaluate the data collection protocol in a real forest setting. Dr. Gatziolis was accompanied by Dr. Pasha, Mr. T. Aziz, the team students, and a few other DIU students. The evaluation was conducted on a real plot that was visited by BFD personnel a year earlier, during the forest inventory field campaign. Dr. Gatziolis detailed to the students and Mr. Aziz how to select ground locations on or in the vicinity of the plot were plastic markers (cones) visible to the UAV should be placed and how to ensure high-precision distance measurements among the markers. The placement and measurements of markers help reduce scale distortions induced during the photogrammetric processing of imagery acquired by the UAV. Precise measurements offer substantial reduction to the magnitude of distortion embedded in three-dimensional scene representations and thus unbiased estimates of inventory parameters obtained by processing the UAV imagery. The team also evaluated in the field the use of a program that Dr. Gatziolis wrote, run on a laptop, and aimed at detecting marker measurement blunders (large distance errors). Achieving measurements with precision acceptable to the purposes of the project was easy in previous tests conducted in the city. Initial measurements in a real forest setting revealed protocol vulnerabilities that Dr. Gatziolis managed to identify and correct. He later modified the program to incorporate necessary modifications.

Daffodil International University campus, March 2, 2019


Outside of the capital city, DIU has its permanent campus in Ashulia. There, the PEER team applied data collection procedures several times to fine tune the protocol and to sort out and eliminate any challenges that raised in the process. During the day long visit there, Dr. Gatziolis and the team repeated the workflow following Dr. Gatziolis' helpful tips and advise. In Ashulia the team also acquired hemispherical photographs conducive to high-precision estimates of canopy closure.. Dr. Gatziolis explained to the team how to obtain photographs that are representative of the canopy closure conditions of a plot and the need to maintain perfectly vertical orientation of the lens axis. Canopy closure estimates derived from the hemispherical photos will be compared to those obtained via photogrammetry and will serve as performance indicators of their methodology.

Main Daffodil International University campus, March 3-4, 2019




At DIU Dr. Gatziolis continued working with team students on GIS and photogrammetry operations and other technical components of the project. They devised a protocol for detailed record keeping, and data storage and accessibility and evaluated options for obtaining remote access to the project's workstation. The team discussed UAV operation elements that must be included in the manual to be prepared for circulation with BFD officials and associated field trainings, and discussed how to prepare a set of images acquired over a plot so that they can be processed on one or more workstations located at the BFD GIS laboratory. Finally, the team prepared a checklist of equipment and their conditions to be used meticulously before arriving, during operations, and prior to the departure from a field plot. The following day the team continued their work. Dr. Gatziolis offered to the team an introduction to Google Earth Engine (GEE) web interface -a free, yet very powerful resource that brings to the fingertips of anyone interested a vast archive of imagery at a global scale, requiring only an internet connection and a simple computing platform, such as a laptop or tablet. The team plans to use GEE to link forest inventory data obtained from UAV imagery on inventory plots to satellite imagery for Bangladesh. Dr. Gatziolis showed to the team how GEE can assist in plot visitation planning and anticipate the canopy cover conditions of an inventory plot. The team evaluated preliminary results from processing the Ashulia campus imagery acquired on Saturday, March 2nd, with emphasis on any discrepancies in inventory parameter metric values obtained with the standard and alternative UAV flying configuration mentioned previously. Unfortunately, additional elements of the upcoming work and ensuing analyses that had been planned could not be discussed with the students in an interactive, face-to-face setting due to little time remaining. The team would have to rely on virtual, over the web, meetings with the team for those.



The direct interaction between the team members and Dr. Gatziolis expedited collaboration and workflow process and provided the PEER team with the much-needed theoretical foundation. Dr. Gatziolis

was impressed by the work ethic and kindness of the team members, university associates, and government collaborators. The team members made substantial progress on all fronts, including data acquisition and processing. Because of the initial project start-up delays due to initially postponed USG partner visit as a result of elections in 2018, field data collection operation has been postponed by a tear from the originally planned time, to October - December 2019.