Cycle 6 (2017 Deadline)

Wild and edible insects to sustain forests and fight malnutrition

PI: Andrianjaka Ravelomanana, ravelomanana.njaka@gmail.com, Madagascar Biodiversity Center
U.S. Partner: Brian Fisher, California Academy of Sciences
Project dates: December 2017 - November 2020

Project Overview: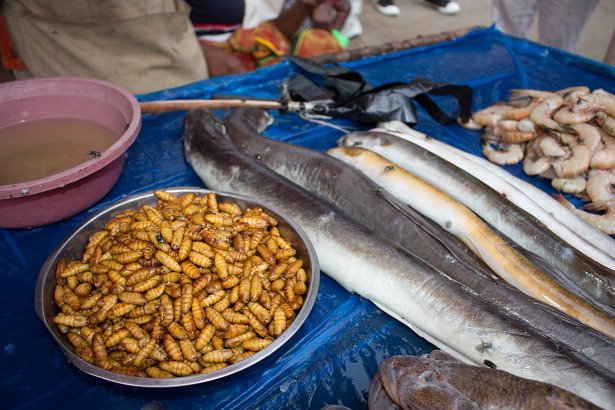 Mombyx mori pupae being sold in a market in Antananarivo [Photo courtesy of Prof. Fisher]

Insects farmed for food can provide an environmentally sustainable and nutritious alternative to traditional protein sources. Insects offer a far greater range of nutrients than commonly consumed meats yet require a much smaller footprint to produce. In Madagascar, insects are an indispensable part of seasonal diets for many ethnic groups. This research team aims to strengthen the tradition of eating insects with innovative techniques to make this valuable food resource available in all seasons while encouraging forest conservation. Their method will link the benefits of insect farming with a healthy, natural forest habitat. They intend to improve the diets of malnourished children by promoting a farming system that increases the value of the forest in the eyes of local people. The project will first evaluate suitable insect species for commercialization and create a knowledge bank of edible insects of Madagascar. One species will be chosen for protein powder production and another for whole insect consumption. The researchers will conduct experiments to determine optimal conditions for commercial-scale farming, including an evaluation of biological cycles, nutrient content, and other technical variables that affect farming costs and conservation impacts. They will also evaluate local attitudes towards insect consumption to ensure the program is suitable for local markets. The research will be conducted in collaboration with local NGOs, the private sector, and a team of international mentors.

Insect farming can produce a high nutrient protein source with a reduced footprint. Its low-resource demands can relieve pressures on the environment and provide food security. Insect farming can help Madagascar address development issues such as population growth, food security, habitat fragmentation, diminishing water resources, child nutrition, and persistent poverty. For a modest investment, the researchers expect large returns that will advance both development and conservation goals. Their research will be directly applied to the production of whole insects for local consumption and protein powder for commercial sale. In local communities, they aim to empower marginalized groups such as women and the rural poor to produce their own food, thus contributing to regional food security. Farming of whole insects for local consumption will also include the planting of native host trees as part of a reforestation program. In addition, they plan to develop leadership in Madagascar for insect farming research. Findings will be shared freely with the private sector with the aim of promoting a cottage industry of insect farming in Madagascar that will benefit business, the people, and the forest.

Recent activities:



New steps towards rearing new crickets using new techniques were completed during April-June 2018, such as the addition of a new metallic bin, and less cotton used than before. In May 2018, two experts on insect production working for Entomofam came from Canada to train the team. The new techniques allowed the team to increase the density of their insect colony, which grew from 200,000 insects to over 600,000 insects in July. Meanwhile, two students engaged in the inventory of edible insects conducted their field trip within different landscapes across the country. Surveys conducted in 11 localities from 7 regions regarding the insects consumed by local villagers allowed the team to identify 40 different species (original number being 54, based on morphospecies) belonging to 8 orders of insects. Two species - Zanna madagascariensis (in both lowlands and uplands) and Polistes sp (in lowlands only) – were the most frequent in the identified species' list, which highlights villagers' preferences for those species.

In the process of data gathering form the cricket farm and fieldwork, the team participated in a two-day workshop organized by the Ministry of Health and the Office National de Nutrition ONN during the Nutrition Days celebrated in Antsirabe (6 to 7 July 2018). This event presented an opportunity for the research team to present the PEER Project and the progress so far in front of a large audience, including governmental representatives, NGOs, private companies and local citizens, thus also highlighting the upcoming release of a new source of protein to solve malnutrition problems. Questions raised during the workshop concerned the production process and production cost. Currently, the project's cricket farm does not produce insects for the market. Moreover, the team are still working on a sound business plan. In next three months, the objective is to continue the efforts towards increasing their production up to 100 kg of cricket powder per week and to continue the field inventories of edible insects. In August, the team anticipates to participate in FIER MADA, a fair for agriculture where different actors will be networking and selling their products.

The team have been looking for different partnerships and for potential sources of funding. The proposal that the team submitted to MIARAKP is currently awaiting approval, with the decision due next month. The research team also started contacting various NGOs working for human development or fighting malnutrition in the South of Madagascar. Catholic Relief Services (CRS) and private companies such as Leader Price supermarkets are of particularly high interest. The strategy is to integrate the products (for example, cricket powder) in the cookies that these companies produce.

Scaling up nutrition will be one of the main objectives in the upcoming months. Production will begin on low scale by harvesting the crickets, drying and packaging them in a form that can be given, donated and sold in the markets. The brand name and the label will be developed in the coming months. In terms of challenges, the team reports that while the cricket is a common species throughout Madagascar and well known by Malagasy people, to convince them to eat it, the team needs to persuade the public that they farm crickets in a safe environment. The challenge in the project team's farm is to manage the risk of foodborne illness and achieve excellence in food safety. The request for a certificate of suitability for human consumption is under review at the Ministry of Health along with the request for Environmental Permit.
| | | |
| --- | --- | --- |
| | | |
| Brian Fisher (CAS) and PI Andrianjaka Ravelomanana | Local guide eating fried wasp (Toamasina) [Photo courtesy of PI Ravelomanana] | The nymphs of this large species of Fulgoridae Zanna tenebrosa were sold as food [Photo courtesy of PI Ravelomanana] |

Back to PEER Cycle 6 Grant Recipients