Cycle 7 (2018 Deadline)



Baselining persistent and emerging organic pollutant levels in environmental and engineered systems (PEOPLES) for healthy Philippines



PI: Caroline Jaraula (cjaraula@msi.upd.edu.ph), Marine Science Institute, University of the Philippines
U.S. Partner: Diana Aga, Institute of Chemistry, University at Buffalo, State University of New York
Project dates: November 2018 - October 2020

Project Overview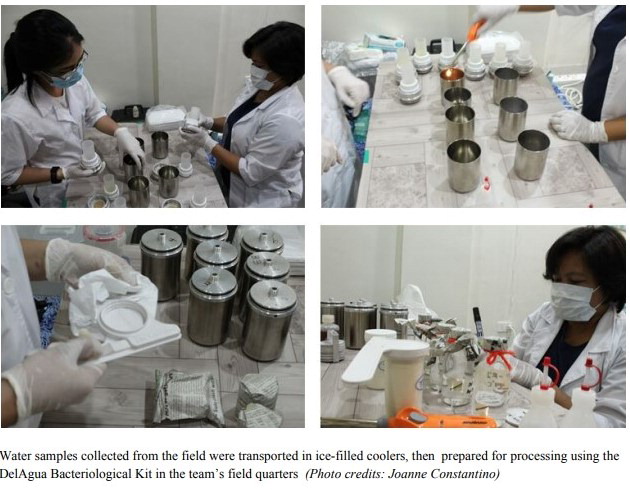 The overall goal of this project is to increase the number of wastewater treatment plants sampled for antibiotics analyses, then expand the sampling to point sources and into the receiving river and marine environments. This will provide baseline data to identify critical areas that will be prioritized for further data acquisition and analyses for a combined engineered and natural wastewater plan that is useful for local governments and organizations to leverage further detailed planning and application for business-government partnerships.

Project objectives:
Consolidate watershed and basin information from various academic, local government sectors, and literature as a map focusing on land use and locations of point sources (e.g., livestock farms, pharmaceutical industries, hospitals, urban or agricultural or industrial drainage, and landfill) in the study areas.
Collect data on current or planned size, type, and wastewater treatments in various business, municipal, and provincial establishments.
Determine antibiotic types and concentrations in influent, effluent, and in-between treatment in wastewater treatment plants (e.g., Maynilad, Manila Water facilities, Baliwag), terrestrial and marine environments of Davao, Manila, and Cagayan de Oro, Philippines).
Determine persistent organic pollutants (i.e., pesticides) in the watershed and coastal areas of the proposed sites.
Characterize possible sources and/or end-member assemblages of pollutants in various matrices (agricultural, urban, industrial, land-fill, feces, etc.).
Detect antibiotic resistance genes.
Working in partnership with the NSF-supported Halting Environmental Antimicrobial Resistance Dissemination (HEARD PIRE) project, this study is anticipated to lay the foundation for environmental monitoring of antibiotics in the Philippines, as AMR is not just a national, but a global issue. Materials produced from workshops will be incorporated in existing courses in the University of the Philippines Diliman and Mindanao Campuses, and if substantially developed, a new course can be instigated. This research project will provide baseline information on effluents so that proper government policies and community action can be implemented to quantify and manage these challenges. The team will also explore the possibility of including antibiotic analyses in the self-monitoring reports of establishments to the DENR on an annual basis; however, training of government personnel and upgrading of analytical capability of local government units are more urgent before any implementation can be initiated.

Project updates:

During the most recent January-March 2020 reporting period, the PEER team continued their work in the midst of extreme and unexpected challenges. The Taal Volcano eruption which occurred in January 2020 resulted in office closures and delayed much of the planned work. Meetings scheduled with the local government and collaborators in Davao and Cagayan de Oro had to be cancelled following the Taal Volcano eruption. Furthermore, due to the unfolding COVID-19 which did not bypass the Philippines, the Marine Science Institute and College of Science at the University of the Philippines have been on lock down since March 10, 2020. All laboratory work and fieldwork during the first and second quarters of this year have had to be cancelled due to the unfolding COVID-19 pandemic. Travel to and from Metro Manila where the majority of the PEER team is based has been limited, with strict self quarantine regulations imposed following any travel. The coastguard, which has served the PEER team as its logistical support, are currently fully engaged supporting the government in transporting supplies and safeguarding peace and order during the crisis.




Back to PEER Cycle 7 Grant Recipients