Cycle 7 (2018 Deadline)



Enhancing reproductive health services use by married adolescent girls - role of women volunteers



PI: Tasleem Akhtar (tasleem.akhtar@gmail.com), NUR Center for Research and Policy (NCRP), Pakistan
U.S. Partners: Adnan A. Hyder, George Washington University, and John Sandberg, George Washington University
Project dates: January 2019 - December 2020

Project Overview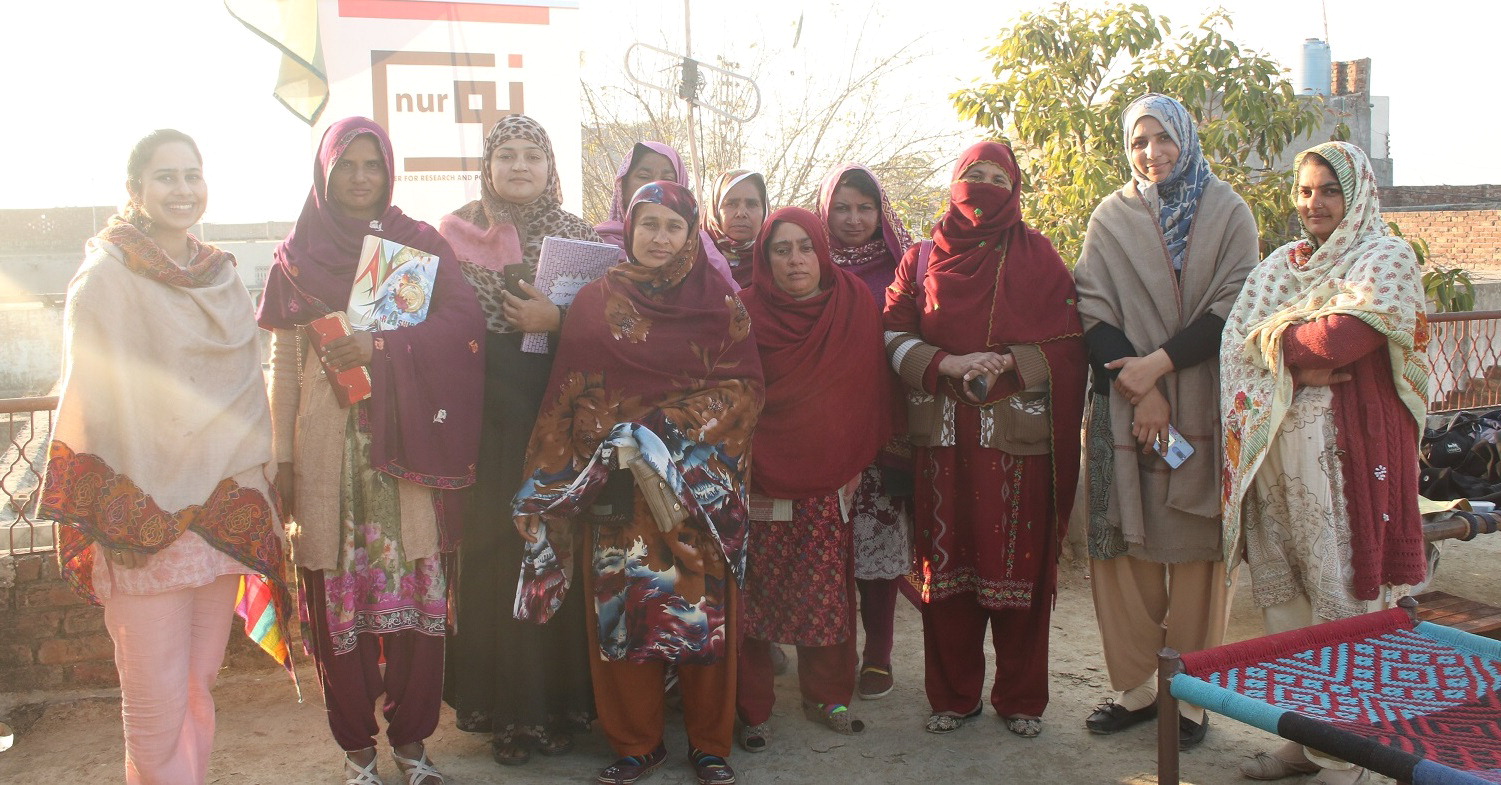 Photos courtesy of Dr. Akhtar

Low use of contraception and modern contraceptives among married adolescent girls and young women who constitute more than 20% of married women of childbearing age population is dragging down the increase in Pakistan's Contraceptive Prevalence Rate (CPR). Community mobilization to facilitate the access of Lady Health Workers (LHWs) to this age group for the provision of FPRH services needs to be tested to address the issue.


The study's major objective is to test the effectiveness of community women volunteers in facilitating access of Lady Health Workers (LHWs) in the Lahore district of Punjab province, Pakistan, to the marginalized group of married adolescent girls ≤ 15-19 years and young women aged 20-24 years, for purposes of providing Family Planning and Reproductive Health (FPRH) counseling, supply of oral contraceptives, and for purposes of improving their family planning and reproductive health practices.



Study Hypothesis:
Community women volunteers will be able to provide facilitation to Lady Health Workers to access married adolescent girls and young women
Male involvement in inception phase will increase the chances of success of the volunteer-LHW model

Role of women volunteers and women councilors to support Lady Health Workers, will facilitate the access of Lady Health Workers to married adolescent girls and young women. This will increase modern CPR and improve reproductive health of married adolescent girls and young women.
The study results will be immediately applicable to the initiatives currently ongoing in the province for boosting FPRH, as the Government of Punjab is currently implementing the Punjab Health Sector Strategy (PHSS) 2012-2020. The results of the study are anticipated to inform health policy and strategies currently being implemented in the Punjab province. Other provinces should be able to use the results relevant to their health services delivery and population needs. The study is in line with the USAID development objective for Pakistan of "Increasing the reach of public health systems, to save the lives of women and children, strengthen families and communities, and help develop a healthy workforce."

Summary of Recent Activities

The study intervention period continued during January - March, 2020. The first case of COVID- 19 pandemic victim was reported in Pakistan on February 27, 2020. Dr. Akhtar reports, lockdown in the Punjab province started

as of March 10, 2020 and since then the project field work has been halted, while data processing is being conducted remotely via telework.

The following activities were undertaken during the first quarter:
Collection of Monthly Reports from LHWs: The Field Monitoring and Supervisory Team (FMST) collected monthly reports from participating Lady Health Workers (LHWs) during January 29 to February 25, 2020. The 186 reports in January included the LHWs interaction with 380 Community Women Volunteers (CWVs) and the 201 February reports included 394 LHW-CWV interactions.
Collation and processing of data of Monthly Reports has been ongoing
Field Monitoring and Supervisory Teams' (FMST) Random Checks to ensure that field tasks and timelines are running smoothly. .
Preparation of Manuscript for Publication: The USG partner's review of a manuscript titled,'Unaddressed Gaps in Pakistan's Maternal, Newborn and Child Health Program' has been received and the paper is being finalized for publication. This manuscript reports the data collected from Focus Group Discussions (FGDs) in the Inception Phase of the project. The process of selecting a suitable journal for the publication of the manuscript has been initiated.
NCRP received a supplement travel grant to support the visit of the USG partner's team member Prof. John Sandberg to Pakistan to share advanced statistical expertise needed to assess the baseline data quality, and guide data analysis. The Pakistan team members will have the opportunity to learn advance statistical approaches from the USG partner and the USG partner will have the opportunity to acquire a firsthand understanding of the challenges of undertaking public health research in a developing country environment. The visit scheduled for March 2020 has had to be postponed until COVID pandemic clears.
The FGD data Paper is being finalized and will be submitted to a suitable journal for publication in April 2020.
| | | |
| --- | --- | --- |
| | | |
| Meeting with LHWs in Lahore General Hospital (LGH) on January 29, 2020 | Meeting with LHWs in Leel on January 30, 2020 | Meeting with LHWs in Pandoki on February 25, 2020 |
| | |
| --- | --- |
| | |
| | This map represents the approx. locations of field work in Nishtar Town UCs. |

Back to PEER Cycle 7 Grant Recipients