Cycle 7 (2018 Deadline)

Facilitating access to reproductive health services for refugee women in Morocco

PI: Ali Idri (ali.idri@um5.ac.ma), Ecole Nationale Superieure d'Informatique et d'Analyse des Systemes (ENSIAS-UMV), University of Mohammed V in Rabat
U.S. Partner: Leanne M. Redman, Pennington Biomedical Research Center
Dates: January 2019 - December 2020

Project Overview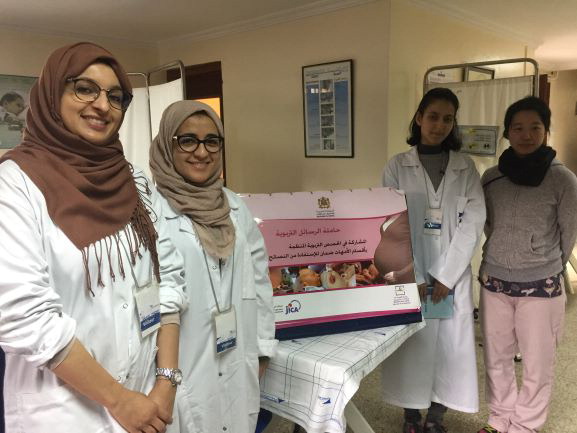 Project team members Mariam Bachiri (Ph.D. student), Lamyae Sardi (Ph.D. student), Manal Kharbouch (Master student) visit the reproductive health centre Les Oranges in Rabat to collect the requirements for the apps [Photo courtesy of Dr. Ali Idri]

The project seeks to institute a comprehensive reproductive health services dedicated to refugee women in Morocco including contraception, prenatal/obstetric and postpartum care services. This project is intended to stand upon rigorous scientific studies addressing guidelines and processes of development of solutions to improve the quality of reproductive health services. Moreover, empirical evaluations of the proposed solutions, through case studies, surveys or retrospective evaluations, are planned in order to evaluate their usefulness.

The project has four key scientific aims: (1) develop/evaluate a requirements' catalogue for pregnancy monitoring mobile Personal Health Records (mPHR) and Electronic Health Records (EHR); (2) develop and evaluate a datamining-based intelligent system for the management and prioritization of software requirements according to each stakeholder's profile (patient, caregiver, etc.); (3) use an ISO 25010-based framework for the quality evaluation of pregnancy mPHR and HER; and (4) develop and evaluate a set of gamification techniques for contraception and postnatal mobile applications.

Pregnancy monitoring mPHR will be evaluated using quality framework to ensure its overall compliance with the requirements catalogue. In the same vein, a quality framework will be set up for pregnancy EHR and will be used for the quality evaluation of the resulting pregnancy monitoring EHR. Moreover, a requirements' catalogue for pregnancy monitoring mPHR and EHR will be defined based on the main related software engineering standards and e-Health technology standards. With respect to the requirements prioritization, a Datamining based decision system will be developed and evaluated to set up the appropriate set of requirements for each stakeholder based on their profile. For the contraception and postnatal mobile applications, a set of gamification elements will be incorporated to enhance women' engagement with the apps. The USG partner of this project will participate to develop the scientifically sound research projects (case-studies, surveys, cross-sectional analyses) that will evaluate the changes in reproductive health outcomes for women who are not seeking pregnancy or maternal and infant outcomes for those who are pregnant/postpartum. Given that the focus of the recent USG-supported research has been in gestational weight gain, the USG partner will also evaluate the diet, physical activity, mood, and infant feeding styles of the refugee women.



Anticipated outcomes of the study will include measuring the compliance of the refugee women with the contraception and postnatal apps along with the mPHR for pregnancy monitoring, in addition to the EHR from the gynecologists, which are considered as measures for the potential of the proposed ICT solution in improving the accessibility and quality of reproductive health services for refugee women. The core quality characteristics to be implemented in an ICT-based reproductive health solution to improve its usability and usefulness will also be measured




Project updates:


The first year of this PEER project has been particularly successful with the team achieving original project objectives and augmenting developmental impacts through involvement of other parties and through expansion of scientific research in the field of reproductive health. Digital solutions intended to provide women with reliable pregnancy monitoring, assist them throughout their postnatal period, and help them gain understanding of different contraception methods and bolster their decision regarding the most suitable birth control method, have been fully developed and are cointinuegoing through tests and scrupulous evaluation from a medical perspective. According to Dr. Idri, medical staff of Maternity Les Orangers have shown great commitment to the assessment of digital solutions and suggested numerous modifications to improve the overall quality, enhance usability and ergonomics of the apps. Meetings scheduled between the project team's members and medical staff of Maternity Les Orangers continue to provide an important opportunity for an informal exchange of opinions and perceptions about the status of reproductive health in Morocco. During these meetings, software engineering and gynecology/obstetrics are intertwined, which create a win-win situation for attendees for knowledge acquisition is therefore mutual. In parallel with these meetings, a number of scientific papers are published on a continuous basis in international journals and conferences in efforts to expand the impact of the project and endorse the importance of promoting reproductive health care services worldwide.


At a local and regional level, the impact of the project is being amplified thanks to engagement of motivated individuals and organizations. Associations that care for migrants and refugees and which are located in Rabat have been approached or contacted by phone and email during the recruitment phase of potential participants (pregnant and non-pregnant refugee women), who would assess the quality, acceptability, and effectiveness of the three reproductive health solutions. Technical sheet memos with the main objectives of the project and expected outcomes highlighted were sent out to associations' contacts. To further this goal, a workshop was organized in January 2020 for the benefit of the presidents of these associations to introduce the project's members, the objectives, achievements, and to detail the evaluation phase of the reproductive health solutions as an essential part in which the associations are anticipated to intervene.

January - March 2020 updates:
The paper of Manal Kharbouch entitled : "Reviewing Features and Functionalities of Contraception mPHRs" was revised according to the comments of the Journal of Medical Systems. A revised version of the paper has been submitted to the International Journal of Medical Informatics.
Two papers, " A Complete Prental Solution for a Reproductive Heath Unit in Morocco" and " MyContraception: an evidence based contraception mPHR for better contraceptive fit: an evidence based contraception mPHR for better contraceptive fit." submitted to the Worldcist 2020 conference (http://www.worldcist.org/).
A meeting was held on January 10, 2019 at the Maternity Les Oranges after three weeks of using and testing the three solutions by the medical staff. Three gynecologists, a professor in OB/GYN, and three medical students, have been given a smartphone on which the three solutions were installed and had been asked to write down their feedback. At the meeting, substantial amount of time was allocated to review each solution and go through modifications needed. Overall, the medical staff have been satisfied with most of the functionalities included in the three solutions, though, they did mention the need to ease the use of the solutions to the utmost extent through the provision of reassuring and concise pieces of information, incorporation of interactive messages and suppression of medical and advanced scientific jargon, when convenient. All the needed modifications have been recorded for further study of feasibility by the developers.
February 7, 2020, a meeting was held at ENSIAS, Mohammed V University, Rabat with representatives of organizations for refugees and migrants. The major purpose of this meeting was to reach a collaboration agreement with associations active in the area of refugees and migrants assistance in order to recruit prospective participants for the empirical evaluation of our ICT solution. The attendees gave their feedback and remarks with regards the solutions and became more willing and enthusiastic to collaborate.
Improvement of the three apps and the pregnancy monitoring EHR in accordance with the evaluation report of the physicians of the reproductive health Centre Les Oranges is ongoing. Students involved: Postnatal app: Lamyae Sardi, Mamoune Benaida; Prenatal app and EHR: Soukaina Ait Sidi Ali, Zakaria Ait Hmitti, Ibtissam Abnane; Contraception app: Manal Kharbouch and Youssef Stelate.
The planned PEER research paper intended to be presented at 8th Worldcist 2020 conference in Budva, Montenegro in APril 2020, has been made available for viewing virtually, following conference cancellation due to COVID-19 pandemic.
Future plans:
Recruitment of three groups to participate in the empirical evaluation of the three apps and EHR:
Assisting the recruited participants to fill in the evaluation questionnaires.
Collecting and Analyzing the empirical evaluation results
Improving our ICT solutions based on their evaluations results and providing recommendations and guidelines.
Development and evaluation of a Data-mining intelligent system for requirements prioritization
USG partner Prof. Redman's visit in Morocco has been postponed and will be rescheduled.

Virtual presentation of the paper entitled "A Complete Prenatal Solution for a Reproductive Health Unit in Morocco" at WorldCist'20 - 8th World Conference on Information Systems and Technologies: