Cycle 8 (2019 Deadline)



Integrated Rice Advisory System (IRAS) for sustainable productivity in Bangladesh



PI: Niaz Rahman (niaz.stat@brri.gov.bd), Bangladesh Rice Research Institute, in partnership with Bangladesh Agricultural University
U.S. Partner: Faisal Hossain, University of Washington
Project Dates: November 2019 - October 2021

Project Overview: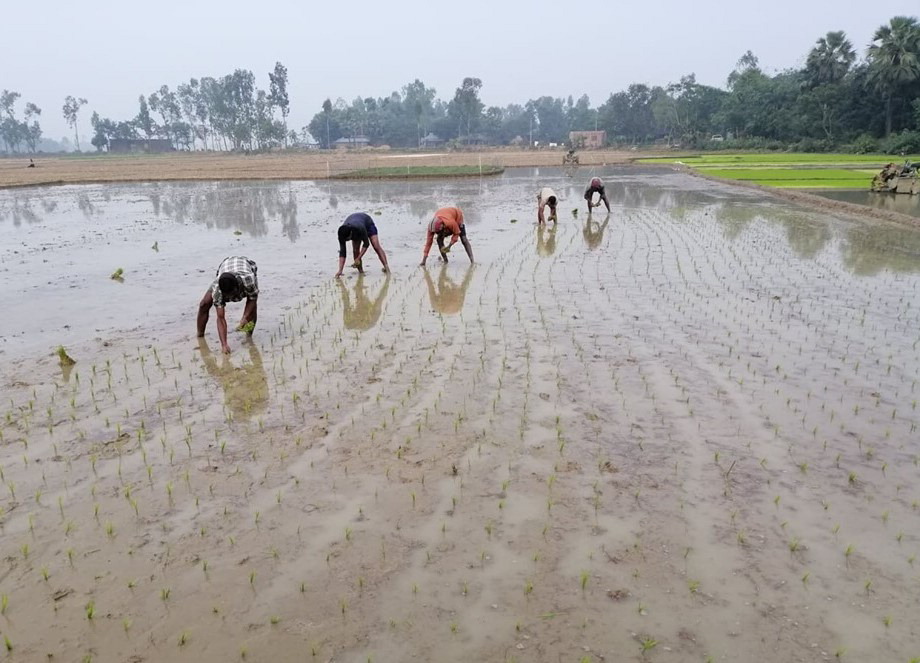 Rajshahi site: transplantation in action. Photo credit: BRRI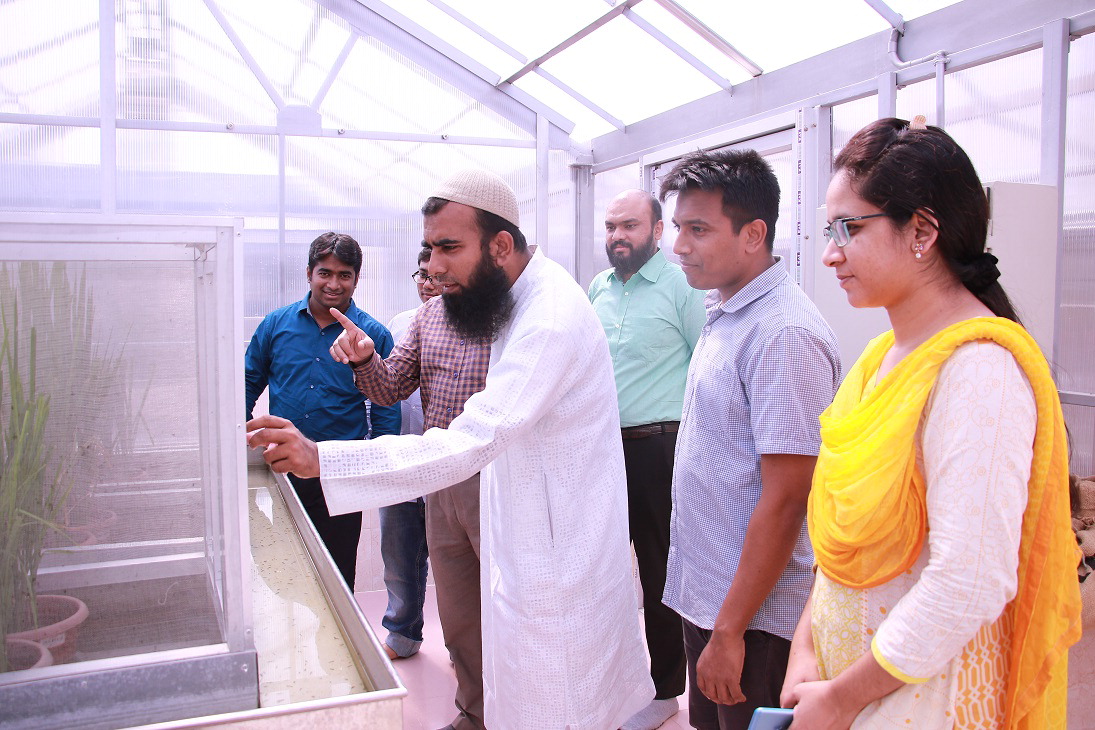 Prof. Niaz and his team, Photo credit: BRRI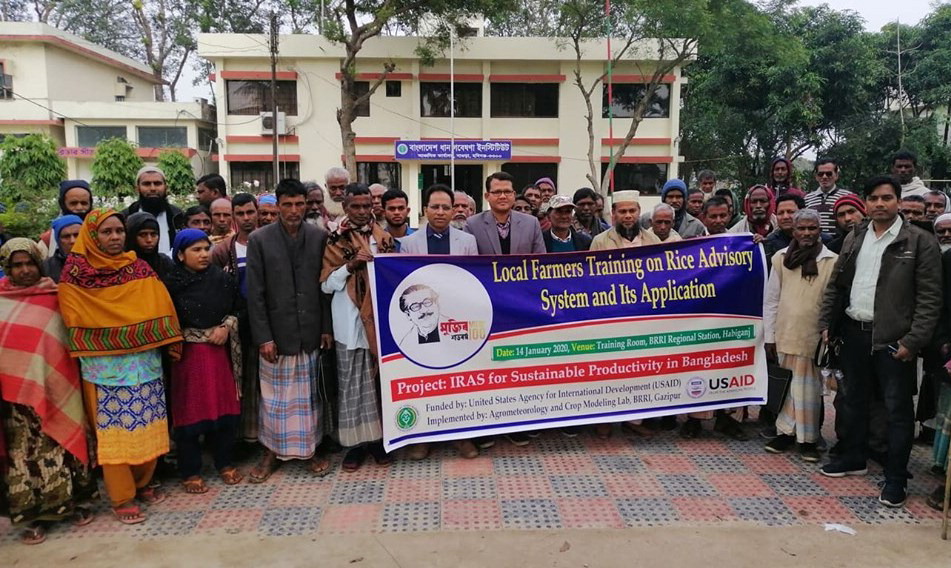 Local farmers' training program on rice advisory and its application at Baniachang, Habiganj. Photo credit: BRRI

The overall goal of the project is to develop an integrated framework for the Bangladesh Rice Research Institute (BRRI) to support delivery of agro-meteorological advisory services for rice crops in Bangladesh. The project is built upon ongoing research on forecast-based rice crop management at the Agromet and Crop Modeling Lab of BRRI. The PI and his colleagues will develop a Web-based platform, "Integrated Rice Advisory System (IRAS)," to provide extension workers and rice farmers with agro-meteorological advisories for effective decision-making. The goal is to map the sensitivity of a specific area and rice crop to certain weather conditions and understand how the weather in general will influence the growth of rice. BRRI uses the open-source Weather Research and Forecast (WRF) model for generating location-specific weather forecasts. This model will be automated and integrated into IRAS. The system will be designed to utilize input from the multidisciplinary team of the Agromet Lab and consolidate findings and recommendations into informational bulletins for dissemination as a collaborative effort involving BRRI and relevant stakeholders, including extension workers, farmers, and others.

The project will also validate BRRI's previous research on forecast-based rice crop management with the participation of volunteer farmers from four districts. Previously, BRRI conducted this research in a smaller controlled environment. Farmers and extension workers in the target locations will be trained to utilize the advisories generated through IRAS and apply them during the boro rice season at the pilot fields. In this project, the U.S. partner Dr. Faisal Hossain will contribute to the capacity building of BRRI staff by providing a technical training on "Application of Remote Sensing in Agro-advisory Generation" at the University of Washington. He will also participate in the co-production workshop and the co-design process in Bangladesh. He and his research group (www.saswe.net) are expected to provide R&D support and technical guidance on systems integration for IRAS.

Anticipated outcomes:

(1) Web-based platform—IRAS—capable of providing agro-advisories for rice crops;
(2) Enhanced practical understanding of the performance of forecast-based rice crop management in comparison to traditional management practices.

Overall, the project addresses USAID country-specific goals focusing on food security and responsiveness to climate change in Bangladesh. Of all cereal crops in Bangladesh, rice plays the leading role by contributing 90% of total food grain production, with almost 100% of people eating rice as their main food and about 25% of the total rice crop being fed to livestock. Increased climatic variability is a huge constraint on farmer's ability to make tactical and strategic agricultural management decisions which can substantially hinder rice production. The project promotes the application of research outcomes in farmers' fields with the potential for increasing the rice yield, avoiding disease outbreaks, and ensuring efficient agricultural water management, thus reducing overall production costs as well. Successful implementation of the project is anticipated to help create a resilient rice farming community, minimizing livelihood risk, and attaining food security through sustainable rice production in Bangladesh in the face of a changing climate.

Project updates:

During January - March 2020 period, the PEER project team continued research validation activities in farmer's fields at Rajshahi, Gazipur, Barishal, and Habiganj locations. Integrated Rice Advisory System development activities were also ongoing.

In terms of training, the team conducted local farmers' training on the use of rice advisory & its application in Rajshahi, which included 40 male and 10 female farmer trainees. Training on application of sub-seasonal-seasonal forecasts in the advisory generation for Agromet lab was also completed. Climate data collection from four locations- Rajshahi, Gazipur, Barishal, and Habiganj continued. By the end of March 2020 reporting period, 50 farmers received training on weather-based rice cultivation system.

Due to COVID-19 pandemic, as of April, activities have been suspended. Once safe to do so, the team plans to resume the following activities:
Co-production workshop with researchers, extension professionals & farmer representatives;
Local farmers' training on rice advisory & its application at Gazipur and Barishal locations;
Training for 24 agricultural extension officials on agro advisory and it's dissemination to the farmers;
Data collection and processing for the farmer's field experiments.

Back to PEER Cycle 8 Grant Recipients


Full list of PEER funded projects