Cycle 8 (2019 Deadline)

Entomopathogenic nematodes and plant resistance for the control of sweet potato weevils (Cylas spp.) in Benin and in South Africa

PI: Hugues Kossi Baimey (baimeyhugues@gmail.com), University of Parakou
U.S. Partner: David Shapiro-Ilan, United States Department of Agriculture/ Agricultural Researchc Service, Southeast Fruit and Tree Nut Research Lab
Project Dates: March 2020 - February 2022

Project Overview: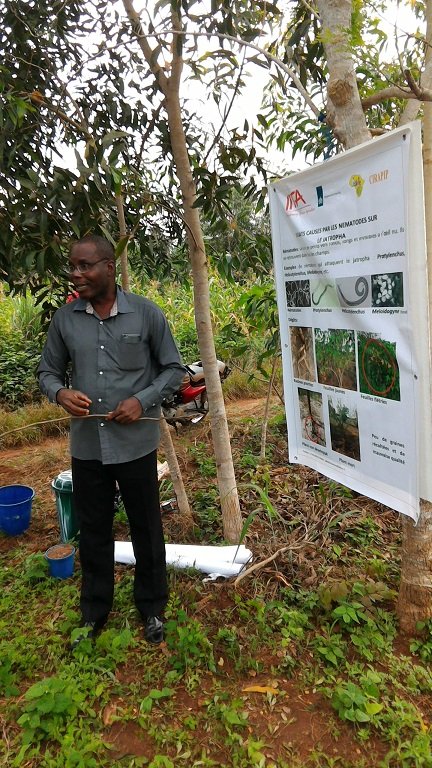 The project PI presents work to a group of local farmers (photo courtesy of Dr. Baimey).

Sweet potato (SP, Ipomoea batatas) is one of the most widely cultivated root and tuber crops worldwide, but its production and storage are badly affected by SP weevils, Cylas spp., the most damaging pests of SP worldwide. This can leads to yield losses as high as 100%, especially in stores during dry seasons. Also, the terpenes produced by the pest while feeding greatly reduce the quality of affected tubers. To control the pests, most African SP farmers resort to expensive synthetic chemical insecticides with significant environmental and health risks. This PEER project will study the use of entomopathogenic nematodes (EPNs) of the families Heterorhabditidae and Steinernematidae and plant resistance as efficient, cost-effective, fast, and environmentally-safe pest control methods. It will assess the severity of damage caused by Cylas spp. to SP in Benin and South Africa. Researchers will screen in laboratory EPN isolates provided by a South African partner lab to assess their efficacy to control SP weevils, an evaluation that has already been completed for samples from Benin sources. The two best EPN isolates identified in Benin and South Africa through such screening will be stabilized through the development of inbred lines to prevent deterioration over time. The U.S. partner Dr. Shapiro-Ilan, who invented the technique, will provide training to the African partners. The inbred lines will then be tested for their efficacy in controlling SP weevils under field and greenhouse conditions. After receiving the training, researchers, students, and experts from public and private development services will subsequently transfer them to SP farmers by means of farmer field schools (FFS), participatory field research (PFR), and feed-back workshops (FBW). Women will be key stakeholders in the project, as they are frequently involved in SP production, storage, processing, and commercialization in Africa. The new technologies will be later applied on other crops, pests and in other countries, helping to ensure project sustainability.

The Development Leaders NGO in Benin and the Small Grain Institute of the Agricultural Research Council in South Africa are willing to produce the nematodes for farmers using the technique to be studied in this project. In this way, products will be made available to SP farmers at a low price, covering production costs for application in small-scales on-site. The PEER team expects that the production of EPNs in Benin and in SA will prove feasible and the environmentally safe technique will be adopted by the local SP farmers, thus increasing their profitability and improving their livelihoods. The research team will monitor and evaluate these processes through socioeconomic studies. As noted above, gender dynamics and marginal groups will be a priority in this project. Several women will actively participate in the development activities, and female laboratory assistants and students from marginal groups will be prioritized during recruitments.

Summary of Recent Activities

In this reporting period, the laboratory experiments conducted by the Bachelor student (Toha Christelle) and the Master student (Safiou Sero) on the formulations of nematode juveniles in 1% and 2% Barricade gel, in kaolin and starch has been completed and the results analyzed for their theses. The theses will be defended by the students in December 2021.

Field activities are in progress. After planting sweet potato in Natitingou municipality, formulated nematodes were applied in September 2021 and data is being collected at monthly basis on mound coverage by sweet potato leaf biomass, sweet potato weevils' population densities and flowering. Plants will be harvested in November in the presence of our IITA Partner, Dr Danny Coyne from IITA Kenya. At harvest data will be collected on plant yield, damages caused by sweet potato weevils to sweet potato tuberous roots and applied nematode persistence in the soil. All these pre- and post harvest activities are/will be carried out in the presence of sweet potatomers and the Benin national agricultural research institute partner. Socio economic studies will be completed in the southern part of Atacora in December

Two topics: "efficacy of inbred lines of EPNs on sweet potato weevils" and "comparative efficacy of EPN formulations on the control of sweet potato weevils under field conditions" will presented at the colloquium that will be organized by the University of Parakou in Benin or University of Kara, Togo in October-December 2022.

Professor Daniel Coyne visited ARC-Small Grain in September 2021. He contributed to field data analysis, student's mentoring and discussions for possible future collaborations. Moreover, he presented two talks to ARC-Small Grain researchers on the 17th Sep. The talks were entitled "Food security and the importance of plant parasitic nematodes in sub Saharan Africa" and "Plant Health issues in sub Saharan Africa and the role of IITA (International Institute of Tropical Agriculture)" Dr Ramakuwela and the two MSc candidates attended and presented three papers at the 23rd Symposium of the Nematological Society of Southern Africa (NSSA) entitled: Screening and identification of entomopathogenic nematode isolates that show high efficacy against Cylas puncticollis – B. Ngubane; Control of Sweet Potato Weevils with Entomopathogenic Nematodes – S. Zulu; Entomopathogenic nematodes research at the Agricultural Research Council – Small Grains, South Africa: Progress towards development of EPN biopesticides – T. Ramakuwela.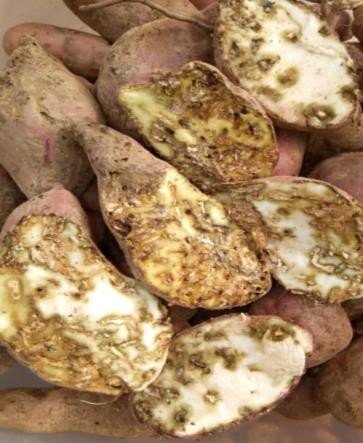 Sweet potato storage roots infested with Cylas spp. in Yaaportioh village. Photo courtesy of Dr. Baimey

In the next 3 months, the PIs will conduct three more workshops in November 2021 in Vryburg, Potchefstroom and Mafikeng, North West Province and one workshop to be presented at Bela-Bela, Limpopo Province, South Africa. Two presentations will be given at the colloquium of the University of Parakou in Benin or University of Kara, Togo in December 2021, publishing of papers an finally, they will work on submitting their final Progress report.





Back to PEER Cycle 8 Grant Recipients