Cycle 8 (2019 Deadline)



Planning plantations: past learning, toward triple wins in carbon, biodiversity and livelihoods



PI: Rajesh Thadani (thadani_rajesh@hotmail.com), Centre for Ecology Development and Research (CEDAR), in partnership with Kumaun University
U.S. Partner: Forrest Fleischman, University of Minnesota
Project dates: November 2019 - August 2022

Project Overview: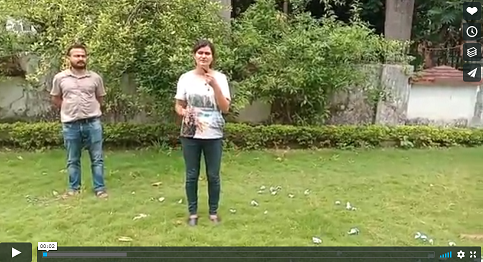 Dr. Thadani and the team provide training on Mycorrihzae Sporocarp.

Governments worldwide are increasingly aiming to increase tree cover, yet the impacts of afforestation programs are poorly understood. Recent evaluations find that they often have unintended negative impacts or tradeoffs between the triple goals of carbon storage, biodiversity protection, and livelihoods. This proposal complements an existing NASA-funded project evaluating the impact of plantations on land cover and livelihoods of poor forest dependent people in the Indian state of Himachal Pradesh. PEER funding will allow CEDAR, an Indian research NGO, to measure carbon storage and biodiversity in the same plantation areas and disseminate results through planned events, working in partnership with a local university. This project will make it possible to evaluate when–and how–afforestation projects achieve the triple win of storing more carbon, protecting biodiversity, and enhancing rural livelihoods, more fully accounting for the potential benefits and costs of plantations in the Himalayas. This project will provide important data on carbon and biodiversity in plantations of multiple age cohorts in diverse ecological types, and develop methodological innovations for analysis of carbon storage, biodiversity, and its relationship to land cover and livelihoods. India provides an ideal environment for exploring the impacts of afforestation programs due to its history of nearly 50 years of plantation programs, the presence of important biodiversity and carbon stocks, and the large number of people at the base of the economic pyramid in India who meet their daily livelihood needs from forests. There is a growing demand in India for accurate estimations of carbon stocks and biodiversity impacts resulting from tree plantations in order to evaluate the effectiveness of afforestation. This proposal will address this demand while also filling a long-standing gap in scientific information about the Himalayas, where social and ecological data are seldom collected together. With the results of the proposal, the researchers involved will contribute to understanding which kinds of afforestation programs have been most effective at achieving triple wins, contribute to policy development in Indian forestry through planned events, and enhance potential for triple wins by developing innovative methods that can be adapted by other countries.


The project team collects soil samples and conducts soil sample analysis (photos courtesy of Dr. Thadani).

This project is also expected to contribute to USAID's Partnership for Sustainable Forests in India (Forest PLUS) program and to provide technologies and practices that can be transferred to other developing country contexts. This will be done in three ways. First, they will develop innovative methods to identify conditions when synergies among triple goals of carbon storage, biodiversity, and livelihoods are realized. Their findings will provide inputs to India's forest policy and management, enabling governments and external funders to evaluate tradeoffs between afforestation goals, especially those impacting forest dependent people at the bottom of the pyramid (BOP), in designing future afforestation programs. Second, they will engage with three communities—forest-dependent people at the BOP, forest departments, and NGOs—to enhance impacts of this project by providing training and workshops. BOP populations will also be engaged during data collection and dissemination, and in this way, and by involving elected local governments, the PEER team will increase the representation of vulnerable groups in forest decision making. Third, the researchers will assist in the development of curriculum related to assessment of triple wins in afforestation. They will partner in developing field-based courses with partners at educational institutes, including Kumaun University, the University of Minnesota, India's Forest Research Institute, the G.B. Pant Institute, and the International Centre for Integrated Mountain Development. The proposal will directly educate two women researchers at CEDAR and a team of local youth in field methods and forest policy.

Summary of Recent Activities:

The PI made a four-day field visit to the Palampur area in October 2021, during which he visited more than 25 of the forest plots included in the study and interacted with the local communities. He and his team also began data compilation and analysis on above- and below-ground carbon during this the last quarter of 2021. Meanwhile, they sought expert consultation on a booklet on mushrooms found in the forest plantations, which they aim to publish as a knowledge product for a wider audience, including researchers and citizen groups. Dr. N.S.K. Harsh, a senior scientist from Forest Research Institute, Dehradun, India, was approached to help the team in better identification and classification of mushrooms in the plantations. His expertise has been very helpful in identifying and documenting the many species of sporocarps or fruiting bodies of the mushrooms present in the plantations.

COVID continued to hinder project activities, with the ongoing prevalence of the delta variant and subsequent rapid spread of omicron being major issues during the latter part of the quarter. These pandemic-related problems combined with extreme weather precluded any planned public meetings or workshops. In the first quarter of 2022, the researchers plan to continue detailed analysis of their data and work on their report. The mushroom booklet will be finalized along with a few other knowledge products. If the COVID situation permits, the team will organize an expert consultation workshop sharing their results and feedback from the field. Because they strongly feel that in-person discussion is essential, the event will take place only if such gatherings are permitted and can proceed safely. A no-cost extension has been issued through August 2022.


Back to PEER Cycle 8 Grant Recipients