Cycle 8 (2019 Deadline)



Development of wood identification system and timber tracking database to support legal trade



PI: Ratih Damayanti (ratih_turmuzi@yahoo.com), Forestry Research Development and Innovation Agency (FORDA) of the Ministry of Environment and Forestry, Indonesia, in partnership with Bogor Agricultural University
USDA/FS Collaborator: Michael Wiemann, U.S. Forest Service, Forest Products Laboratory
Project Dates: February 2020 - October 2021

Project Overview: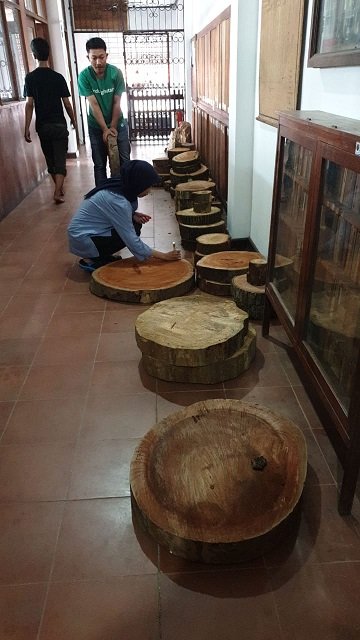 Wood sample collection (photo courtesy of Dr. Damayanti).

This project is aimed at developing a wood identification system using a combination of methods to obtain quicker and more accurate results. Tools for improved wood identification accuracy at the species level could also help to differentiate wood origins and estimate when the tree was cut, something that is not currently possible. The technology will be integrated with the Indonesian Forest Product Administration Information System (SIPUHH) online, as part of the Indonesian Timber Legality Assurance System. The methods to be applied involve a combination of computer vision and spectrometry, integrated with an online digital database. The expertise of U.S. partners Dr. Wiemann and Dr. Hermanson from the United States Department of Agriculture will be critical in developing and testing the new system. Dr. Wiemann is a wood anatomist in the Center for Wood Anatomical Research at the Forest Products Laboratory, and Dr. Hermanson has developed a machine vision-based wood species classifier (XyloTron) and worked in other domains of data-driven machine-learning for classification and database creation, management, and mining. This PEER project also aims to establish a wood species database for timber tracking in supporting legal trade. Data from the existing wood species database from the Xylarium Bogoriense could also be integrated with new data from other regions in Indonesia. The digital collection should be useful as a guide in mapping the distribution of wood biodiversity in Indonesia, providing information on carbon stock based on wood density, and listing active compounds identified by spectrometry that could be useful for scientific and commercial purposes.

The proposed project has strong relevance to Indonesian and USAID objectives for enhancing the country's resilience and capacity for sustainable management of a rapidly depleting resource base of bio-diverse forests. In 2009, the Ministry of Forestry issued created the Timber Legality Assurance System with the goal of improving forestry management governance and eradicating illegal logging and trade. With regard to international trade with the United States, the Lacey Act requires verification of timber origins. Importers must declare the trade and botanical names of the wood species, the country of origin, the size and volume of the wood, and its value. Difficulties are regularly encountered in meeting these requirements, however, due to limited knowledge, technology, and staff capabilities. Because wood identification currently can only be carried out by trained or experienced researchers or officers, personal perception factors can also influence the accuracy of results and the length of time required for identifications. The development of an automated wood identification system and wood species databases would provide significant positive impact on the legal timber verification process. If the system is incorporated into the mandatory Indonesian system, it will support the trade in legal timber and help reduce illegal logging and preserve forests. Moreover, the establishment of an integrated wood database would create a comprehensive information source to improve the management of forest product utilization by various stakeholders, including the Ministry of Environment and Forestry, Customs, forest concessions, local governments, other related stakeholders, and communities.

Summary of Recent Activities:

During February and March 2021, the PI Dr. Damayanti and her colleagues held regular project coordination meetings and continued their lab activities. Following are brief updates on progress made recently on the four planned project outputs:

Output 1, Improving the existing automatic wood identification system (AIKO-KLHK Ver 1): The team finished inputting data and training the system on 350 additional wood species for AIKO-KLHK Ver 2. During the first quarter of 2021, some 2,400 people used the system, including representatives of government institutions (Customs and the Law Enforcement Division of the Ministry of Environment and Forestry), field officers, and other parties such as forest industry staff, students, and academics. The PI reports that great improvements have been made in the system, and more industry staff are interested in trying it out.
Output 2, Developing a more objective wood identification system using capacitance volumetric tomography technology (ECVT): Team members worked on sensor design, specimen preparation and moisture content conditioning, material characterization, and data analysis.
Output 3, Assessment of the current wood legality system in Indonesia and implementation/integration of the wood identification system into Indonesian TLAS (SVLK): At a coordination meeting held on February 10, the researchers agreed to make some changes in the research plan. Specifically, they will set up trials in representative industries to ascertain whether the AIKO-KLHK can be integrated into the SVLK system.
Output, 4 Developing the Integrated Xylarium Bogoriense Database: By the end of March 2021, 206,937 wood specimens consisting of 6,679 species, 170 families, and 1,105 genera have been recorded in the database.
The PI and her colleagues were also invited to attend a meeting to discuss illegal logging cases involving the protected species Merbau (Intsia bijuga). The other participants included staff from government agencies (Kaoem Telapak and the Environmental Investigation Agency), the Law Enforcement Division of the Ministry of Environment and Forestry, and NGOs interested in the implementation of the PEER project results. Further work and discussions are still needed.

During the remaining months of the project, which is now scheduled to end as of October 31, 2021, Dr. Damayanti and her team will continue to focus on validating and improving their AIKO-KLHK system and preparing patents and publications. They also plan to provide training on wood identification methods to personnel from the forestry industry and associated small and large enterprises that use wood. These dissemination efforts will include focus groups and policy dialogues, as well as preparation of a written policy brief. Finally, the PEER team will continue inputting data into the wood collection of the Xylarium Bogoriense, launch an integrated database, and apply for a copyright on their work.


Back to PEER Cycle 8 Grant Recipients