Cycle 8 (2019 Deadline)



Identifying conditions for successful landscape-scale conservation policy implementation in Vietnam



PI: Pham Thu Thuy (t.pham@cgiar.org), Center for International Forestry Research (CIFOR), in partnership with the Vietnam National University of Forestry
U.S. Partner: Darla Munroe, The Ohio State University
Project dates: January 2020 - December 2022

Project Overview:

Data collected by CIFOR's Global Comparative Study on Reducing Emissions from Deforestation and Forest Degradation (GCS-REDD, 2008-2020), partly funded by USAID, provides an empirical foundation to study the connection between conservation stakeholder networks and the ecological and livelihoods impacts of landscape-scale forest conservation in Vietnam. While Vietnam's Payment for Forest Environmental Services (PFES, 2008-present) and REDD+ (2012-present) policies were implemented, CIFOR collected data on national forest policy networks. In this PEER project, the PI and her team intend to collect socioeconomic and remote sensing data on land cover before and after PFES and REDD+ implementation for the entire country, using landscape ecology statistics to characterize forest change around and landscape connectivity between sites. They will use archival materials from government, NGO/CSO, and other organizations' websites and annual reports, newspaper reports, and policy literature, alongside GSC-REDD's national policy network data, to identify collaborative networks involved in PFES and REDD+ implementation in an sample of provinces. These additional data, combined with the large existing archive of qualitative data collected as part of the GCS-REDD study, will allow them to model connections between conservation stakeholders, testing the relationship between network structures, land-use changes, and ecological outcomes.



Participants of the November 2020 knowledge sharing workshops (photo courtesy of Dr.Pham).


This project's findings should fill a critical gap by collecting and assessing evidence on the impacts of PFES and REDD+ on forest cover and structure and local livelihoods. The project will help build capacity for multiple stakeholders (government agencies, NGOs, research institutes, the private sector, and the media), bridging organizations to encourage participation, dialogue, and coordination across scales and sectors. The project's cross-scale focus is particularly important given that REDD+ capacity building in Vietnam has focused on the national level, and collaboration beyond the state forest sector has been difficult due to scarce resources and limited capacity. This study will provide the Vietnamese Ministry of Agriculture and Rural Development with scientific inputs that will enable the ministry to refine its PFES and REDD+ monitoring and evaluation framework. As 25 million people in Vietnam are forest dependents and more than 5 million are participating in the PFES scheme, this study can enhance local-level social capital while increasing the effectiveness of the scheme.

Summary of Recent Activities: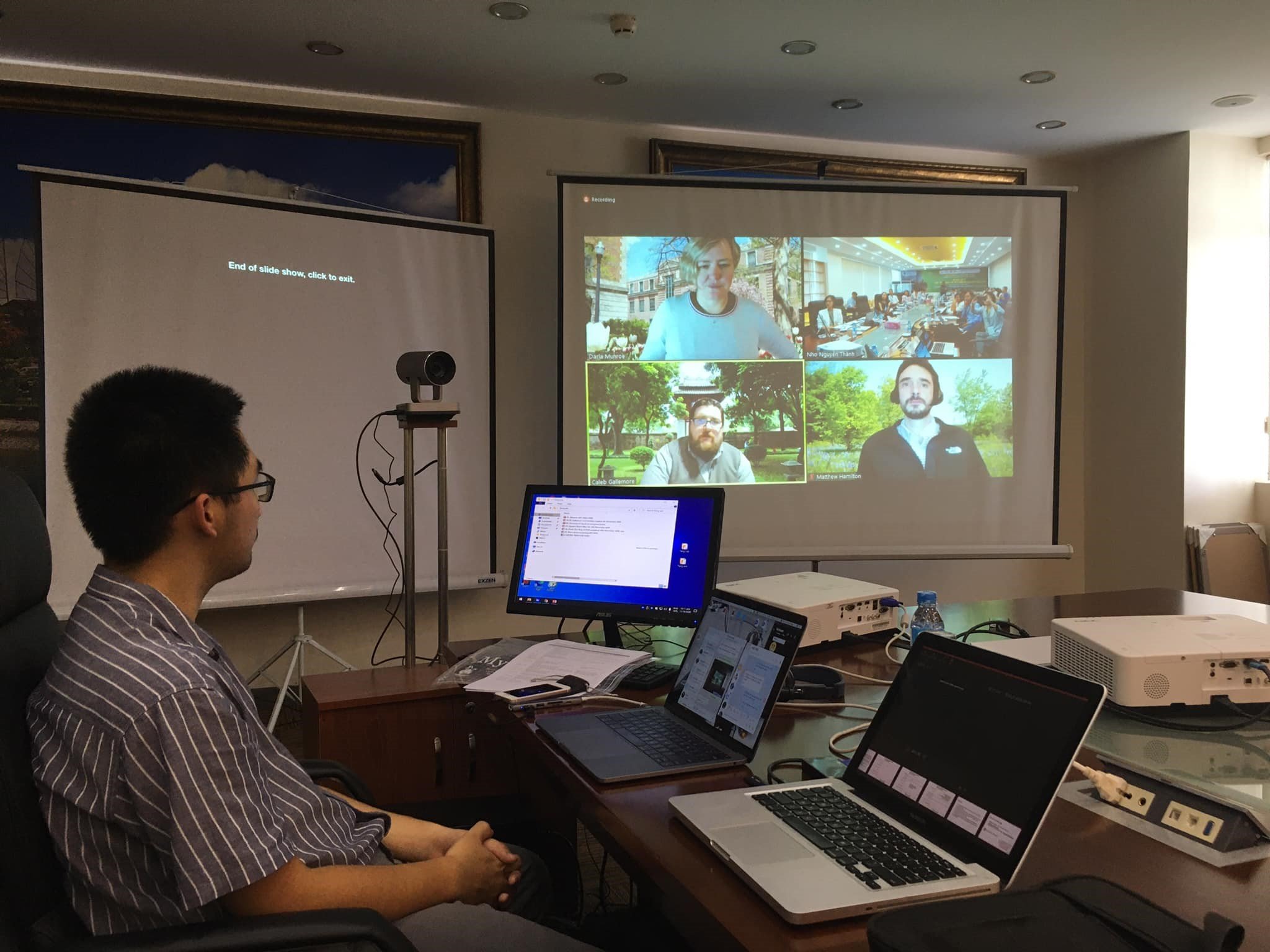 The project team conducts a workshop with US partners (photo courtesy of Dr. Pham).

Key research activities carried out during the first quarter of 2022 included data refining and resubmission of two journal articles. One is on cross-scale coordination of Vietnamese forest conservation policy instruments and the other is on the impacts of payments for environmental services (PFES) on local livelihood in Thua Thien Hue Province. In addition, the PI and her team collaborated with Nong Lam University and the Ministry of Agriculture and Rural Development
(MARD) to organize a national workshop on "Policy, Technical, and Financial Solutions to Improve the Effectiveness of Mangrove Forest Protection and Development in Vietnam in 2021–2030, with a Vision to 2050." The event was held on March 15, 2022, and attracted 159 159 participants in person and 30 more online. In this workshop, the team shared their research findings on PFES and related topics. The participants included policymakers, international organizations, academia, the private sector, and civil society members who are working in the field. This workshop also strengthened the team's collaborations with key government agencies such as MARD, and it attracted the attention of many high-ranking government officers and decision-makers who attended and presented. Key research organizations represented included the Vietnam Forestry University, National University, and Hanoi University of Natural Resources and Environment, but many private companies also sent representatives to learn about sustainable mangrove management and how this can generate additional income for them.

This PEER team has put a great emphasis on outreach and collaboration with various stakeholders. Beyond the collaboration on the workshop, the researchers have informed MARD about their research findings in both formal and informal meetings and shared their results with staff from the USAID Mission in Vietnam. They have also disseminated their findings to another USAID-funded project in Vietnam—Sustainable Forest Management (SFM). Representatives from DAI, the implementing partner working on that project, have also participated in workshops on the project and in discussions on how the two efforts might leverage one another in the future. Meanwhile, Dr. Thuy and her colleagues have worked with several Vietnamese universities, including Vietnam Forestry University, Tay Nguyen University, and Hue Agroforestry University on conference organization and preparation of reports. In addition, they worked with local civil society organizations including Tay Nguyen Rural Development Center and Center for Rural Development to support their data analysis and publication of reports on PFES impacts.

A no-cost extension has been issued through December 2022. Now that travel restrictions have eased, the PI and another researcher on the project, Mr. Hoang Tuan Long, will visit their U.S. partners at Ohio State University in August. They will also stop off on Washington, DC on their way home to present their work to USAID and NAS staff.


Publications

Pham, TT; Duong, NP; Le TTT. 2022. Impacts of payments for ecosystem services on local livelihoods in A Luoi District, Thua Thien Hue Province, Viet Nam. Forest and Society 6(2):590-608. Available at https://www.cifor.org/knowledge/publication/8597.

Pham, TT; Hoang, TL; Duong, TBN; Le, TTT; Tran, NMH. 2022. Understanding payment for environmental services in Vietnam in times of COVID-19: research methods and guidelines. Bogor, Indonesia: CIFOR. Available at https://doi.org/10.17528/cifor/008495.

Pham, TT; Hoang, TL; Duong, TBN; Duong, NP; Le, TTT; Tran, NMH. 2022. Tìm hiểu vai trò của Chi trả Dịch vụ Môi trường rừng ở Việt Nam trong thời điểm Covid-19: Phương pháp và hướng dẫn nghiên cứu. Bogor, Indonesia: CIFOR. Available at https://doi.org/10.17528/cifor/008494.

Pham, TT; Mwangi, E; Vu, TP; Hoang, TL. 2022. Tìm hiểu về quản trị rừng ngập mặn: Các phương pháp và hướng dẫn nghiên cứu. Bogor, Indonesia: CIFOR. Available at https://doi.org/10.17528/cifor/008479.

van Nordwijk, M; Pham, TT; Leimona, B; Duguma, LA; Baral, H; Khasanah, N; Dewi, S; Minang, PA. 2022. Carbon footprints, informed consumer decisions and shifts towards responsible agriculture, forestry, and other land uses? Carbon Footprints 1(4). Available at https://doi.org/10.20517/cf.2022.02.

Pham, TT; Nguyen, TD; Dao, CTL; Hoang, LT; Pham, LH; Nguyen, LT; Tran, BK. 2021. Impacts of Payment for Forest Environmental Services in Cat Tien National Park. Forests 2021, 12, 921. https:// doi.org/10.3390/f12070921

Dương NP, Phạm TT, Lê TTT, Nguyễn TDH, Đỗ TTÁ, Trần QT và Dương HM. 2021. Thực thi chính sách chi trả dịch vụ môi trường rừng tại Thừa Thiên Huế: Bài học từ huyện A Lưới. Báo cáo chuyên đề 227. Bogor, Indonesia: CIFOR. Available at: https://www.cifor.org/publications/pdf_files/OccPapers/OP-227.pdf

Dương NP, Phạm TT, Lê TTT, Nguyễn TDH, Đỗ TTÁ, Trần QT và Hồ ĐN. 2021. Tác động môi trường của chính sách chi trả dịch vụ môi trường rừng tại Huyện A Lưới – Tỉnh Thừa Thiên Huế. Báo cáo chuyên đề 226. Bogor, Indonesia: CIFOR. Available at: https://www.cifor.org/knowledge/publication/8207/

Pham, TT; Le, TTT; Tuyet, HNK; Pham, VT; Tran, PHNK; Tran, TD; Tran, NMH; Nguyen, TTA; Nguyen, TVA. 2021. Impacts of Payment for Forest Ecosystem Services in Protecting Forests in Dak Lak Province, Vietnam. Forests 2021, 12, 1383. https://doi.org/10.3390/f12101383

Dương NP, Phạm TT, Lê TTT, Nguyễn TDH và Đỗ TTÁ. 2021. Tác động của chi trả dịch vụ môi trường rừng tại Thừa Thiên Huế đến đời sống kinh tế xã hội của cộng đồng: Bài học từ huyện A Lưới- tỉnh Thừa Thiên Huế. Báo cáo chuyên đề 225. Bogor, Indonesia: CIFOR. Available at: https://www.cifor.org/knowledge/publication/8206/

Tuyết HNK, Phạm VT, Trần TD, Trần PHNK, Y JB, Nguyễn TP, Lưu MT, H'Uyên N, H'Loát K, Phạm TT và Hoàng TL. 2021. Tác động của chi trả dịch vụ môi trường rừng tại Đắk Lắk, Việt Nam. Báo cáo chuyên đề 228. Bogor, Indonesia: CIFOR.

Pham T.T.; Hamilton, M.; and Gallemore, C. 2021. Kết quả ban đầu của đánh giá tác động Chi trả Dịch vụ Môi trường Rừng (PFES) đối với mạng lưới rừng và quản trị, thu nhập hộ gia đình và thực trạng mất rừng ở Việt Nam. Infobrief 330. Bogor, Indonesia: CIFOR.

Pham T.T.; Hamilton, M.; and Gallemore, C. 2021. Preliminary results of assessments on the impacts of Payments for Forest Environmental Services (PFES) on forest networks and governance, household income and forest loss in Vietnam. Infobrief 325. Bogor, Indonesia: CIFOR.

Pham, T.T..; Đặng, L.H.; Tăng Thị, K.H.; Đặng, H.P.; Hoàng, T.L.; Phạm, T. Thuyền; Nguyễn Thị, K.N.; Nguyen Thi, V.A.; Nguyen Thi, T.A.; Phạm, T. Tuấn. 2021. Willingness to participate in Payment for Mangrove Environmental Services: Maritime sector and shipping industry stakeholder perspectives. Infobrief 334. Bogor, Indonesia: CIFOR.

Pham, T.T.; Đặng, L.H.; Tăng Thị, K.H.; Đặng, H.P.; Hoàng, T.L.; Phạm, T. Thuyền; Nguyễn Thị, K.N.; Nguyen Thi, V.A.; Nguyen Thi, T.A.; Phạm, T. Tuấn. 2021.Sự sẵn lòng tham gia vào Chi trả dịch vụ môi trường rừng ngập mặn Góc nhìn từ hãng tàu và các bên liên quan trong ngành vận tải biển. Infobrief 333. Bogor, Indonesia: CIFOR


Further information on events organized under the project is available at https://www.cifor.org/event/gcs-redd-knowledge-sharing-events-in-vietnam/.


Back to PEER Cycle 8 Grant Recipients