Cycle 8 (2019 Deadline)



Evaluation of new citrus rootstocks for their adaptation in different growing environments in Tunisia



PI: Hajer Snoussi Ep. Trifa (hagersnoussi@gmail.com), National Institute of Agronomy Research of Tunisia
U.S. Partner: Violeta Tsolova, Florida A&M University (original partner: Anthony Ananga)
Project dates: March 2020 - June 2023

Project Overview: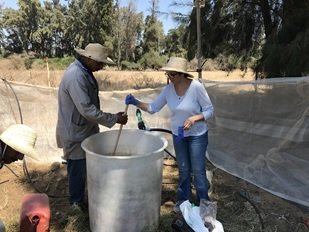 The team collects samples in the field (photo courtesy of Dr. Snoussi).

The change in the global climate causes a big threat to the production of agricultural crops, and as a result, crops have to cope up with a combination of novel and complex environmental conditions1. Therefore, there is a need to develop strategies that can mitigate climate change, and improve the yield, resilience and productivity of crops under both abiotic and biotic stress conditions. In Tunisia, citrus production is facing a complex combination of abiotic constraints like drought and salinity, as well as biotic threats such as Citrus Tristeza Virus (CTV). The most sustainable and environmental-friendly strategy is to promote combinations of suitable gathering of a given commercial variety with a specific rootstock, conferring adaptation to the abiotic stresses and tolerance to CTV. This project team will use morphological, physiological, and molecular analysis on various rootstock/cultivar combinations in multi-location field trials to gain a better understanding of the impact of the rootstock/cultivar relationship on physiological processes such as toxic ion uptake, ion translocation, ion homeostasis, water uptake, osmotic regulation, and photosynthesis resilience. Commercial orchards usually contain more than one variety and/or citrus specie. This is done because farmers often have to fulfill contracts to provide products over an extended period. In addition, this allows better management of the human resources at the farm, particularly for harvesting. Nurserymen are therefore called on to provide several location-specific rootstock/cultivar combinations in order to answer farmers' demands. The goal of the project is to provide to farmers the best behaving citrus combinations (rootstock/variety) that could replace the current ones while ensuring the adaptation of these new combinations to local conditions to secure a good profit.

In Tunisia, the citrus sector is a strategic component of the overall national economic development program. Citrus production covers 27,000 hectares and is the main source of income for more than 12,000 farmers. Citrus fruits are among the most consumed fruits in Tunisia and constitute the most common and most affordable fruit in the Tunisian diet during the 9 months from September through May. However, citrus growing farmers would be poorly resilient in the case of a breakthrough of CTV, and potential risks are increasing given the current climate change trajectory. If this problem is not tackled, it would impact the entire citrus value chain, including producers, retailers, exporters, and consumers and would be a matter of food security as well. The Tunisian National Strategy for Citrus Development (2020-2025) is built on several pillars, among which are the replacement of sour orange to cope with the CTV threat, the development of new areas of citrus production, and the increase of the sector's resilience to climate change. This new PEER project project fits within these orientations and proposes to work with both the public and the private sectors to analyze the behavior of a selection of CTV-resistant rootstocks/varieties in a multiple location trials in the traditional and new cultivation areas. Through seminars and field days, Dr. Snoussi and her colleagues will share the project's results with government stakeholders at the Ministry of Agriculture, as well as citrus farmers' cooperatives and farmers' unions, with which the research team has longstanding previous cooperation.

Summary of Recent Activities

During the first half of 2022, Dr. Snoussi has reported continuing progress on all four of the work packages (WP) included in her PEER project:

WP1 (Growth and physiology studies on rootstocks/varieties combinations in various environments): As part of their study of physiological responses to abiotic stress, particularly salt and water stress, of new citrus combinations grafted on four citrus tristeza virus (CTV)-tolerant rootstocks and sour orange (control), the researchers geolocated their experimental plots, collected data on agricultural practices, and gathered climate data from the National Institute of Meteorology of Tunisia. They took growth measurements, including tree height and scion and rootstock circumference to determine affinity and canopy volume. Initial results are promising for one rootstock/variety combination, particularly in southern Tunisia, where citrus fruits are used as shelf crops under palm trees.
WP2 (Transcriptome differences in the leaves of orange grafted onto different rootstocks): The planned comparative RNA-seq analysis and physiological studies of citrus rootstock combinations under different soil and water irrigation salinity conditions continued to be delayed, as this part of the research must be carried out in the lab of the U.S. partner. Dr. Snoussi and her colleague Dr. Hend Askri tentatively plan to visit the Center for Viticulture and Small Fruit Research at Florida A&M University in October 2022, pending issuance of their visas. They will be working with new U.S. partner Dr. Violeta Tsolova.
WP3 (Production parameters and fruit quality assessment): The team continued with their analyses of sugar content and acidity of the juice from oranges and clementines produced by the various rootstock/variety combinations in various regions. They also studied the effect of rootstock on total polyphenols, flavonoids, and anti-radical activity of methanolic extracts of the juice of Newhall and Hernandina varieties.
WP4: (Farmer surveys and economic studies): The researchers involved in this part of the project moved past the previously reported delays to move forward on their economic assessment of the adoption of CTV-resistant rootstocks. They carried out four field visits to build awareness of such rootstocks among farmers, gather feedback, build partner commitments, and develop a survey questionnaire. In May 2022, they conducted the survey by means of in-person interviews with 25 adopters, including 21 farmers, 2 private companies, and 2 state-run Agricultural Enhancement and Development Companies (SMVDAs).
In the remainder of 2022 and into 2023, thanks to a no-cost extension through next June, the PI and her team will continue their field and lab work on all work packages. Besides the visit by Dr. Snoussi and Dr. Askri to carry out lab analyses at FAMU, the U.S. partner will also coordinate a visit by three other team members to Florida to visit citrus growers and processors and learn more about the latest practices in the field. The team also plans to disseminate their findings and recommendations to various stakeholders, including the Tunisian Ministry of Agriculture and its dependent agencies. In the national strategy for the development of the citrus production (2019- 2026), CTV has been declared a major threat if it were to arrive in Tunisia. Science-based recommendations on the exclusion of sour orange-grafted citrus and the promotion of identified CTV-tolerant combinations could have great impact.


Back to PEER Cycle 8 Grant Recipients