Cycle 9 (2020 Deadline)



The evaluation of challenges of youth in Kazakhstan and piloting innovative solutions



PI: Aida Sagintayeva (asagintayeva@nu.edu.kz), co-PI Alima Ibrasheva, Nazarbayev University Graduate School of Education
U.S. Partner: James Cox, Georgia State University
Project Dates: April 2021 - March 2023

Project Overview: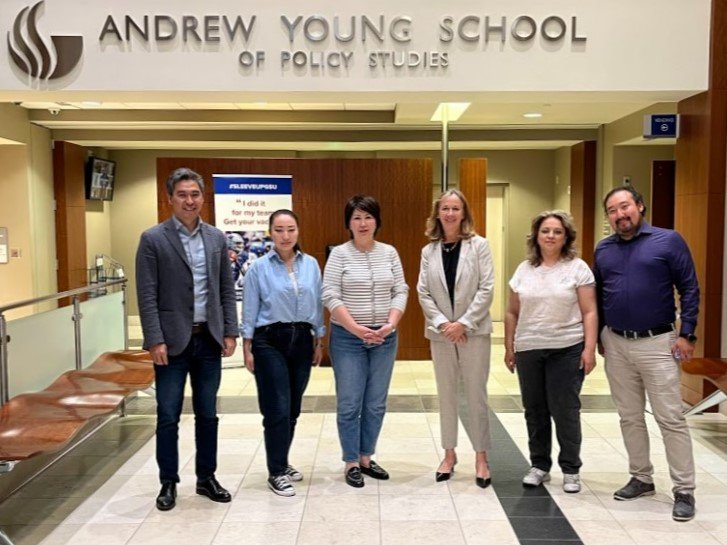 Group photo with Dr. Sally Wallace, the Dean of Andrew Young School of Policy Studies where ExCEN is housed (from left to right: Zakir Jumakulov, Galiya Yelubayeva, Alima Ibrasheva, Sally Wallace, Marina Tyutyunnikova, Bauyrzhan Yedgenov), October 28, 2021 (Photo credit: Zakir Jumakulov).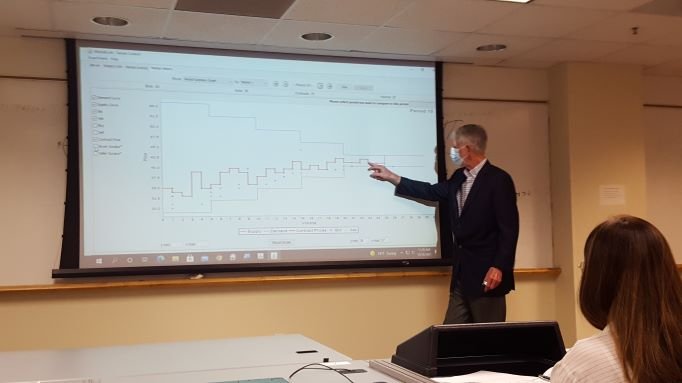 Dr. James Cox, the director of ExCEN and PEER team's U.S. partner, giving the introduction on experimental economics and methodology to the PEER research team (October 18, 2021, photo credit: Marolyn Lucy Gentles).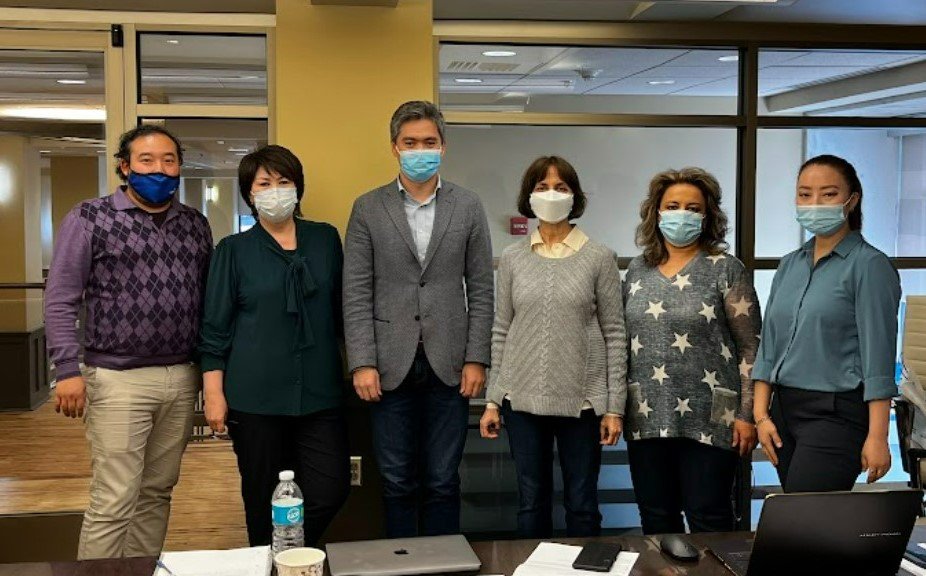 PEER team with GSU team: Bauyrzhan Yedgenov, Alima Ibrasheva, Zakir Jumakulov, Sally Wallace, Marina Tyutyunnikova, Galiya Yelubayeva,), October, 2021

This project aims to reduce the number of NEET youth (those not in employment, education, or training) by creating recommendations on increasing the efficiency of prevention, outreach, and reintegration policies of the Kazakhstani government. The participating partners, which include higher education institutions and a network of the country's NGOs, will align their efforts to perform research plans effectively. Cooperation with the U.S. partner institution will enhance the research capacity of Kazakhstani actors with methodological guidance and capacity building on experiment design. This partnership is expected to serve as a sustained, coherent, comprehensive, coordinated mechanism that will continue to address the needs of youth even after the project ends.

By conducting a thorough review in the global context, the project will propose a better methodology to define NEET, suggest ways to reach out to NEET youth, and work to elevate the importance of the issue in the national Kazakhstani policy agenda. To identify the detailed characteristics of NEET, the team will conduct a survey of 800 participants and interviews and focus groups with 55 participants. Interventions will be evaluated with innovative field and lab experiments. The lab experiments will test for bottlenecks in the effectiveness of interventions from a behavioral standpoint. The use of experimental methods ensures the reliability of the evaluation of interventions to tackle NEET youth challenges in the context of Kazakhstan and define youth behavioral patterns.

This project will produce policy recommendations on education, labour market, and social policy designed with a particular focus on NEET youth and evidence-based profiling to tackle the root causes of their exclusion from education and employment. Current support and measures to engage and reintegrate NEET youth are not a priority nor explicitly stated in policy programs. Moreover, the vulnerability, regional discrepancies, and risk factors are not well defined in Kazakhstan. If NEET youth are not provided opportunities to find long-term employment, it negatively affects national economic development and lessens chances for equal prosperity, and the COVID-19 pandemic has only exacerbated the situation. Besides the research and policy recommendation aspects, the project aims to promote fruitful cooperation with NGOs and increase the research capacity of Kazakhstani higher education centers through interaction with the U.S. partner.

Project updates



During October-December 2021 reporting period, the project team conducted 25 surveys with NEET youth stakeholders. The team began data analysis and completed coding of transcripts. In October the team conducted an exchange visit at Georgia State University, Atlanta, GA where they were able to practice and design field experiments with assistance of GSU experimental team.

GSU Experimental Methods Training

The

experimental methods training

took place between October 18th through 28th, 2021 at Georgia State University (GSU) in Atlanta, Georgia. The training was led by Dr. James Cox, the director of the Experimental Economics Center (ExCen) at the Andrew Young School of Policy Studies (AYSPS) and the main partner of the project team, lead by researchers from Nazarbayev University, and partnered with Almaty Management University and Civil Alliance of Kazakhstan. The training is the third phase of the project following literature review and qualitative analysis of challenges and issues faced by youth in Kazakhstan. Laboratory and field experimental methods in economics and other social sciences have been actively developing for about 20 years to test the behavior of people in a certain situation under the influence of various interventions. For the first time in Kazakhstan and the Central Asian region, these methods will be applied to develop educational and labor market solutions for NEET youth (youth that is not in education, employment or training). The initial analysis identified that some of the main indicators affecting NEET youth are the lack of information about employment opportunities, lack of willingness to take on low prestige blue collar jobs, and low trust in governmental initiatives among other. The following fourth and fifth phases of the project will test potential solutions to these issues. Training sessions were conducted by experienced faculty and researchers with extensive background in both research and application of these methods. Besides Dr. James Cox, an outstanding researcher who has published over 130 papers in applied and theoretical economics, the sessions were conducted by Dr. Sadiraj Vjolca, Dr. Todd Swarthout, Dr. Susan Laury (all ExCen affiliated faculty), as well as Dr. Sally Wallace (Dean and Professor at AYSPS) and Dr. Kevin Fortner (Associate Professor at the College of Education and Human Development at GSU). As a result of the training, the research team developed a lab and field experimental design that was presented to faculty at GSU for feedback.

For the lab experiment, the team will conduct a series of experiments in Nur-Sultan and Almaty to elicit the discount for low prestige jobs and the peer pressure of obtaining it. The unemployed youth will be divided into three study groups, where one group will choose between realistic white collar versus blue collar jobs under varying wages to elicit the difference in market wage in equilibrium which would indicate the discount the potential workers put on low prestige jobs, or, in other words, the premium they put on prestige jobs. Another study group will choose between white collar and blue collar jobs under revealed choices among peers to elicit the discount on low prestige jobs under peer pressure. Finally, the third study group will consist of the combination of these two study groups. Approximately 30 young unemployed individuals will be recruited for each study group and will be paid based on choices they make during the experiment. For the field experiment, the youth will be divided into two groups – study and control. The study group will receive a weekly message on free governmental training and employment opportunities, including instructions on how to sign up and who to contact for the period of three months. A survey will be conducted before the study begins, as well as at the end of the study period where outcomes such as rate of training sign-up, rate of employment, extent of knowledge about governmental programs will be collected. After the study period is completed, the outcomes will be compared between the study and control group using econometrics methods and recommendations will be suggested accordingly.


GSU team also anticipates to help Nazarbayev University and Almaty Management University to set up an experimental lab, train the local staff how to run it, and conduct a seminar for faculty and students on opportunities for research. The experimental labs would be the first of their kind in the Central Asian region, and can be potentially useful for researchers in multiple fields in social sciences across all universities and think tanks in Central Asia.

During the first quarter of 2022, the team is planning to continue participant recruitment and conducting five more focus group meetings with NEET youth. After the data is collected, the data analysis stage will commence.. The team will continue conducting the experiment with analytical support of the GSU research team.



Back to PEER Cycle 9 Grant Recipients