Cambodia (2021 Deadline)



Diagnostic investigation of water eutrophication in Stung Treng Ramsar Site, Cambodia



PI: Saret Bun (saret@itc.edu.kh), Institute of Technology of Cambodia
Co-PI: Sothearoth Chea, YEA Catalyst
Project Dates: June 2022 – August 2023


Project Overview: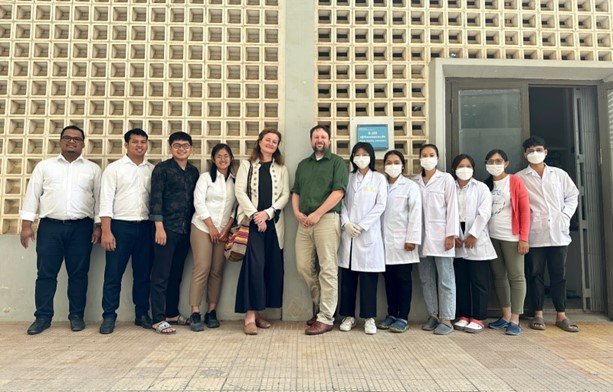 USAID (Aaron Burr) and NAS (Lina Stankute Alexander) visit PEER PI Dr. Saret Bun (left) and his team at Institute of Technology of Cambodia in Phnom Penh, February 2023

The Stung Treng Ramsar Site covers a stretch of approximately 37 km of the Mekong River in Stung Treng Province, northern Cambodia. The lower boundary of the site is approximately 3-4 km upstream from Stung Treng town, extending upstream to within 2-3 km of the border with Laos. The total area of the site is estimated as 14,600 hectares. To achieve its objectives with regard to research and community engagement, this project will have four main stages of activity. First, the team will conduct an introductory seminar for all project stakeholders, which will include gathering their input on specific sites where water sampling will take place. The second stage is focused on data collection, and the effort will begin with a two-day training on the theory and practice of data collection to be presented by the project team. The training will include survey and water sampling methodology, survey questionnaire design, identification of target groups of respondents, and thorough orientation on tools for data collection in the partnership community. Following the two-day core training, a pre-test of survey questionnaires will be conducted in one of the communities of the Stung Treng Ramsar Site. After the pre-test, community teams will gather once again and share their experience on issues and concerns during interviews and refined the questionnaire before the field survey. With the support of the project team, the survey questionnaire will be prepared in both the English and Khmer languages, with separate versions for key stakeholders and general members of the community.

The team will collect 205 samples (7% of villagers) and will include questions on respondent background, household sanitation practices, observations of respondents on water eutrophication, perceptions of the cause of water eutrophication, and knowledge of water eutrophication. In addition to the surveys, PEER researchers will lead trained community members in taking water samples at the Stung Treng Ramsar Site. Physical and chemical water quality parameters will be measured at the site using portable meters and samples will be transported from the site to the Water Environment Laboratory of ITC for further analysis. The third phase of the project will involve analysis of the survey and water sample data, and the fourth phase will focus on dissemination of the findings to the communities involved and the broader scientific community.



| | |
| --- | --- |
| | |
| Community surveys and training. Photo courtesy Dr. Saret Bun | |
| | |
| --- | --- |
| | |
| Research in action. Photo credit: Dr. Saret Bun | |












































Back to PEER Cambodia Grant Recipients