Partnerships for enhanced engagement in research (PEER) SCIENCE
Cycle 1 (2011 Deadline)
Assessing degradation of tropical peat domes and dissolved organic carbon (DOC) export from Belait, Mempawah and Lower Kapuas rivers in Borneo
PI: Gusti Z. Anshari, Universitas Tanjungpura
US Partner:
Charles F. Harvey, Massachusetts Institute of Technology
Project Dates: June 2012 - April 2016
Project Overview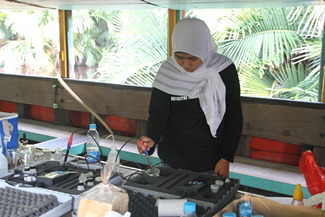 Dr. Anshari's student, Ms. A. Putri, measures pH and conductivity of water samples on the boat during the June 2013 sample campaign (photo courtesy of Dr. Anshari).
The tropical peat lands of Borneo and the rivers that flow through these landscapes are important for supplying natural goods, maintaining livelihoods, conserving biodiversity, and affecting climate. Peat forests and associated rivers provide timber, freshwater fish, and other natural products. Because tropical peats are only stable under water-logged environment, the climate must be sufficiently wet, or peat will not accumulate. Biodiversity also flourishes under a wet climate. Therefore, there is a strong link among sustainability of livelihoods, biodiversity, and the stability of climates. Increasing uses and disturbances of these peat forests and rivers induce degradation of tropical peat domes (including drainage), which leads to an increase of carbon dioxide emissions through the atmosphere and lateral export through rivers to the ocean. As a result, peat degradation not only depletes natural resources but also affects climate stability.
This project aims to link lateral carbon exports by rivers to characterization of peat degradation from satellite data and field measurements. The researchers will contrast rivers in North and South Borneo (i.e., the Belait River in Brunei Darussalam and the Mempawah and the Lower Kapuas Kecil River in West Kalimantan Province, Indonesia). Expected outputs of this joint research project include thematic maps of peat dome degradation and DOC fluxes from the rivers being studied. Although it has been recognized to be important, the fluvial export of carbon from tropical peatlands has rarely been assessed. In this project, sensors will be developed to evaluate DOC fluxes from these rivers to South China Sea with the aim of providing the first accurate measurement of fluvial carbon fluxes from tropical peat lands. This project also aims to increase awareness and knowledge of tropical peat lands, their role, and the impact of their degradation. For this purpose, a reference book and extension materials will be developed and disseminated in both English and Bahasa Indonesia. A multi-stakeholder workshop on the relation between tropical peat lands and climate change will be organized, and a website on climates and tropical peat lands will be constructed.
Summary of Recent Activities
In May 2015, Dr. Anshari's student M. Nuriman completed his Master's degree studies in the Soil Science Department of Bogor Agricultural University. His thesis title is "Dissolved Organic Carbon (DOC) and Particulate Organic Carbon (POC) in Drainage and Pore Water of Rasau Jaya Peatland, West Kalimantan." Another Master's student, Tri Tiana Putri Ahmadi, conducted data collection and laboratory work for her samples. She measured greenhouse gas emissions from oil palm on shallow peats and used gas chromatography to measure the gas samples. Undergraduate students Harun and Randi Ade Candra are also at the data collection stage. Harun studies organic content differences in peatlands being used for different purposes. This covers secondary forest, oil palm, fern bushland, and small Aloe vera plantations. Randi studies CO2 emissions from the above land uses. In addition, Putri Juliandini just finished her thesis proposal on a topic similar to Randi's and will start collecting data. The main difference is that Putri only focuses on heterotroph respiration of peat soils.

May 3-7, 2015, Dr. Anshari attended the AGU Joint Assembly conference in Montreal, Canada, a major meeting that attracted about 2,000 participants. He presented an oral paper on the biogeosciences theme. After the conference, he travelled to Oregon State University and gave a seminar on tropical peatlands at the Department of Fisheries and Wildlife, hosted by Prof. Boone Kauffman. Dr. Anshari is an affiliate faculty member at the Department from March 2014 through February 2018, with his tasks being to conduct research and serve on the graduate student committee. Back in Indonesia, PEER project team member Evi Gusmayanti participated in a local conference on basic science at Tanjungpura University, where she presented a paper.

In August 2015, Dr. Anshari and his group ordered a new piece of equipment to upgrade the technical capacity of their lab, a Gasmet Gas Analyzer DX4040. The analyzer will be used by researchers and students, and besides the students listed above, Dr. Anshari plans to recruit another undergraduate to join the team. As the project moves into its final phase under PEER support, the PI and his group will be focusing on preparing journal articles and a book on tropical peat for publication and disseminating their results to local stakeholders, including the government, the private sector, and NGOs. Training workshops on peat sustainability will also be organized for personnel from relevant local corporations. A no-cost extension has been issued through April 2016 to provide additional time for these activities.

| | |
| --- | --- |
| Measurement of peat depth, showing the boundary between peat and the mineral substratum (photo courtesy of Dr. Anshari). | Undergraduate student Ilham measures water conductivity (in situ) (photo courtesy of Dr. Anshari). |