Partnerships for enhanced engagement in research (PEER) SCIENCE
Cycle 1 (2011 Deadline)
Determining sources and health impacts of particulate matter in Ulaanbaatar City to aid and assess current air pollution mitigation efforts
PI:
Sereeter Lodoysamba, National University of Mongolia
U.S. Partner: Christa Hasenkopf
, University of Colorado

Project Dates: June 2012 - July 2015
Project Overview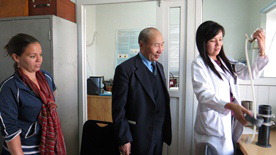 Prof. Sereeter Lodoysamba (center) with U.S. partner Dr. Christa Hasenkopf (left) supervising one of the students.

The air quality in the capital city of Mongolia, Ulaanbaatar, is some of the worst in the world, with particulate matter (PM) levels some 17 to 35 times levels recommended by the World Health Organization. Such high PM levels are due to the natural geography of Ulaanbaatar, which is situated between two mountain ranges, the high concentration of the population that use traditional stoves to heat poorly insulated felt tents, and the subarctic climate that requires indoor heating up to nine months out of the year. Recently, donor organizations such as the United States government's Millennium Challenge Corporation and the World Bank have taken several air pollution mitigation measures in conjunction with the Mongolian government. These measures include selling more efficient stoves and offering cheap, alternative fuels. Despite these efforts, there is not currently a robust method of monitoring the progress of these actions, in terms of air pollution concentrations or health impacts.

This project will address the situation in two ways. First, the researchers perform continuous measurements over an entire year at one site in Ulaanbaatar that will assess the amount of PM and its source appointment. They will compare the data obtained over the course of the year with a similar study conducted in 2008?2009 at the same air quality station. With these data, they will evaluate and assess the impact of current air pollution mitigation efforts. Second, they will also determine morbidity and mortality due to air pollution via analysis of hospital records and will compare their findings with similar research reported in a recent World Bank Study. The results from the project will be shared widely with the local community and specifically with various Mongolian agencies involved in air pollution mitigation measures.


Summary of Recent Activities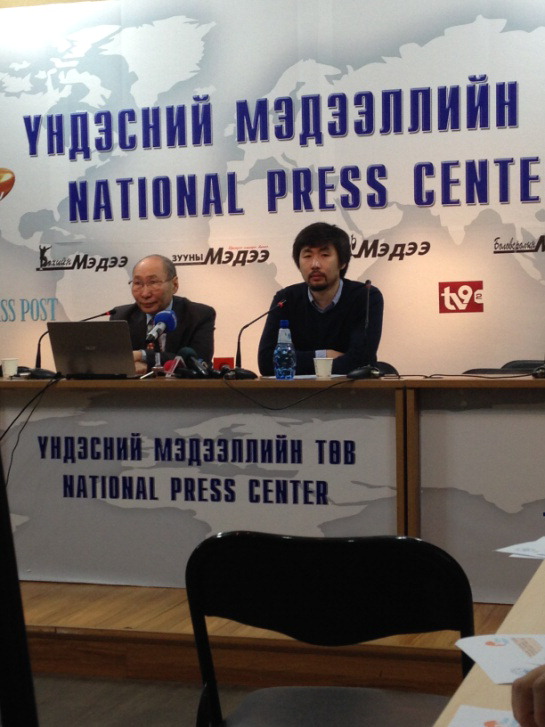 Prof. Lodoysamba (at left) appears at press conference, December 2013.

The summer of 2014 proved to be an interesting time for Dr. Lodoysamba and his team. Originally scheduled to end September 30, 2014, the project was granted a no-cost extension until July 31, 2015. This will allow Dr. Lodoysamba to continue to develop and verify the results of his project well into next year.

Against the backdrop of this exciting development, members of Dr. Lodoysamba's team attended two conferences. The first, The 26th Annual International Society for Environmental Epidemiology Conference, took place in Seattle, Washington in the United States on August 24, 2014. Delgerzul Lodoysamba attended with the aim of further developing her understanding of current research in environmental epidemiology. The second conference took place in Trieste Italy on June 18 was attended by Dr. Lodoysamba himself. This week-long conference focused on bringing together scientists and academics from over 32 countries in order to promote collaboration, projects, and develop general science diplomacy skills.

Preliminary results of Dr. Lodoysamba's work can be found at wiki.ubairpollution.org and daily air quality measurements are available via both Facebook and Twitter.