Cycle 1 (2011 Deadline)
Impacts of climate change on freshwater and fisheries resources of the Lake Hovsgol watershed
PI:
Mendsaikhan Bud, Mongol Ecology Center
US Partner:
Olaf Jensen, Rutgers University
Project Dates: May 2012 - November 2014
Project Overview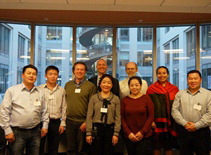 PI Dr. Mendsaikhan Bud and U.S. partner Dr. Olaf Jensen with Mongolian students and USAID, NSF, and NAS staff during the team's visit to Washington DC.
Climate change in Northern Mongolia presents extremely serious ecological and economic risks. Air temperatures have already risen by 1.7°C over the past 40 years. In recent years, hot dry summers followed by harsh winters have resulted in massive livestock die-offs called zuds. In the zud of 2009-2010, an estimated 8 million head of livestock died, pushing many of their owners into poverty and driving migration from rural areas into the city. Mongolia's aquatic ecosystems and growing freshwater fisheries may also be at risk from climate change. Lake Hovsgol is an ancient rift lake that contains nearly 70 percent of Mongolia's fresh water. The "Blue Pearl" is also a premier destination within Mongolia, both for Mongolians and for foreign tourists. Despite Lake Hovsgol's importance and designation as a national park, it is threatened by climate change, rapid unplanned development, and poorly enforced conservation laws. Given the lack of adequate monitoring, it is difficult to determine the extent to which these stressors have already altered the lake's ecology.
Over the last decade, the recreational fishery for taimen (Hucho taimen, the world's largest salmonid) has been growing rapidly, bringing much needed income to rural areas. An illegal commercial fishery for the endemic Hovsgol grayling (Thymallus nigrescens) also appears to be growing, although data are scarce. Taimen and Hovsgol grayling are endangered species, and the combined impacts of fishing and climate change on their populations are poorly understood. Salmonids like taimen and grayling are extremely sensitive to warm water and associated low oxygen levels, and both species in Mongolia are at the southern edge of their range where climate change impacts are likely to be most strongly felt. This project aims to improve the understanding of links between climate and the ability of Lake Hovsgol and its major outflow, the Eg River, to support important and endangered fish species. A strong understanding of Mongolia's lakes and rivers, by well-trained Mongolian aquatic scientists, will be crucial if mining, tourist development, and fisheries are to be sustainable in a changing world.
Summary of Recent Activities
The research team completed their two years of field research on the watershed of Lake Hovsgol in Northern Mongolia. The team assessed the seasonal pattern of lake turnover and stratification, and determined how the timing of these events corresponds to the air temperature and weather events through deployment of thermistor strings in the lake, which recorded an entire year of water temperature measurements every fifteen minutes at four depths. These observations represent a significant advance in the study of Lake Hovsgol, as water temperature at this lake depth had never been monitored before for more than a few weeks at a time. During the course of the project, the research team also observed special distribution of fish, specifically, Hovsgol grayling and their zooplankton prey seasonal change in response to the changing temperatures. Spatial temperature variation within the river on daily and seasonal time scales was measured as well. The extent to which the variability of air temperatures influences water temperature and the flow in the Eg-Uur Rivers and the movement of tagged Taimen was measured as well. Further information about the project can be accessed on the web at
http://maaeri.weebly.com/
, and project updates can be followed via the Twitter feed @maaeriresearch.
Mongol Ecology Center (MEC), which served as the institutional manager for this project, established the Lake Hovsgol Conservancy in order to partner with the protected area administration, local governments, commercial service providers and local citizens. The research team has been working with the community members of the Khankh and Hatgal village (north and south of Lake Hovsgol), district government officials, director and staff of Specially Protected Area Department at the Ministry of Environment and Green Development, and with Park Administration staff and rangers. The findings of their research are being shared with the stakeholders to raise awareness in Lake Hovsgol and in efforts to apply them in park planning management.
| | |
| --- | --- |
| Dr. Mendsaikhan Bud with U.S. partner Dr. Olaf Jensen. | Dr. Bud and her students retrieving deployed fish nets. |