Enhancing marine natural resource and biodiversity management in the Philippines by extending population connectivity research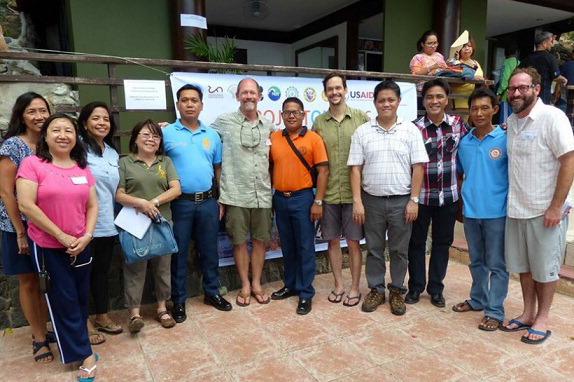 Dr. Lagman (third from left) with U.S. and Filipino partners during their 2015 training activity in Anilao, Batangas (photo courtesy of Dr. Lagman).
Severe declines in fisheries resources have implications for millions of coastal families dependent on fisheries for food and livelihood in developing countries. In most cases, the communities dependent on the resources have very few alternatives to the loss of their fisheries-based livelihoods when resources are devastated. Fisheries in these areas urgently need management strategies that will not only halt overfishing and habitat degradation but also hasten recovery of fish stocks. Recovery and eventual sustainability of fisheries subjected to intense fishing pressure hinge on the availability of new recruits and their success in replenishing resources harvested from the system. Information on spatial structure of populations and connectivity will potentially benefit management efforts related to fisheries because it contributes to answering the biological question "why do species occur where they occur?" and "how can we ensure survival of populations in an area?".
This project will use naturally occurring genetic tags to obtain the information needed. Genetic markers will be screened using a recently developed technology called NextGen sequencing. The selected markers will be retrieved from samples from populations within selected bioregions in the Philippines and analyzed to determine which populations have distinct genetic signatures across the Philippine archipelago, likely to be dependent on other populations. This project compliments two major USAID programs, the Coral Triangle Initiative and the Global FISH Alliance. It will provide badly needed biological information on fish stock structure and population connectivity that should help local and regional agencies in setting and implementing fishery management policies to ensure that viable populations survive and thrive.
As the project moved into its final months during the first quarter of 2016, Dr. Lagman and her team continued work to complete the website on their project findings. The page features a description of the project, the main results applicable for fisheries management, a searchable database of projects that use genetic markers for biodiversity, and posters highlighting key messages derived from the project output. In November 2015, project team members from De La Salle University (DLSU) and the University of the Philippines Marine Science Institute (UPMSI) took part in the
1st National Mud Crab Congress
, which was held in Iloilo and organized by the Southeast Asian Fisheries Development Center. The forum featured presentations by researchers to an audience of fishers, pond and grow-out farm owners, fisheries managers, policy makers, and potential investors. In particular, PEER team members' presentations focused on findings that may be helpful in managing wild stocks of mud crabs and in culturing crabs for harvest.
Chona Vince Cruz, a PhD student supported by the project, is currently at the University of Washington preparing the last chapter of her dissertation with support from a Fulbright PhD fellowship. Her paper entitled "The frequency of the intermediate sex phenotype of mud crab
Scylla serrata
in the Philippines" was chosen for presentation at the March
2016 Northwest Developmental Biology Meeting
at Friday Harbor Laboratories in Washington. Her paper was one of only 24 presentations selected from a submission pool of 150. In addition, the team has completed initial drafts of four papers for submission to journals—two are from the University of the Philippines Mindanao, two from DLSU and one from UPMSI. The main messages will also be featured in the materials that are being prepared for broader dissemination to a non-science audience. This project has received a no-cost extension through May 2016 to allow the team to complete its wide-ranging activities and disseminate its products more broadly, including the
Philgenesdiversity.org
website, the barcoding manual, and the field guide from the project. NGS data will be made accessible after the project ends.