Partnerships for enhanced engagement in research (PEER) SCIENCE
Cycle 1 (2011 Deadline)
Intra-seasonal climate predictions for Sri Lanka and Maldives for water resources management
PI:
Lareef Zubair, Foundation for Environment, Climate and Technology, Mahaweli Authority of Sri Lanka
U.S. Partner:
Adam H. Sobel, Columbia University
Project Dates: May 2012 - September 2015
Project Overview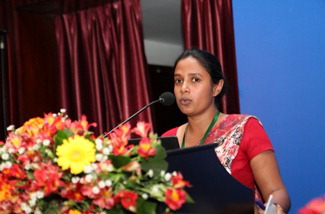 Sewwandhi Chandrasekera presents "Meteorology and Predictability of Tropical Storm ARB-04 (TC5) in the Indian Ocean during November 2011" at the Sri Lanka Water Convention.
Climate fluctuations at intra-seasonal time scales (beyond a few days to a few months) have profound influences on management of water resources to generate hydroelectricity and irrigate agricultural lands. Any ability to anticipate these fluctuations is valuable. Recent, improvements in understanding of intra-seasonal (IS) climate variability and the availability of real-time satellite based observations have led to the emergence of methodologies for IS climate predictions from a few days up to a month. This project aims to bring to bear climate variability insights from a National Science Foundation-sponsored program called DYNAMO focused on the Western Equatorial Indian Ocean. Specifically, the researchers will test IS climate predictions and assess their use for water management in Sri Lanka.
The overall goal of the project is to promote better understanding of IS variability of rainfall around Sri Lanka and Maldives, refine prediction schemes, translate this information to support water management, and upgrade local capcity for climate science and climate services. Even modest improvements in IS predictions can lead significant social and economic consequences from anticipatory water management. Because of the principal investigator's affiliation with the Mahaweli Authority of Sri Lanka, which is the nation's coordinating agency for water management, the project has potential for near-term impact as improved prediction models are developed and tested.
Summary of Recent Activities
During the third quarter of 2014, Dr. Zubair and his team continued to monitor, gather, and disseminate weather data and models. The team acquired a high-quality weather station for calibration purposes and updated their data sets in Sri Lanka and the Maldives up to 2012. Meteorological data was also obtained using a new web-scraper algorithm that was developed during this period and analysis was carried out in collaboration with the US partner.
The team also continued in its mission to share their models and information throughout Sri Lanka and the Maldives. Dr. Zubair presented "Climate Change Projections for Sri Lanka under a High Emissions Scenario" at the South Asia Biosafety meeting held in Colombo and organized by the International Life Sciences Institute with USAID and US Embassy sponsorship. Additionally, due to the extended drought and increasing information requests from regional stakeholders, the team distributed drought monitoring products throughout Sri Lanka and the Maldives.
In the last quarter, Dr. Zubair and his team plan to establish two additional monitoring stations in the Maldives to expand the data they publish in their weekly and monthly reports.
Climate data from this program is available at the following websites:
- Project website:
http://www.climate.lk/water_climate/index.html
- Weekly climate report for Sri Lanka at
http://fectsl.blogspot.com
.
- Monthly Maldives climate report:
http://www.tropicalclimate.org/maldives
and
http://fectmv.blogspot.com
- Maldives updates via social media including
Facebook
and
Twitter
During World Environment Day activities at
Azhar Central School in June 2013,
schoolchildren put together a drama on
community responses to Dengue fever.
Lareef Zubair gives his workshop on
mainstreaming climate information applications
for enhancement of agroecosystem services
and functions in the Nilwala Basin in May 2013.

During World Environment Day activities in
June 2013, Akurana Balika Vidyalaya
students staged a production on the
importance of the Pinga Oya River.