Research and capacity building on REDD+, livelihoods, and vulnerability in Vietnam: developing tools for social analysis of development planning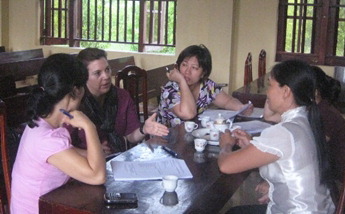 Dr. Pamela McElwee (second from left), Dr. Le Thi Van Hue (center) and colleagues discuss plans for their joint project (photo courtesy of Dr. Le Thi Van Hue).
Forecasted global climate changes have the potential to exacerbate existing social vulnerabilities, especially in poorer developing countries, and communities' and individuals' ability to cope with these future changes are often conditioned on their ability to access and mobilize natural resources. At the same time, new global policies are in development that would pay countries for "avoided deforestation" through forest conservation efforts known as Reduced Emissions from Degradation and Deforestation (REDD+) in order to sequester carbon and contribute to climate change mitigation. However, as access and use rights to forests change under REDD implementation, this may render some households and communities
more
vulnerable to the effects of climate change in the long term if REDD policies reduce their adaptive capacity by restricting access to natural resources. Thus, an understanding of the potential outcomes of carbon-credit policies on land use decision-making is necessary before such large scale global programs get more fully underway.
This study will build upon an early REDD development site in Vietnam and explore several questions regarding this new policy. The overall goal of the existing project underway is to understand the ways in which payments for ecosystem services (like carbon) serve to alter land-use decision making by smallholder households in forested areas and evaluate if these land-use decisions increase or reduce overall social and biophysical vulnerability to forecasted climate changes. This current PEER-supported project aims to expand the existing project into new field sites and add additional data collection on environmental conditions. Methodologies and data from the pilot research sites will be shared with an in-country network of stakeholders, and a country-wide index of indicators for REDD will be created to assess at
the provincial level in Vietnam the likelihood of meeting conditions of
success in REDD. To promote capacity building with local policymakers and NGOs on key REDD issues, short training courses and national workshops will also be organized. This study should contribute to policy-relevant knowledge on social vulnerability to climate change in a country that is likely among the most seriously affected. It also has the potential to influence development of REDD policy, as it may provide a baseline to explain variations in the expected performance of various possible REDD approaches.
All three Vietnamese institutions involved were busy as this project moved to completion. On September 10-12, 2015, Tropenbos International conducted a workshop entitled "Monitoring and Evaluation of Livelihoods and Vulnerability Indicators in PES/REDD Projects in Ca Mau in the Mekong River Delta of Vietnam." The aim of the workshop was to share the methodology for developing reference livelihoods and vulnerability levels (RLVL) on monitoring and evaluation in REDD and payments for ecological services (PES) projects in the Mekong Delta. A total of 42 people took part, including participants from the Departments of Agriculture and Rural Development, Natural Resources and Environment, and Forest Protection, as well as the Forest Management Boards of Soc Trang, Ben Tre, Kien Giang, An Giang, and Bac Lieu provinces. The participants showed great interest in the topic and were actively engaged in group discussions, which were followed by group presentations. The organizers expect that the participants left with improved knowledge and skills for using RLVL tools for monitoring and evaluating the impacts of REDD/PES projects in their own provinces.
Meanwhile, with the support of U.S. partner Dr. Pam McElwee, the CRES team took the lead in designing the program and recruiting speakers for the training course on "Social and Environmental Safeguard: Developing Tools for Monitoring PES/REDD Project for Success," which was carried out in cooperation with the partners from PanNature and Tropenbos from May 11 to August 22, 2015. The course announcement was posted on the CRES and project websites and disseminated to the CRES network at the provincial Department of Natural Resources and Environment (DONRE) and Department of Agriculture and Rural Development (DARD) in the seven provinces where the team conducted its field surveys. A total of 24 participants were selected from among 67 applicants. The participants spent six days in the class-room in Hanoi, where they heard lectures and were trained to design surveys for their research on assessment of the impact of REDD/PES projects in their respective areas upon their return. Following the lecture component, the participants spent six days in the field in Hoa Binh, one of the provinces where PES has taken place in Vietnam. The participants then had three months to carry out their own research and write reports under the supervision of CRES research team members. The course organizers report that it was refreshing to see the participants, the majority of whom hold management jobs at the provincial or district levels, actively participating in group discussions, field work, and revision of their reports based on feedback received from the CRES research team. Following the course, the participants indicated that it was an invaluable learning experience that will enable them to improve PES and REDD in their respective areas in the future.
The third participating organization in this project, PanNature, completed the REDD environmental and social index (RESI) data entry and analysis and entered information collected in Kon Tum, Son La, Dien Bien, and Kien Giang provinces in the RESI template. PanNature introduced RESI to a group of 30 participants at the 6th Vietnam REDD+ Sub-Technical Working Group on Governance in Hanoi on April 7, 2015. They received many comments and a great deal of positive feedback on the RESI conceptual framework and methodology, which they used to revise RESI accordingly. The team staged the project's national final workshop entitled "The Environmental and Social Index for Developing and Monitoring the Provincial REDD+ Action Plan for RESI" was organized in Hanoi on September 9, 2015. The main topics covered included (1) introduction of RESI, including its conceptual framework, criteria, indicators, and toolkit; (2) outcomes of the RESI piloting assessment in Son La, Dien Bien, Kon Tum, and Kien Giang provinces; and (3) discussion about RESI and the ability to apply the index in the process of developing and monitoring the Provincial REDD+ Action Plan for 2016-2020, as well as other REDD+ programs and projects in Vietnam. The workshop drew 41 participants (9 women and 32 men). As the project drew to a close, the last RESI field survey in Lam Dong was conducted from September 27 to October 1, 2015. The survey aimed to reassess Lam Dong REDD+ readiness as well as check the new function of RESI for monitoring and evaluation of the outcome of the PRAP Implementation in Lam Dong. The Forest Protection and Development Fund, Lam Dong Forest Protection Department, Provincial Management Board of UN-REDD Phase II, Dalat University, Bidoup – Nui Ba National Park, Loc Bac Forest Enterprise, Bao Lam District Forest Protection Unit, Loc Bao Communal People Committee and 20 households in Loc Bao Commune were consulted by PanNature research team. The RESI data collected from Lam Dong will be posted on the RESI website. The data will also be analyzed and reported later. A RESI website has been launched at
www.nature.org.vn/resi/vi/
, including all RESI documents, reports, the RESI Manual, indicators, criteria, and detailed provincial data from Kontum, Dien Bien, Son La, and Kien Giang provinces.
The overall project website is
peer.cres.edu.vn
. Hosted by CRES with content in English and Vietnamese, the website includes information about the various project components, including databases of information collected. Now that the project has been completed, copies of the final presentations on this project in both English and Vietnamese may be downloaded at
http://www.nature.org.vn/en/2016/01/resi-brief/
http://nature.org.vn/vn/2015/12/bo-chi-so-moi-truong-xa-hoi-cho-redd-cap-tinh/