Partnerships for enhanced engagement in research (PEER) SCIENCE
Cycle 1 (2011 Deadline)
Demonstrating the integration of ground-based monitoring and satellite remote sensing for forecasting landslides and flooding hazards in volcanic terrains
PI:
José Fredy Cruz, Universidad de El Salvador
US Partner: John S. Gierke
, Michigan Technological University
Project Dates: June 2012 - September 2014
Project Overview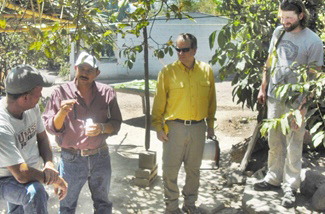 As U.S. partner John Gierke and colleague Luke Bowman (at right) look on, PI Jose Fredy Cruz (second from left) supervises a field visit to inspect sites suitable for placing pressure sensors in wells and to explain to the well owners the purpose of the monitoring (photo courtesy Fredy Cruz).
This project will couple long-term, ground-based monitoring of watershed hydrology with remote sensing data in developing computer models of watershed hydrology and risk maps for development institutions. These institutions will be able to use these tools to forecast and plan for rain-induced flood and landslide hazards in steep, partially developed (agricultural), populated volcanic slopes. Spatially comprehensive monitoring with near real-time access to precipitation amounts can be used to better understand the hydrology of large watersheds in steep terrain and the impacts of land use to allow for effective forecasting and communication of hazards posed by excessive rains.
This collaborative effort will take advantage of the different skills and strengths of each participating institution, including remote sensing, data processing, computer modeling, local knowledge of hazard risks and landscape, and hydrological monitoring to create and develop tools to use near real-time precipitation information with previously collected data. The principal investigator and his group at the Universidad de El Salvador (UES) will work with Michigan Tech researchers and students currently serving in the US Peace Corps to establish precipitation and stream/river flow monitoring. Topical workshops in remote sensing and image processing and computer modeling will be delivered by the Michigan Tech group to faculty and students at UES, who will share their understanding of how disaster plans and responses evolve before, during, and after a crisis. UES will also host workshops and a four-month-long diploma program based on the work conducted in this project. The data from this collaborative project will be archived and made public using Web pages and a Web-based database system that will be developed and hosted by the Michigan Tech group through their National Science Foundation-supported work. This project will also leverage ongoing work by a Salvadoran nongovernmental organization (NGO), CEPRODE, for establishing weather monitoring and an international NGO, Caritas, involved with developing hazard mitigation plans.
Final Summary of Completed Project Activities
Although this project was completed as of September 30, 2014, Prof. Fredy Cruz and his team have continued recording water levels in wells where they installed their sensors. This has been especially important in 2015, as many crops have been lost due to the unusually heavy rains. Despite the rains, water shortages remain a problem in San Vicente, so data collected from the well sensors is vital in helping to shape decisions regarding conservation and protection of water sources. As part of their project, the researchers produced complete maps of the modeling of lahars and identified communities that are most vulnerable in areas surrounding the Chichontepec volcano. These maps were prepared through the collaboration between researchers from Michigan Technological University and Prof. Cruz during his visit to MTU and were subsequently reviewed and validated by technicians from El Salvador's Disaster Protection Center (CEPRODE) and Civil Protection agency. A meeting was held involving researchers from the University of El Salvador, MTU, CEPRODE technicians, staff from Civil Protection and other local authorities (including the local mayor and governor) to analyze the lahar modeling map and discuss emergency preparedness for communities identified as being in the path of potential landslides. As a result, the parties agreed to gather information on possible temporary shelter sites for communities that are facing this threat. Further dissemination of the project results is planned to reach out to other relevant institutions in the country's Paracentral Region, including civil protection authorities, the municipal mayor's Technical Center for Disaster Protection, Caritas, the Ministries of Education and Health, and the Municipal Civil Protection Commission of San Vicente.


| | |
| --- | --- |
| A sensor is installed in the Acahuaba River (photo courtesy Fredy Cruz). | Installation of a mudslide sensor near the Cichontepec volcano (photo courtesy Fredy Cruz). |

Another outcome of the project was implementation of a diploma course in Disaster Risk Management, the first such course for technical staff from different institutions, municipalities, and communities of the Paracentral area. This diploma course was developed with the support of the National Endowment for Development (FUNDE) and CEPRODE, in collaboration with Civil Protection. As a follow-up, the PEER team prepared a proposal for another diploma course, "Risk Management and Disaster Municipal Development." This course was only for technical staff of the mayors of the Paracentral region for the Project for Strengthening Local Governments (PFGL) of the Sub Secretariat of Territorial Development, attached to the Technical Secretariat of the Presidency. The course was presented nationally, in the western, eastern, and central regions of El Salvador in 2014, and a similar course focused on local problems in the Paracentral area began in July 2015.

On the capacity-building side, Prof. Cruz and his colleagues have used equipment purchased through the project to develop a basic course of geographic information systems for the management of natural resources, which will be offered to agricultural engineering students. Other professors of the Multidisciplinary Paracentral Faculty were motivated by the project to submit a proposal to CSUCA (the Central American University High Council) and are currently developing another research degree program in Disaster Risk Management. The PEER-supported collaborative relationship between UES-FMP and MTU has also opened up additional opportunities with other national and international institutions, which in turn has allowed the Graduate Unit to make a greater contribution to capacity building in San Vicente and other municipalities, both on disaster risk management and on territorial economic development. For example, UES has signed a letter of understanding with the Foundation for Local Development and Municipal and Institutional Strengthening of Central America and the Caribbean, supporting the organization of a diploma course in local economic development management aimed at municipal technicians, fishing cooperatives, grain and vegetable producers, tourism boards, and other umbrella organizations. Another letter of understanding was signed with the Ministry of Finance through the Strengthening Local Governments (PFGL) program to develop two graduate programs, one on Risk Management and Municipal Development and another on Economic Development and Sustainable Land Management. Prof. Cruz and his team are also working on a Land Information System for the Micro-region of Valle Jiboa (MIJIBOA), a software platform that uses GIS to capture, process, and store various types of data and make it available to the mayors of the region to facilitate decision-making. Finally, the team is working with young people in coordination with FUNDE to create the diploma program "Youth transforming its territory." The trainees are all benefiting from being able to use the new computer and distance learning center equipped with support from both PEER and the International Cooperation Agency of Korea (KOICA). Overall, the team's activities and their integration of different actors in the region can help improve access to research data, reduce research costs, and facilitate involvement and better disaster preparedness for the most vulnerable communities.