Partnerships for enhanced engagement in research (PEER) SCIENCE
Cycle 1 (2011 Deadline)
Floodwave propagation and infiltration in desert regions: The Azraq Basin, Jordan
PI: Mo'ayyad Shawaqfah
, Al al-Bayt University
U.S. Partner:
Mark Stone, University of New Mexico

Project Dates: May 2012 - July 2014
Project Overview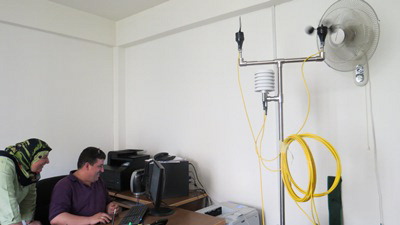 Dr. Shawaqfah in his office with his colleague analyzing the data captured by the new weather station purchased through PEER (Photo courtesy Dr. Shawaqfah).
Providing a secure water future for Jordan in the face of rapid population growth and decreasing availability of water will require innovative progress in all aspects of water resource management, including the identification of underutilized resources. Ability to improve the efficiency of measures to deal with floodwaters, particularly in a low cost fashion, has the potential to rapidly advance this important development challenge for Jordan and the rest of the Middle East.
This project will investigate holistic management of floodwaters in Jordan to better understand how this natural hazard can instead be viewed as a valuable natural resource. It will bring to bear the relevant experience of the U.S. partner, who has collaborated with the Jordanian principal investigator on similar previous projects in both Jordan and Turkey. A combination of modeling exercises and field observations will be used to advance the application of knowledge for this critical issue. Successful completion of this project should yield scientific advancements, provide training for Jordanian and American students and researchers, and result in new models to inform water resource managers in this region, where water is so vital to peace and security. This project will assist Al al-Bayt University in its efforts to build its water resources research and outreach capabilities. A broader training component is also included, with approximately 100 water resources professionals expected to benefit from planned outreach and dissemination activities.
Summary of Recent Activities
During the last quarter the research team continued their modeling work and data collection. November 3-6, 2013, a short course on groundwater recharge was organized for six undergraduate and two graduate students. The course covered well recharge types, objectives, water sources, and wellhead and wellfield designs. It also examined aquifer storage recovery (ASR) systems in aquifers with either freshwater or impaired groundwater. Instructors led the participants through the planning, design, operating, and management phases of artificial recharge systems. During November 8-10, 2013, the research team participated in the Global Conference on Energy Soil, Water, Air and Environment, held in Antalya, Turkey, and attended a training course in Groundwater Flow & Transport Modeling with GMS, which was held January 26-29, 2014 in Al Ain, United Arab Emirates. The second stakeholders' workshop timeline was postponed and took place at Al-al Bayt University place in February 2014. The team is continuing to gather new sets of data for the coming rain season in the study area.


Back to PEER Cycle 1 Grant Recipients