Partnerships for enhanced engagement in research (PEER) SCIENCE
Cycle 1 (2011 Deadline)
Investigation into persulfate/peroxymonosulfate oxidation of micro-contaminants towards water sustainability: mechanism, kenetics, and implementation
PI: Antoine Ghauch
, American University of Beirut
US Partner:
Richard Luthy, Stanford University

Project Dates: May 2012 - July 2015
Project Overview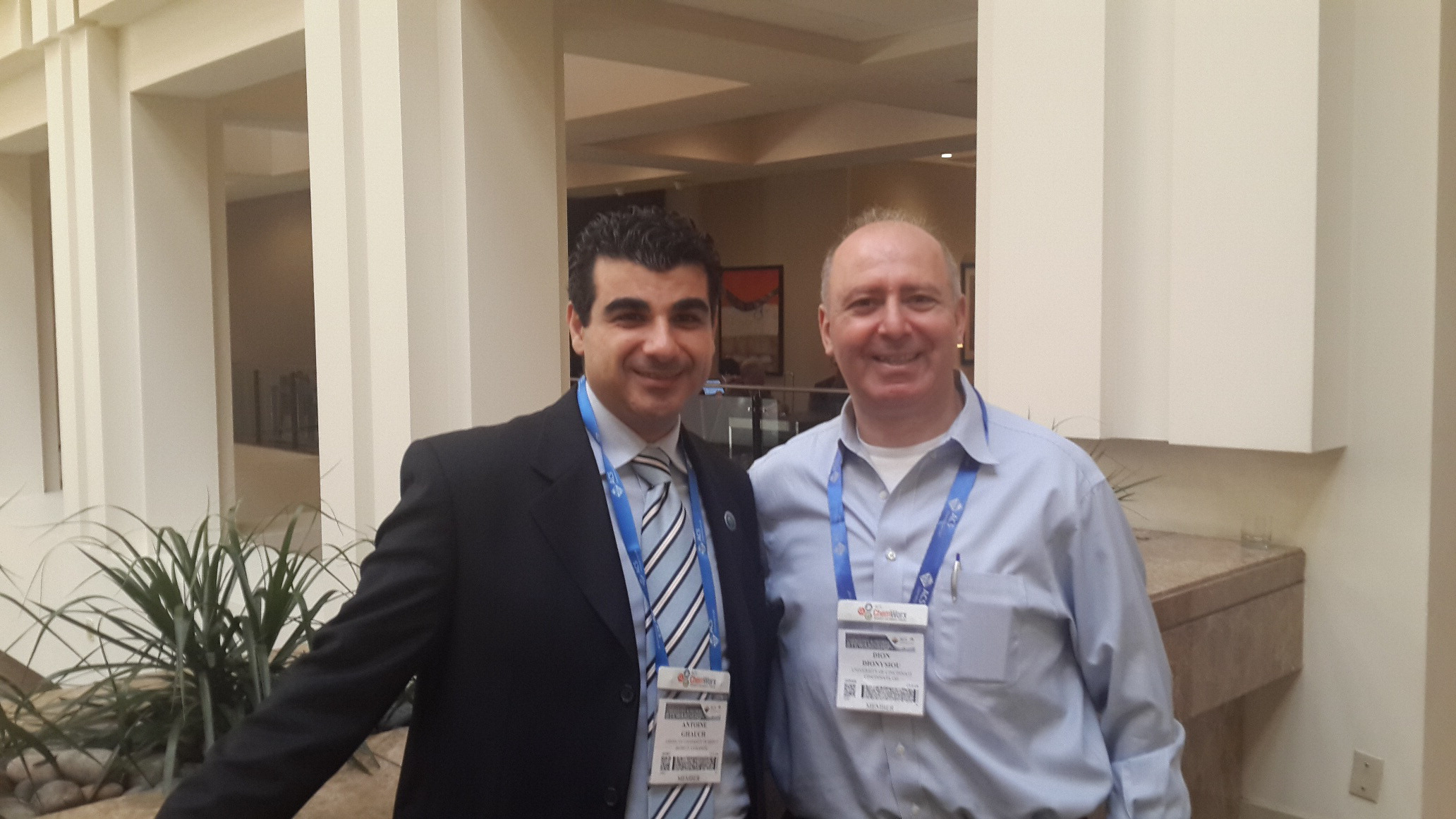 Prof. Antoine Ghauch with Dr. Dionysios (Dion) D. Dionysiou, Chair of the Environmental Division at ACS Conference in San Francisco, CA, August 14, 2014.
Persulfate activation has attracted great interest within the scientific community as a way of producing short-lived sulfate radicals. These radicals are powerful oxidants that are more selective toward organic contaminants than the hydroxyl radicals that are often used for water and waste treatment. Using this approach, it may be possible to remove recalcitrant organic contaminants from water that are difficult to oxidize with existing treatment methods. The development of novel approaches for contaminant oxidation is critical to future efforts to secure water supplies in rapidly growing countries in arid climates. The issue of water quality is particularly important to Lebanon, where water shortages strike the Lebanese capital during August through November each year.
In this study, organic compounds that pose risks to human health and aquatic systems will be subjected to treatment with persulfate activated in various ways: thermally, photochemically (via sunlight) and chemically. This project will take several variables into account, such as ionic strength, sunlight intensity, concentrations of organic compounds, and chemical activators. Catalysts for persulfate activation will be developed using various metals and minerals, including some collected from Lebanese soils and waterways. These new chemical activators should be able to progressively activate persulfate and peroxymonosulfate into sulfate radicals in order to destroy organic micro-contaminants. This project should not only contribute to Lebanon's interests in educating its population but also help promote economic development, environmental protectoin, and capacity building among Lebanese researchers.
Summary of Recent Activities
During January through March 2015, the PI ordered additional instruments relevant for the execution of the second part of the project dedicated to instrumental development and recruited two undergraduate and one graduate student for the period of February-May 2015. Two abstracts were submitted to the 250th American Chemical Society National Meeting & Exposition that will held in Boston in August 2015. One abstract was designated to the environmental division, while the second one was submitted to the analytical chemistry division. The PI has also been involved organizing in collaboration with the central research laboratory at AUB a one day symposium on research innovation during which PEER results will be disseminated in the form of oral and poster presentation on May 7, 2015. The call for participation was completed and an invitation was also sent to the USAID mission in Lebanon. Additional experiments are being carried out in the lab with regard to ketoprofen degradation persulfate-based thermal and chemical activation. Moreover, photolysis experiments were launched however on Triclosan molecule of serious environmental fate. Finally a paper on the degradation of naproxen and its application to hospital effluent was submitted to chemical engineering journal and is currently under revision. While trying to track contaminants in water and improve water quality, the PI developed a new instrument that can also detect special dyes and pigments used in valuable documents e.g. banknotes, passports, Visa, etc. thus improving security features and limiting fraud and counterfeiting activities. The instrument developed received a provisional patent from the US PTO office in January 2015.