Partnerships for enhanced engagement in research (PEER)
Cycle 4 (2015 Deadline)
Integrated watershed management for enhancing local livelihoods and biodiversity conservation in Indonesia

PI: Ani Adiwinata Nawir (a.nawir@cgiar.org), Center for International Forestry Research (CIFOR) (formerly Terence Sunderland, through December 2017)
U.S. Partner: Jefferson Fox, East-West Center
Project Dates: November 2015 - October 2018

Project Overview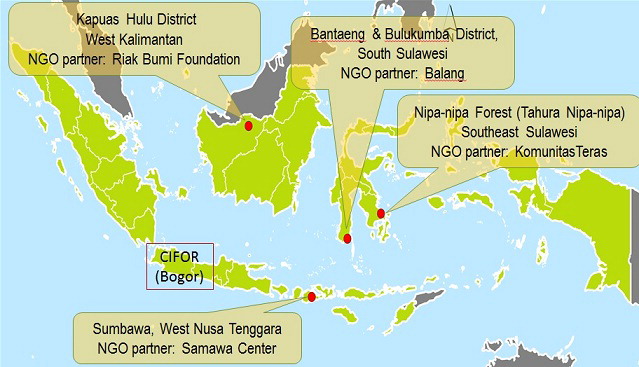 This map shows the project research sites and partner NGO locations. © CIFOR PEER Project
This project seeks to promote effective implementation of integrated watershed management (IWMA), thereby enhancing local livelihoods, biodiversity conservation, and the research capacity of the partners involved. The project is aimed at overcoming several resource management problems, biodiversity threats, and conflicting policy and regulation frameworks. Its specific objectives include (1) assessing a variety of institutional arrangements for more effective IWMA; (2) developing approaches for implementing landscape-level biodiversity conservation in remaining natural ecosystems that are key habitats of endemic endangered plant and animal species; and (3) promoting IWMA for enhancing local livelihoods supported by policy and regulation frameworks at national and local levels, based on good governance principles. Activities in Year 1 will include a review of policy and regulatory frameworks that now hinder integrated watershed management, landscape-based biodiversity conservation approaches in identified areas, and existing institutional arrangements, as well as an analysis of stakeholders and their divergent needs and capabilities. In Year 2, the project team will develop follow-up activities in collaboration with their U.S.-based partners based on data collected to develop scenarios for integrating the above three aspects. In Year 3, the project will focus primarily on capacity building for local stakeholders.

By the time the project is completed, NGO partners in Indonesia should have better capacity to conduct relevant research and apply research results to management on the ground. Government agencies and communities should have a better understanding of effective IWMA and landscape-based biodiversity conservation and how it is applied in the three research sites to be included in the project (Bantaeng and Bulukumba districts in South Sulawesi and Sunbawa District in West Nusa Tenggara). Experiences will also be shared with the other project site in West Kalimantan (Kapuas Hulu District), especially in developing community-based conservation approaches. Skills gained will give these key stakeholders the approaches and experience to continue implementing key project recommendations, ensuring that IWMA is applied after the project ends. It will also build capacity among these stakeholders to participate in research and monitoring in future conservation and/or REDD+ activities. Triangular cooperation with the U.S. Government-supported partner at the East-West Center will enhance the scientific research capacity of project members and partners by sharing local and global knowledge on the issue of IWMA.

Overall Summary of Project Activities

This three year project sought to improve a number of facets of the local communities through an integrated watershed management approach. One of the main successes of the project was the developed capacity of the implementing organizations including CIFOR and the East West Center, as well as local counterparts. A series of trainings were conducted through which NGO partners and their local government counterparts gained relevant expertise and experience in IWMA and resulted in key project recommendations. Additionally, a number of practical-based trainings at the community level enabled community members to engage in similar community-relevant participatory research which spread the dissemination of project results beyond those who are directly involved and the initial scope envisioned by the project team.

Research activities were conducted at four project sites to ensure the evidence-based policy recommendations could be formulated and customized for local government systems at the village, district, and provincial levels. This developed as an exit strategies towards the end of project and was implemented by working collaboratively and involving a range of stakeholders. Outputs included several letters of decree confirming the membership of each NGO partner in the task force. The scientific knowledge generated in this project was shared to contribute towards addressing the problem of deforestation along the watersheds that have been hampered by the conflicting problems between agriculture and forestry activities. Wider outreach beyond research sites was conducted, and will be continued, by publishing key research finding through various media. Noted challenges included the long-processes and dynamic changes in the local government systems and bureaucracy, so the team constantly worked to re-strategize the policy advocacy.
Training for local communities as part of the participatory mapping exercises of land/water utilization in Bulukumba, and river tracking to observe communities'
daily practices of using the main river of the Raowa Watersheds, Bulukumba © Balang Institute 2017 for CIFOR
Back to PEER Cycle 4 Grant Recipients