Partnerships for enhanced engagement in research (PEER)
Cycle 4 (2015 Deadline)
The Banni grasslands in a time of change: Ecological and socioeconomic resilience in a coupled human-natural system

PI: Ankila Hiremath, Ashoka Trust for Research in Ecology and the Environment (ATREE)
U.S. Partner: Susan Cordell, USDA-Forest Service Institute of Pacific Islands Forestry
Project Dates: December 2015 - May 2020

Project Overview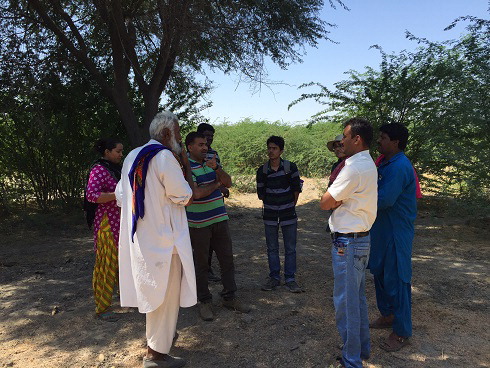 PEER Banni team: The project team at a potential experimental site with a Maldhari elder (photo courtesy of Dr. Hiremath).
India's most unique ecosystems are also its most vulnerable. An example is the Banni, Asia's largest tropical grassland, in Gujarat's arid Kutch District. Banni has a long history of nomadic pastoralism and is home to 22 pastoralist communities of the Maldharis, with their unique Kankrej cow, Banni buffalo, and Kharai camel. Banni is also rich in biodiversity, with Asia's largest congregations of migratory cranes and flamingoes, as well as other migratory waterfowl and endangered wildlife. Banni has been significantly transformed in the past few decades. The ultimate driver is an attitude that regards arid grasslands as wastelands to be converted to carbon-sequestering forests, wind and solar farms, or industrial estates. The proximate driver is Prosopis juliflora, an introduced nitrogen-fixing tree that has invaded almost half the Banni. To some this exemplifies successful "wasteland reclamation." But P. juliflora has replaced native trees and grassland, altered habitat for birds and animals, and reduced grazing areas for livestock. It has also spawned a parallel charcoal economy, profoundly affecting pastoral livelihoods and cultures. The resultant novel ecosystem is faced with potential tradeoffs—between greater carbon sequestration and increased evapotranspiration, between carbon converted to charcoal and carbon sequestered, between charcoal-based livelihoods and pastoral livelihoods, and between livestock and wildlife—creating vulnerabilities that are likely to become more stark in a future predicted to be warmer, maybe wetter, but with the likelihood of more frequent droughts.

This project aims to understand the dynamics of the spread of P. juliflora under scenarios of climate change, understand the plant's impacts on ecosystem processes, and evaluate various management options for the ecological and socioeconomic resilience of Banni and its inhabitants. Understanding the ecological impact of P. juliflora, the feasibility of partially restoring grassland, and the sustainability of P. juliflora harvesting will make it possible to create a model to evaluate adaptive management scenarios for Banni. Banni's Maldharis have collectively applied for community rights to the landscape under the Scheduled Tribes and Other Traditional Forest Dwellers (Recognition of Forest Rights) Act, 2006. This landmark legislation gives local communities the right to manage and conserve landscapes that they have customarily used. The Maldharis' rich empirical knowledge, combined with a mechanistic understanding of potential management options, would be a powerful tool in their formulation of a Banni management plan. Having a portfolio of livelihood options such as those to be developed under this PEER project could be an advantage to Banni's Maldharis by helping to reduce their vulnerability to climate change, while at the same time enabling them to manage Banni as a sustainable landscape with enhanced carbon stocks. The project could also serve as a model for similar landscapes not only in India but also in other countries that are the focus of USAID's Feed the Future efforts.

Summary of Recent Activities

Over this final quarter of 2019, Dr. Hiremath and her colleagues conducted their fourth annual survey of regeneration in the Prosopis-removal experimental treatments across their replicate plots. Given last year's extreme drought, when they saw next-to-no regeneration, they are especially keen to survey these Prosopis-removal plots once more. Apart from this, they have completed all the remaining data collection planned from their experimental plots. Postdoc Nirav Mehta has now retrieved all the automatic sensors deployed in these plots. The local communities who had permitted the PEER team to establish these experimental treatments and maintain them for the past four years have asked the researchers to let them have their land back for other uses, and this has been done. Nirav Mehta is now focusing on the remaining data curation and archiving.

PhD student Chetan Misher started his fieldwork during the last quarter. He is trying to determine the impact of rapid colonization of the invasive Prosopis juliflora on the diversity and abundance of rodents, which form the main prey for carnivores in Banni. This is part of his PhD work examining the role of invasive species in mediating interspecies interactions in socioecological systems. He sampled 12 sites during November and December 2019. The sites represent different degrees of colonization by Prosopis and can be categorized as "open saline land," "grassland," "dense Prosopis," "mixed Prosopis," and "agriculture." Over 1,200 trap nights, he has so far encountered 4 species of rodents in 219 captures and 28 re-captures.

PhD student Ramya Ravi has begun work on her dissertation, following a discussion of her chapter outline with her doctoral advisory committee. She is currently working on a review of the available literature on invasive alien species from India. The purpose of this is to understand the impact of invasive species on livelihoods, human well-being, ecology, society, and culture. She has simultaneously been organizing her material for another chapter on the environmental history of the Banni. In the course of her fieldwork, she collected archival documents, historical records, and other materials, most of which are written in the Sindhi or Kutchi languages. She is working with two young volunteers from Banni to translate these documents.
The full cycle showing Prosopis juliflora choking a Banni grassland, the harvesting of Prosopis juliflora for charcoal-making, and a restored grassland following its removal (photo courtesy of Dr. Hiremath).
Postdoctoral GIS consultant Madhura Niphadkar has been processing landscape-level salinity data for the Banni. She has used historical salinity data from an intensive soil survey (on a 1.5 km x 1.5 km grid) conducted by the Gujarat Department of Agriculture in 1983, and data from a less intensive soil survey (on a 4 km x 4 km grid) conducted in 2014. She has generated continuous salinity surfaces using the salinity values from these field datasets by performing ordinary kriging using the Geostatistical Wizard in ArcMap© 10.4.1 to develop prediction surfaces for generating values at locations in between the sampling points.

Collaborator Sonali Saha and Ankila Hiremath recently submitted a proposal to the American Journal of Botany on the ecohydrological impacts of Prosopis juliflora on the Banni. The manuscript has been accepted and after revision will form part of a special issue on "Life Without Water." The Android App developed by project collaborators Mihir Mathur and Kabir Sharma under the PEER Evidence-to-Action supplement has been presented at various workshops on systems dynamic thinking and modelling. As of the end of December 2019, more than 300 people had been introduced to the app, and more than 100 downloads of the app had been recorded on the Google Play Store (see https://play.google.com/store/apps/details?id=org.atree.banni or search "Banni in a time of change" on Google Play). As for the two films on the project being produced by Srishti Films, they are almost complete. The PI and her team have approved the final draft of the film on the socioeconomic impacts of Prosopis juliflora in the Banni and are reviewing the final draft of the film on the ecological impacts of Prosopis juliflora in the Banni. Both films are expected to be released by the end of February 2020.

Dr. Hiremath and her colleagues have also received an invitation to conduct a module on Prosopis juliflora in the Banni as part of a certificate course for future Maldhari community leaders in January 2020. This course is being run by their partner organization Sahjeevan in collaboration with Kutch University. They see this as an opportunity to share findings from their research in the Banni and to demonstrate their app as a teaching tool by conducting an interactive session in which participants can explore various alternative Prosopis management scenarios.

In the remaining months of the project, which is set to end on May 31, 2020, the team's focus will be on consolidating learnings from their fieldwork, curating and analyzing data, and finishing papers in various stages of completion. They will also finalize the two films. PhD student Chetan Misher hopes to finish his data collection from Banni. Meanwhile, PhD student Ramya Ravi hopes to make significant strides in writing up the chapters of her dissertation. Finally, they plan to hold a project-ending dissemination workshop in early March to share their research findings, as well as the films and the Android app that have come out of our work. The researchers envisage this workshop as a two-day event, with the first day for sharing their work with community members in Banni and the second for sharing their work with government officials, NGO partners, and other stakeholders in Bhuj. The workshop should provide an opportunity not only to present the team's findings but also to hold interactive sessions to discuss those findings in the context of Banni's future management.

Back to PEER Cycle 4 Grant Recipients