Partnerships for enhanced engagement in research (PEER)
Cycle 4 (2015 Deadline)
The Banni grasslands in a time of change: Ecological and socioeconomic resilience in a coupled human-natural system

PI: Ankila Hiremath, Ashoka Trust for Research in Ecology and the Environment (ATREE)
U.S. Partner: Susan Cordell, USDA-Forest Service Institute of Pacific Islands Forestry
Project Dates: December 2015 - April 2021

Project Overview
Karayal Ecosystem Restoration Video

Dahar Livelihoods Video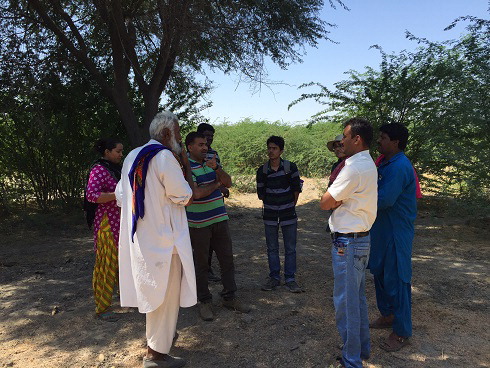 PEER Banni team: The project team at a potential experimental site with a Maldhari elder (photo courtesy of Dr. Hiremath).

India's most unique ecosystems are also its most vulnerable. An example is the Banni, Asia's largest tropical grassland, in Gujarat's arid Kutch District. Banni has a long history of nomadic pastoralism and is home to 22 pastoralist communities of the Maldharis, with their unique Kankrej cow, Banni buffalo, and Kharai camel. Banni is also rich in biodiversity, with Asia's largest congregations of migratory cranes and flamingoes, as well as other migratory waterfowl and endangered wildlife. Banni has been significantly transformed in the past few decades. The ultimate driver is an attitude that regards arid grasslands as wastelands to be converted to carbon-sequestering forests, wind and solar farms, or industrial estates. The proximate driver is Prosopis juliflora, an introduced nitrogen-fixing tree that has invaded almost half the Banni. To some this exemplifies successful "wasteland reclamation." But P. juliflora has replaced native trees and grassland, altered habitat for birds and animals, and reduced grazing areas for livestock. It has also spawned a parallel charcoal economy, profoundly affecting pastoral livelihoods and cultures. The resultant novel ecosystem is faced with potential tradeoffs—between greater carbon sequestration and increased evapotranspiration, between carbon converted to charcoal and carbon sequestered, between charcoal-based livelihoods and pastoral livelihoods, and between livestock and wildlife—creating vulnerabilities that are likely to become more stark in a future predicted to be warmer, maybe wetter, but with the likelihood of more frequent droughts.

This project aims to understand the dynamics of the spread of P. juliflora under scenarios of climate change, understand the plant's impacts on ecosystem processes, and evaluate various management options for the ecological and socioeconomic resilience of Banni and its inhabitants. Understanding the ecological impact of P. juliflora, the feasibility of partially restoring grassland, and the sustainability of P. juliflora harvesting will make it possible to create a model to evaluate adaptive management scenarios for Banni. Banni's Maldharis have collectively applied for community rights to the landscape under the Scheduled Tribes and Other Traditional Forest Dwellers (Recognition of Forest Rights) Act, 2006. This landmark legislation gives local communities the right to manage and conserve landscapes that they have customarily used. The Maldharis' rich empirical knowledge, combined with a mechanistic understanding of potential management options, would be a powerful tool in their formulation of a Banni management plan. Having a portfolio of livelihood options such as those to be developed under this PEER project could be an advantage to Banni's Maldharis by helping to reduce their vulnerability to climate change, while at the same time enabling them to manage Banni as a sustainable landscape with enhanced carbon stocks. The project could also serve as a model for similar landscapes not only in India but also in other countries that are the focus of USAID's Feed the Future efforts.



Summary of Recent Activities



The countrywide lockdown was lifted in India in early June 2020. However, ATREE's own institutional travel restrictions have only just been lifted in November, and that too, only in cases where travel is absolutely essential. This has meant that PhD student Chetan Misher was not able to return to Banni to resume his field work during the July-September 2020 quarter. However, there was some progress with the preparation of manuscripts over this time. PhD student Ramya Ravi completed a first draft of Chapter 2 of her thesis, a literature review of the impacts of invasive plant species, and she has almost completed a first draft of Chapter 3, on the environmental history of Banni. Although she was unable to visit libraries and the archives, given COVID-19-related restrictions, she was able to access archival material in the form of old gazettes and historical records from the Kolkata Botanical Garden (formerly, the Royal Botanical Gardens in Calcutta) and the National Library. Other manuscripts that are nearing completion are one on the ecohydrological impacts of Prosopis juliflora (with collaborator Sonali Saha) and on Prosopis removal and grassland restoration (with former research associate Ashish Nerlekar).

With other ATREE colleagues, PI Ankila Hiremath helped to organize the last workshop in the series of grassland policy consultations being held in different parts of the country. The focus of this consultation was the arid grasslands of northwestern India. Given the ongoing COVID-19 restrictions, this workshop was organized virtually, over Zoom. The PI and her team were pleasantly surprised at the participation and the amount of interaction that they were able to have, despite the format. The half-day workshop had a total of 54 participants (42 men, 12 women) from 17 other organizations, both community-based groups (including the team's local partner, Sahjeevan) and government departments. The findings from this and previous
workshops will be taken to a final workshop for policy makers to be held in Delhi early in 2021, , once it becomes possible to do so. Of the tasks remaining on the project, work on other manuscripts is ongoing. Chetan Misher is yet to complete his interrupted field data collection, and the team has their final project dissemination workshop yet to conduct.

The full cycle showing Prosopis juliflora choking a Banni grassland, the harvesting of Prosopis juliflora for charcoal-making, and a restored grassland following its removal (photo courtesy of Dr. Hiremath).