Partnerships for enhanced engagement in research (PEER)
Cycle 4 (2015 Deadline)
Use of non-conventional agricultural water resources to strengthen water and food security in transboundary watersheds of the Amu Darya River Basin (UNCAWR)

PI: Kristina Toderich (ktoderich@yahoo.com; kristina@biosaline.org.ae), International Center for Biosaline Agriculture (ICBA)
U.S. Partner: Robert Nowak, University of Nevada, Reno
Project Dates: December 2015 - December 2019

Project Overview

This project is based on the hypothesis that marginal (low quality) water sources and marginal lands can be used for irrigation and production of non-conventional crops (NCC) as food for human consumption and/or forage for livestock while simultaneously conserving water quality and protecting economic benefits for households. Through practical and analytical experiments on selected sites within the Amu Darya River Basin, Dr. Toderich and her team will investigate economic and environmental impacts of using NCC on salt-affected lands and mineralized waters. These experiments, coupled with their previous results and experience studying various halophytes (salt-tolerant plants), will be integrated into biophysical models that will allow for broader-scale assessment of NCC capacity to improve marginal lands across the region. These experimental and modeled assessments of NCC support local decision-makers in efficient use of local resources, thus helping to improve agricultural productivity and food security of rural households in drylands, as well as helping rural populations adapt to climate change. The project will analyze current and future projected scenarios of water availability in the region, at the same time investigating possible options for reducing water and land stress. The researchers will assess current and future water policy in the region under impact of the utilization of NCC and use of mineralized waters in creating forage for cattle breeding. Such analysis can show the potential of marginal resources as an important link in creating a full cycle of environmentally friendly and economically beneficial scenarios of community development in arid and semi-arid regions.

The project applies an integrated approach to transboundary watershed management of the Amu Darya River Basin to address water resources availability, water quality deterioration, land degradation and ecosystem loss across three river sub-basins located upstream, midstream, and downstream along the Amu Darya River. In each sub-basin, a set of environmentally-friendly interventions will be tested for their ability to better manage water flow, salt accumulation, water quality, and NCC, and thus guide adoption of alternative ways of agriculture to ensure sustainable land and water use and ecosystem stabilization. Collaboration among researchers from different institutions and water and land users will facilitate extension of the implications of project results with other regions with similar environments. Through a participatory approach, water users, women farmers, and low-income families will be trained to cultivate and use NCC. The project will also create a freely-available analytical database to inform stakeholders about best practices and low-cost agriculture production and irrigation technologies. The project will also strengthen regional partnership networks and knowledge exchanges among experts in Uzbekistan, Tajikistan, Afghanistan, and Turkmenistan.

Summary of Recent Activities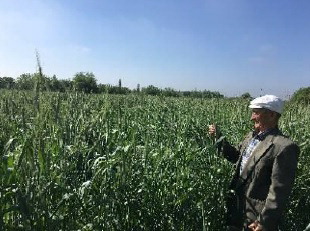 Team members visited Saraygul Village in which is testing plots of non-traditional crops as recommended by the project team (photo courtesy of Dr. Toderich).
In the first quarter of 2019, the PEER/UNCAWR team conducted surveys and socio-economic analyses of rural areas in Karakalpakstan focusing on household income, agricultural practices, water usage, and the possibility of implementing certain livelihood strategies that are prominent in rural areas. Similar work was started in the Khatlon (Tajikistan) and Dashauz etra regions (the northern Turkmenistan).

In the summary, the rural households in Karakalpakstan are net buyers of food products. As household income depends largely on agricultural production, the largest share of the budget is spent on food consumption and price fluctuations have a major effect on both production and consumption, thus affecting the households' overall welfare. There are very few jobs available in the community, mainly being subsistence agriculture, seasonal labor migration, official jobs at state-funded or budget organizations, and some entrepreneurial (non-agricultural) activities. Livestock owners in Karakalpakstan mostly practice grazing in pastures and stall-feeding, since it is free and available during most of the year. It happens that in the off-season (winter and early spring) households experience fodder shortage, and have to buy the required amount and fodder stocks at local markets. According to the local government, the district faces some problems including: availability and access to water, irrigation water; underdeveloped industry; lack of working places; population is passive in terms of seeking addition income sources, improving livelihood.

The team argued that forage production will solve many social economic problems in rural areas. Seed-producing farmers experienced a 20 percent increase in their incomes based on a local network of seed growers established by the PEER/UNCAWR team in Tajikistan. The team is currently working to further develop a "Village Climate Smart" model to be tested at one small village (214 families) in the Muynak region, Karakalpakstan. Work is done in collaboration with the International Innovation Center for Aral Sea Basin (IICAS) and the private Panaev Milk Farm.

Other project outputs in this quarter include documenting the potential use of non-conventional crops as sources of food, fodder, timber and livestock forage. For the first time the nutritional value of 66 species of halophytes was compared with that of traditional crops such as alfalfa and corn at the labs of the Arid Lands Center, Tottori University jointly with Kitakyushu University. These results were included in the guidelines for the forage production and sustainable land usage. Additionally, a field mission to assess the water quality in the drainage and irrigation channels was conducted along the Zeravshan river basin and Amu Darya river delta. Samples of water including drainage, irrigation surface channels, water collectors and artificial water ponds were taken, and basic maintenance of the monitoring sites and installed equipment was conducted together with Kyoto University team.

Lastly, the team conducted a series of trainings known as Field Farmer Days and field teaching seminars. Hand out materials and training manuals were produced in English and local languages for different stakeholders. A collaborative monograph on "Drylands Salinity, Halophytes and Landscape restoration" was produced by ICBA in collaboration with the International Platform for Drylands Research and Education (IPPDRE), Tottori University, Japan. The book represents an overview of the drylands and salinity issue in a global context. This book is a first edition based mostly on the PEER/UNCAWR project materials, and provides a valuable resource and tool for livestock owners, managers, ecologists, and decision makers for developing a strategy for the sustainable management of marginal lands (mostly saline) and improving the food security and nutrition of rural communities over the world.


Back to PEER Cycle 4 Grant Recipients