Partnerships for enhanced engagement in research (PEER)
Cycle 4 (2015 Deadline)
Tropical montane forests and climate change in the Peruvian Andes: Micro-environmental, biotic and human impacts at tree line

PI: Norma Salinas (nsalinasr@pucp.pe), Pontificia Universidad Catolica del Peru
U.S. Partner: Miles Silman, Wake Forest University
Project Dates: October 2015 - December 2020

Project Overview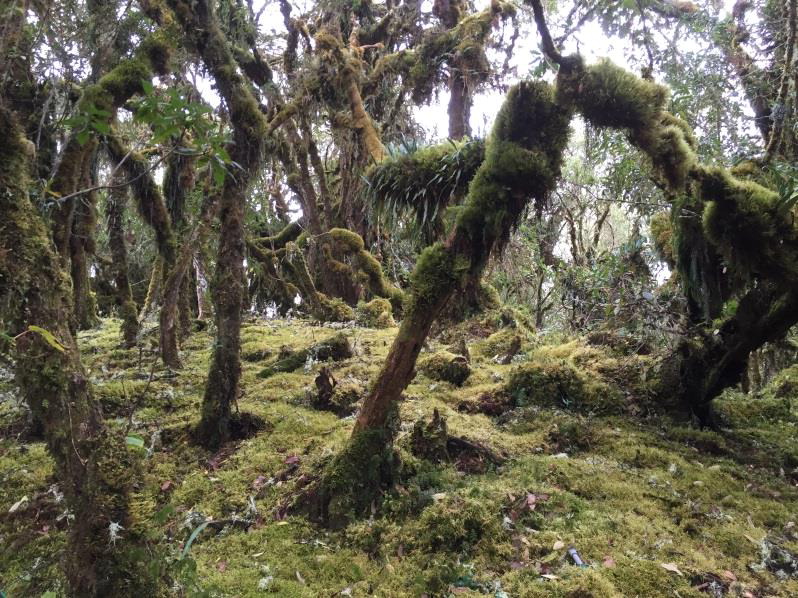 Patch of cloud forest of mixed species at 3500 m in the Tres area
Cloud forest environments respond strongly even to small changes in temperature and a large fraction of the species assessed is vulnerable to extinction due to climate change. Species distributions can be strongly influenced by many factors, one is geographic and another is the existence of potential ecological barriers to forces driving altitudinal migrations of tree species. Dr. Salinas and her team contend that there are several important human actions that can have a significant impact on species migration along the treeline. A better understanding of the factors involved should greatly improve our ability to predict if, and also where and how, species will migrate. This project aims to contribute to current knowledge of the complex dynamics of treeline ecotones by reevaluating the question of tree species migration into highland grasslands in light of microenvironmental and microbiotic information. The researchers on this PEER project propose that it is possible to control and manage the factors, both environmental and human, that inhibit species migration through activities similar to those undertaken in other, less extreme, environments such as Central American or Afromontane forests (Strobl et al., 2011).

There have been few studies that have evaluated the importance of human impact in the tree line migrations into grassland. A better understanding of how species distribution and survival are likely to be affected can provide better guidance to conservation strategies and their integration into socially effective programs in the face of climate change. The project will be conducted in areas located at the border of the Cuzco and Madre de Dios regions in southeastern Peru, within and surrounding the Manu National Park. Planned project activities are designed to help strengthen environmental governance through a mitigation-oriented management program of the treeline in the park in collaboration with park personnel and local communities. The project team will work with NGOs currently involved in forest management initiatives in the area to help local communities develop forestry-based alternative revenue sources along the treeline. The goal is reducing the pressure of livestock grazing within park boundaries through alternative stakeholder revenue-earning strategies for communities that presently use national park land for their livestock. Overall, the project should help preserve biodiversity, ecological services, and food and water security for the Kosñipata basin.

| | |
| --- | --- |
| | |
| Location of vegetation inventory plots, along the elevation gradient | Regeneration zone of monospecific forest (Clusia sp.) in area ​​Cocha Zondor |
Project updates:
During January-March 2020 reporting period, the PEER team continued their field work and data collection. At the end of February 2020, Dr. Norma Salinas' team went to the field to work on the annual treeline census and collected information from camera traps that had been installed in August of 2019 to estimate wildlife abundance in a statistically rigorous manner. Camera trap studies can result in capture histories of species, each type of data may be used to estimate population size, species richness, site occupancy or relative abundance indices. In this case, camera trap studies will show the change of the wildlife populations in the absence of cattle and fire. In the past six months the team had four separate Andean Bear (Tremarctos ornatus) sightings, and two species of the Andean deer. The data is still being processed. In the re-census the team evaluated all of their plots in four locations, Cocha Sondor (CLU), Tres Cruces (TCR) and Trocha Union (TRU), with two plots at each site along with a new plot, installed 18 months ago, Bosque de Pumataki (PUM) in the Pillco Grande area. This last plot was set up as a control to assess the influence of cattle on the treeline. The PEER team collaborated with the Manu National Park authorities in an effort to add material to their Information Center on the impact of climate change on the Manu tree line environment. These topics are being presented as historical milestones, relevant data, new discoveries that make them unique. The park authorities will use this data to show to the public in an accessible manner, highlighting the relevance of work being carried out at the park.

Potential Development Impacts:

The PI reports, that in the course of the project it has become evident that effective management of the upper Manu conservation area needs to balance the need for range-land for communal stakeholders while at the same time allowing for ecosystem recovery that will allow subsequent processes triggered by climate change to take place. The project has proven, model for mechanisms involved is still in development, that range-land above the timberline recovers quickly and allows forest to replace grassland and for native large fauna to repopulate the area. Effective management requires assigning clear economic value to range-land and compensation strategies for communal stakeholders. A large majority of communities have accepted the deal proposed by the FZS to pay for the removal of cattle, except one, Pilco Grande. Achieving this objective has provided the basis for the successful development of the project, and has allowed us to prove our hypothesis regarding succession at the timberline. The project team are now working in a private conservation are from this community that actually is used for grazing. The objective is to prove to the community that effective management requires to reduce significantly the impact of grazing. Even a minor amount of grazing by cattle clearly reduces forest regeneration. The team consider this by now proven beyond doubt and it is the basis for information they pass on to NGOs working in the area and to the Peruvian Park Service.
| | |
| --- | --- |
| | |
| Field assistants and PI transplanting tree seedlings in the upper Manu National Park | |
| | |
| --- | --- |
| | |
| A team member collects environmental data | A modified PET plastic water bottle is used as hood for temperature/relative humidity sensors |
Peer-reviewed Publications and Proceedings:


Hicks, L.C., Meir, P., Nottingham, A.T., Reay, D.S., Stott, A.W., Salinas, N., Whitaker, J. Carbon and nitrogen inputs differentially affect priming of soil organic matter in tropical lowland and montane soils (Open Access) Soil Biology and Biochemistry. Volume 129, February 2019, Pages 212-222.
Nottingham, A.T., Bååth, E., Reischke, S., Salinas, N., Meir, P. Adaptation of soil microbial growth to temperature: Using a tropical elevation gradient to predict future changes (Open Access). Global Change Biology. Volume 25, Issue 3, March 2019, Pages 827-838.
Fauset, S., Gloor, M., Fyllas, N., Phillips, O., Asner, G., Bake,r T., Patrick, L., Brienen, R., Christoffersen, B., del Aguila-Pasquel, J., Doughty, C., Feldpausch, T., Galbraith, D., Goodman, R., Girardin C., Honorio, E., Monteagudo, A., Salinas, N., Shenkin, A., Silva-Espejo, J., van der Heijden, G., Vasquez, R., Alvarez, Esteban., Arroyo, L., Barroso, J., Brown, F., Castro, W., Cornejo, F., Davila, N., Di Fiore, A., Erwin, T., Huamantupa, Isau., Núñez P., Neill D., Pallqui N., Parada, A., Peacock, J., Pitman, N., Prieto, A., Restrepo, Z., Rudas, A., Quesada, C., Silveira, M., Stropp, J., Terborgh, J., Vieira, S., Malhi, Y. (2019). Individual-Based Modeling of Amazon Forests Suggests That Climate Controls Productivity While Traits Control Demography. Frontiers in Earth Science, Vol. 7, Pages 83- 102. DOI=10.3389/feart.2019.00083.
Vicuña, E., Baker. T., Banda, K., Honorio, E., Monteagudo. A., Phillips, O., Del Castillo, D., Farfan Rios, W., Flores, G., Huaman, D., Huaman, K., Hidalgo, G., Lojas, E., Melo, J., Pickavance, G., Rios, M., Rojas, M., Salinas, N., Vasquez, R., (2019). El sumidero de carbono en los bosques primarios amazónicos es una oportunidad para lograr la sostenibilidad de su conservación. Folia Amazonica Vol. 2 1.DOIhttps://doi.org/10.24841/fa.v27i1.456
Benjamin Blonder, Norma Salinas, Lisa Patrick Bentley, Alexander Shenkin, Percy Orlando Chambi Porroa, Yolvi Valdez Tejeira, Tatiana Erika Boza Espinoza, Gregory R. Goldsmith, mLucas Enrico, Roberta Martin, Gregory P. Asner, Sandra Díaz, Brian J. Enquist, Yadvinder Malhi. 2018. Structural and defensive roles of angiosperm leaf venation network reticulation across an Andes-Amazon elevation gradient. Journal of Ecology Volume 106, Issue 4. https://doi.org/10.1111/1365-2745.12945
Andrew T. Nottingham, Lettice C. Hicks, Adan J. Q. Ccahuana, Norma Salinas, Erland Bååth, Patrick Meir. 2018. Nutrient limitations to bacterial and fungal growth during cellulose decomposition in tropical forest soils. Biol Fertil Soils 54:219–228. https://doi.org/10.1007/s00374-017-1247-4.Christopher E. Doughty P. E. Santos-Andrade G. R. Goldsmith B. Blonder A. Shenkin L. P. Bentley C. Chavana-Bryant W. Huaraca-Huasco S. Díaz N. Salinas B. J. Enquist R. Martin G. P. Asner Y. Malhi. 2017. Can Leaf Spectroscopy Predict Leaf and Forest Traits Along a Peruvian Tropical Forest Elevation Gradient?. Journal of Geophysical Research Biogeosciences, 122: 2952-2965 https://doi.org/10.1002/2017JG003883

Book References:
Forest Management and the impact on water resources: a review of 13 countries: IHP - VIII / Technical document No 37 Latin America and the Caribbean, Editors: Pablo A. Garcia-Chevesich, Daniel G. Neary, David F. Scott, Richard G. Benyon, Teresa Reyna. UNESCO 2017. Chapter 9. Forest Management and Water in Peru. ISBN 978-92-3-100216-8. https://www.fs.fed.us/rm/pubs_journals/2017/rmrs_2017_garcia_chevesich_p001.pdf.