Cycle 5 (2015 Deadline)

Development and use of the i-Tree tool to explore the potential for urban green infrastructure as an adaption strategy to climate change resilience in the City of Santo Domingo

PI: Solhanlle Bonilla Duarte (solhanlle.bonilla@intec.edu.do), Instituto Tecnológia de Santo Domingo (INTEC)
U.S. Partner: Gerald Bauer, U.S. Forest Service, International Institute of Tropical Forestry
Project dates: January 2017 - December 2019

Project Overview: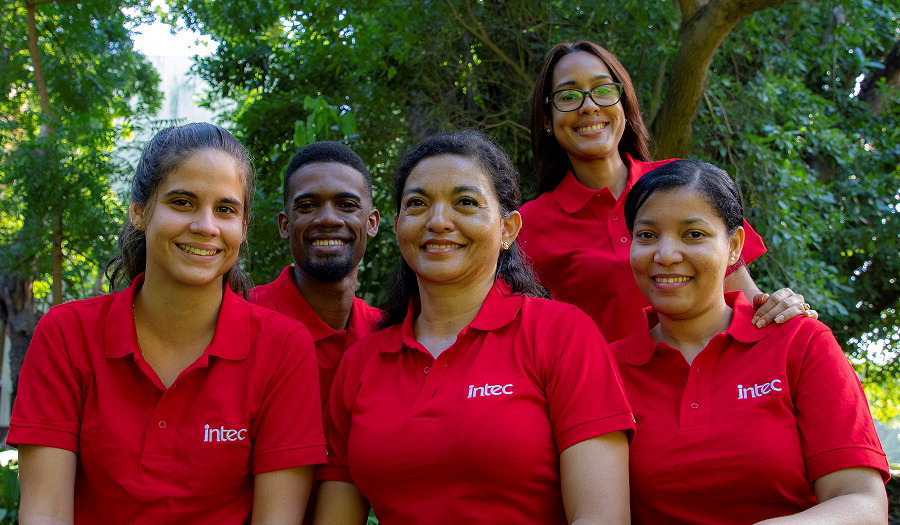 DR PEER/INTEC students with the PEER project coordinator [Photo courtesy of Prof. Bauer]

This study uses an Ecosystem Services approach to generate information for land use planning within the context of climate change adaption. This approach uses science-based indicators that classify ecosystems and their function and potential services in order to evaluate the influence of social, economic, and environmental service flows on human well-being, with the ultimate goal of guiding land-use planning. Reducing the impacts of urbanization and climate change has been a primary target of ecosystem services research, but research activity of this type in the tropics has been limited. The i-Tree is a public domain model provided by the USDA Forest Service and is used to aid planners and managers in the valuation and management of urban forests by quantifying the ecosystem services they provide. Although the i-Tree tool has been widely in many U.S. cities and internationally, its use in the Caribbean has been very limited as well. The proposed project will assist in gathering scientific information that can be readily used to set ecosystem function and services management goals and evaluate climate change scenarios that are appropriate for tropical ecosystem context, thus expanding the i-Tree model. Additionally, this project will establish an innovative collaborative platform that integrates multiple scientific disciplines with outreach and education towards greater understanding of urban infrastructure and sustainability.

As many small island nations, the Dominican Republic is vulnerable to climate-related impacts, including sea level rise, flooding, heat, prolonged droughts, and disruptions in water supply. State and local agencies in the DR are addressing these potential impacts and are working towards developing adaptation strategies in collaboration with U.S. based agencies, including USAID and the USDA Forest Service. Urban areas, such as Santo Domingo, are of particular concern because of greater number of people living in particularly poor, marginalized communities located in high-risk areas. The extensive and aging infrastructure throughout the city and the lack of forest vegetation creates added risks such as urban flooding and water quality issues that will exacerbate climate-related impacts and biodiversity impoverishment. The Instituto Tecnológico de Santo Domingo (INTEC), in partnership with Municipality of Santo Domingo, USAID, Universidad de Puerto Rico, and USDA Forest Service is taking steps to develop adaptation strategies, such as the use of green infrastructure at the watershed level to minimize flood risks throughout the city. The i-Tree tool, which is a widely used application in cities worldwide, is used to asses and manage community forests and their faunal communities, and link urban forest management to environmental quality and community livability in the Santo Domingo area.

Dr. Bonilla and her team are working closely with i-Tree Forest Service scientists applying i-Tree tools to understand the quality and distribution of urban green infrastructure and its capacity to provide ecosystem-based adaptation services in the Santo Domingo area.

Objectives:
Perform an inventory of common green via a combination of ground and aural-visual surveys and landscape level remote-sensing information
Carry out an inventory of woody and wildlife species using a stratified sampling method of common green spaces following Forest Service inventory and wildlife survey protocols
Implement i-Tree tools to evaluate the degree of ecosystem service provision by existing green infrastructure
Build local capacity in the evaluation of urban forests through workshops and hands-on training with local managers, decision-makers, and broader stakeholders on i-Tree.

Impact:
Academic scientific articulation between research centers in the United States and Puerto Rico and Dominican universities.
Synergies between the academic sector, civil society, municipality and public sector to address solutions to urban planning through scientific knowledge.
Development of 12 projects for estimating ecosystem services of urban trees in the Dominican Republic
Integration of 16 Dominican Universities (RAUDO) in the process of measuring the green infrastructure of the city of Santo Domingo
Use of the i-Tree tool in master's degree thesis at local universities
Participation in scientific activities at national level, in Latin America, USA, and Europe
Measuring birds' biodiversity in the urban forests in Santo Domingo city
Air quality associated with green infrastructure in the city of Santo Domingo
Training of university professors, technicians of public institutions, technicians of municipalities, specialists of civic society organizations, independent consultants, students and citizens with sensitivity and interest in environmental research
| | |
| --- | --- |
| | |
| iTree students measuring a field plot in the Universidad Iberoamericana (UNIBE) parking lot. Simon Guerreo (R) is a professor at UNIBE and is a cooperator with INTEC teaching environmental courses and promoting conservation of green spaces in Santo Domingo [Photo courtesy of Dr. Bauer] | Instructor Leonardo Cortez, PEER field technician, showing a student how to use hypsometer to measure tree height [Photo courtesy of Dr. Bauer] |

Outreach and Collaboration as part of this project is ongoing. Coordination was made with universities of the Environmental Network of Dominican Universities (RAUDO) to carry out training and include their campuses in the zones and intervention of the project. Through this coordination, important connections and collaborations were created for the project's objectives. The collaborations were the following:
(1) Universidad Central del Este: with the School of Architecture of this university, an important collaboration was established to organize a training day, perform measurements on the campus with the i- Tree tool and participate in a scientific and dissemination event.
(2) National University Pedro Henríquez Ureña (UNPHU): with this entity it was possible to establish collaboration with the School of Urbanism and the environmental management of the university.

(3) A training session was organized with the i-Tree tool and an information survey was carried out with the tool on the campus of the university. Work is being done on the guidelines of an agreement so that the botanical specialists of the urban planning school, review the species survey that is being carried out with the project and collaborate with the classification of the same.

(4) With the Autonomous University of Santo Domingo, a close collaboration was achieved with the School of Geography, within their laboratory, the training with the i-Tree tool was given and measurements were made with the same of the campus of the aforementioned university.

(5) An important collaboration was also established with the Pontificia Universidad Católica Madre y Maestra, with the school of Environmental Management, a training course was organized with the i-Tree tool and the measurements on the campus of the aforementioned university. The theoretical part was carried out in the INTEC laboratories and the field phase in the PCMM.

(6) With the Department of Urban Planning of the City Council of the National District, the public use areas of the city have been prioritized, in which the measurements in public arborized zones of the city of Santo Domingo are prioritized.

(7) With the Ministry of Higher Education, Science and Technology (MESCyT), a collaboration has been established for the Project and the PEER financing window to be presented in the Forums organized by that ministry to show funding opportunities for researchers from the Dominican Republic.

(8) MOU in progress with the Ministry of Environment to promote the i-Tree tool and measurements of air quality and biodiversity in the i-Tree plots in the city of Santo Domingo

(9) Alliance in process with the National District Council to use the i-Tree tool.

(10) Strengthen work with the Environmental Network of Dominican Universities for training and use of the i-Tree tool in 4 universities in the city of Santo Domingo.

(11) Presentation of the i-Tree tool to NGOs of the city of Santo Domingo.
(12) Preparation of sampling plan based for the Air Quality monitoring for Santo Domingo city and the research draft of one of the scholarship holder of PEER Program. The project has created expectations on the Ministry of Environment since it is an opportunity to create a (base) platform to seek funding sources and partnerships (INTEC, Specialized Labs) to acquire air quality measurement equipment and laboratories that work alongside, which goes with the process of defining actions and synergies that add elements for decision making.


Recent updates:

During April-June 2019 reporting period, the team organized three training and outreach events. During June 3-5, 2019, PEER project scholars Claudia Caballero and Cristina Cruz conducted training for INTEC students and technicians of the Ministry of Environment and Ministry of Education on Air Quality Monitoring data analysis software management. On June 6, 2019, INTEC/USFS team gave a presentation on "High Resolution Green Cover Mapping for Rio Isabella Watersheed and Santo Domingo`s National District (DN) to officials from the City Council of the National District and Ministry of Environment. On June 7, 2019, INTEC/USFS team conducted a seminar on Urban Ecosystem Services and Climate Resilience in Tropical and Coastal Cities where the team presented iTree results, Green Infrastructure Map, Citizen Awareness Initiatives, Urban Birdlife Biodiversity to 63 attendees which included technicians, officials,professors and students from public and private institutions in the Dominican Republic
| | |
| --- | --- |
| | |
| From left to right: Mirel Volcan (field technician), Claudia Caballero (graduate student of the project), Maria and Luis Paulino (field technicians of bird watching), U.S. Partner Dr. Gerald Bauer, project PI Dr. Solhanlle Bonilla, Olga Ramos (USFS headquarters Puerto Rico), Gilkauris Rojas (co-researcher of the proposal presented for the city of Santiago), Ana Pou (Assistant of the Stewardship Mapping and Assessment Project). | |
During the "Urban Ecosystem Services and Climate Resilience in tropical and coastal cities" seminar held on June 7, 2019, as part of the XV International Congress of Scientific Research (XV CIC), Dr. Bonilla gave a presentation, entitled
"Evaluation of Ecosystem Services in urban environments through the use of the i-Tree tool in the Dominican Republic"
. Wayne Arendt gave a presentation entitled "
i-Tree as a tool for ecosystem services in tropical urban landscapes. Case of Urban Birds in Santo Domingo, Dominican Republic
"; Olga Ramos and Sebastian Martinuzzi gave a talk on "
Analysis Land use in the Isabela River Basin and Green Infrastructure Map of the National District, Santo Domingo
", and Tischa Muñoz-Erickson gave a presentation entitled "
The Stewardship Mapping and Assessment Project (STEW map): Case of Santo Domingo, Dominican Republic
".
Potential Development Impacts:
According to Dr. Bonilla, the project has had important impacts so far, influencing consideration of urban forests as providers of environmental services and their management as a tool for adaptation to climate change in the cities. Through networking in national and international settings, the project has contributed to the creation of air quality monitoring networks, and has enhanced the understanding of the importance of biodiversity for urban forests, and has also been vital for presentation of new research proposals. As part of the efforts to enhance participation from the public, private sector, NGOs and academia, the project has been training teachers, students, and municipalities' staff on the use of the iTree tool. Students of different academic levels have been engaged in the project's research activities as well.