Cycle 5 (2015 Deadline)

Degradation of tropical forests in Colombia: impacts of fire

PI: Dolors Armenteras (darmenterasp@unal.edu.co), Universidad Nacional de Colombia
U.S. Partner: Jennifer K. Balch, University of Colorado, Boulder
Project Dates: December 2016 - November 2019

Project Overview: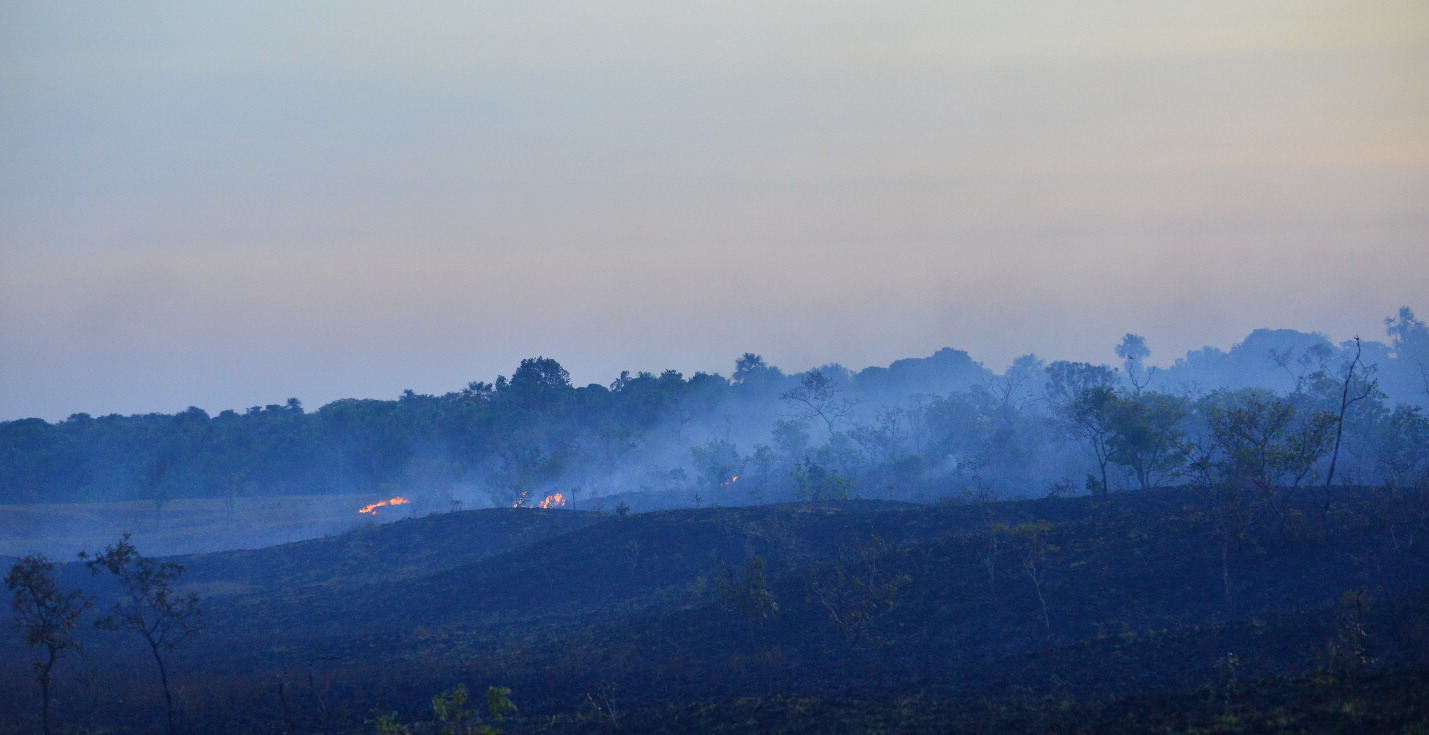 Fires occurring in the Savannah forest in the Bita region [Photo courtesy of Dr. Armenteras]

Tropical forests host the highest levels of biodiversity and maintain some of the greatest carbon stocks of all terrestrial ecosystems, having an essential role in global carbon (C) cycling. Colombia is no exception and hosts a diversity of tropical forests that are rich in both C and species, but also highly threatened. The international community has established mechanisms such as REDD+ (Reduced Emissions from Deforestation and Forest Degradation plus enhancement of forest carbon stocks through conservation and sustainable forest management) as a way to combat global change. Colombia is one of the REDD+ countries that has made advances in quantifying C stocks and measuring emissions from deforestation but has yet to address the drivers and consequences of forest degradation. Recent studies have identified fire as a major driver of tropical forest degradation. Fires affect landscape structure, patterns, and processes and have shaped today´s species composition and biological diversity. However, fires have also been used more recently as a tool in management practices for land clearance, crop or pasture maintenance, and slash-and burn agriculture in tropical forest systems. Though a natural mechanism in many ecosystems, human actions have altered regimes and the extent and frequency of fires have increased in many regions of the world, particularly in tropical forests.

Objectives


(1) Assess how fuel load and fuel moisture change along forest types;

(2) Advance understanding of the interactions between fire frequency and intensity and resulting biomass depletion and C stocks in different types of forests;

(3) Develop a model to quantify the response of different types of forests to changing fire regimes;

(4) Develop capacity to implement estimates of carbon emissions from forest degradation caused by fire into end-user decision-support systems

This study will be the first in Colombia to address the impact of fire on the composition of a given forest, or how fire is partially controlled by the spatio-temporal distribution of available resources to burn (fuel amount) and climatic conditions promoting combustion (fuel moisture). This project is anticipated to provide a basis of knowledge that will help reduce threats to agriculture systems, which are becoming more vulnerable in a climate change context and causing significant economic losses. Such is the case of fire dynamics which particularly can affect vulnerable crops that are composed of monocultures of highly flammable plant species (e.g., oil palm plantations). By identifying fire drivers, it is possible to design safer plantations, including elements and tools that reduce fire risk and dispersal. The project should also promote low-carbon economic growth through increased investments in low-emissions development, as well as improved community resilience to changing weather patterns and protection of significant ecosystems. By developing reliable estimations of carbon emissions from forest degradation and calibrating models combining field data and fuel moisture satellite observation data, the researchers will promote joint efforts to strengthen the capacity of regional stakeholders to integrate scientific products into development and decision making for the Colombian National REDD+ policy.

Potential developmental impacts
The results of this project will address the impact of fire composition of different types of forest and demonstrate how fire is controlled by the spatio-temporal distribution of available resources to burn and climatic conditions. These findings are anticipated to be helpful in strengthening environmental resiliency and low emissions development, as uncontrolled fires, such as the ones taking place in the Orinoquia Region, are depleting forest C stocks and increasing CO2 emissions. This project is anticipated to determine which types of forests are less resilient to fire impacts, in order to prioritize regional management actions to control fires.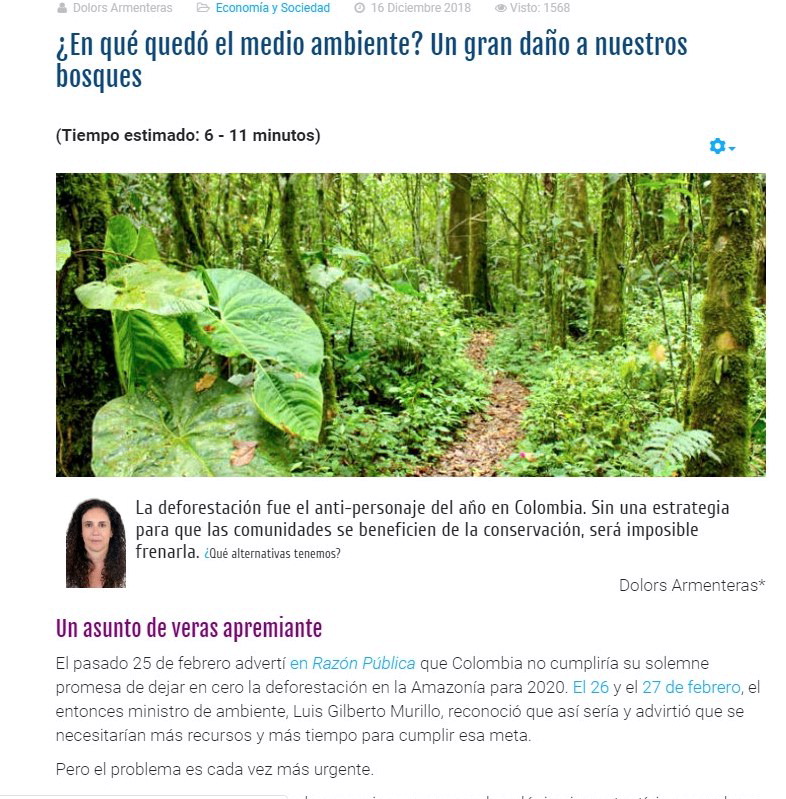 Project updates and evidence of impact to policy
Going in to year 2019, the project team developed a fire policy revision for publication. Preliminary results of the research, along with the results of previous investigations have shown, that it is necessary to review the national political context in forest fire issues in order to identify which policies, plans, programs and projects can make contributions and recommendations in the matter. Gaps in the current regulations regarding the issue of forest fires have been identified, and the proposed review of policies will serve as an important input for the adaptation of legal framework and as aid in formulation of public policies on forest fires taking into account national needs and considering the integral management of fires. A key point is to encourage the academia to become a leading actor for the country to enter a transition phase, from a paradigm based on the suppression of fire to the adoption of policies based on the compression and integral fire management. This change of vision arises from the results of investigations that are the basis for the social appropriation of knowledge, and the extension of them are the basis for cultural changes based on the understanding of fire and its impacts.

Work with the Congress of the Republic (House of Representatives): Based on review of national and international political context and identified gaps in the management of forest fires, the team has been working on contributing to formulation of a draft National Law that addresses causes and management of forest fires to aid in territorial planning and country development.

In the light of the raging fires in the Amazon, Dr. Dolors Armenteras and her work on forest fires has been receiving increasing media attention. On August 23, 2019, Dolors gave a live-streamed interview to El Tiempo on the impacts of deforestation, national regulations, and actions to be taken to reduce the risks of forest fires; On September 2, 2019, the national newspaper El Tiempo published an article on preparation of a draft bill on integral management of fires, featuring Dolors:


RCN Radio article: https://www.rcnradio.com/estilo-de-vida/medio-ambiente/la-amazonia-brasilena-esta-cerca-del-punto-de-no-retorno

News media in Brazil: https://www.razonpublica.com/index.php/internacional-temas-32/12229-por-que-arde-la-amazonia.html

Translation of research results into policy:

Following completion of this PEER project in November 2019, Dr. Armenteras received another PEER grant to further advance takeaways of her research results into action and policy. Follow the

link

for more details about Dolors' subsequent PEER project entitled "

Recommendations for decision makers with concerns on forest fire policies

"



Back to PEER Cycle 5 Grant Recipients