Cycle 5 (2015 Deadline)

Strengthening resilience to extreme weather related events in Indonesia through improving the predictability of drought risk within the Drought Cycle Management Model

PI: Heri Kuswanto (kuswanto.its@gmail.com), Institut Teknologi Sepuluh Nopember
U.S. Partner: Justin Sheffield, Princeton University
Project Dates: December 2016 - March 2020

Project Overview

This project focuses on drought as one of the major natural hazards in Indonesia. The primary aim is to improve the predictability of drought events as part of disaster risk reduction within the framework of the Drought Cycle Management (DCM) model. The DCM has proven to be a robust and practical approach for drought management in Africa for more than 30 years, but it has never been implemented in Indonesia. Differences in drought characteristics and community profiles between Indonesia and Africa will introduce interesting challenges for formulating novel strategies towards DCM implementation. One of the challenges will be how to predict future drought events under Indonesia's unique tropical climate variability. This project will develop a Drought Monitoring and Forecasting System (DMFS) and formulate scenarios to reduce drought risk, based on approaches previously applied by U.S. partner Dr. Sheffield and colleagues. The DMFS will be developed by drawing from methods developed by the Terrestrial Hydrology Group of Princeton University, integrated with seasonal drought forecasting derived from downscaled climate forecasts from the North America Multi-Model Ensemble (NMME)-II for predicting drought events in Indonesia.

Specifically, the goals of the project are (1) to improve the predictability of drought by developing a reliable monitoring and forecasting system; (2) to formulate a best framework for implementing a DCM model in Indonesia that incorporates local drought characteristics and community profiles; and (3) to test the effectiveness of the DCM model to reduce drought risk. To answer these questions, Dr. Kuswanto and his team will collect historical climate and hydrology data to characterize drought and use this to develop a drought prediction model based on climate prediction and statistical models. The two most vulnerable districts have been identified as the site for the pilot study for implementation of DCM: Probolinggo, East Java, and Lombok Utara, Nusa Tenggara Barat. They are listed as top priority districts due to their vulnerability to drought impacts. Based on participatory evaluations conducted on these two districts, statistical evidence will be evaluated to confirm the effectiveness of DCM. The U.S. collaborators will assist with the development of the DMFS for Indonesia, as well as with DCM implementation in the targeted districts. They will also provide remote sensing data required to build the system.

The Government of Indonesia (GoI) has made climate change mitigation and adaptation a national priority. Climate change resilience has been the focus of the GoI as part of the commitment to implementing the Sendai Framework for the Disaster Risk Reduction Framework. Climate change resilience has also become one of the focuses of the USAID mission in Indonesia. This PEER project supports these interests by focusing on a parallel strategy to strengthen extreme weather and climate resilience. The Meteorological Office Indonesia (BMKG) issues drought information from a simple monitoring system but with very low predictive capacity and hence drought forecasts have never been made properly. Moreover, the provided drought information is difficult for smallholders and communities to access directly, which has led to lack of actions to reduce the risk. Therefore, the DMFS coupled with an effective strategy for easy access to information by communities/smallholders, is urgently required. The DCM will frame how decisions are currently made at the smallholder and community levels in response to drought and determine whether decisions can be made (based on forecast information) to reduce drought risk. The project will ensure that communities and smallholders will have access to the drought information generated from the system, which is consistent with the idea of the DCM model.


Summary of Recent Activities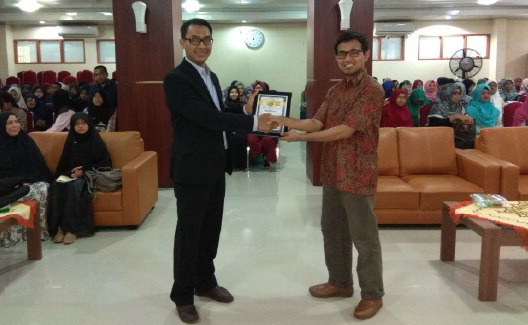 Dr. Kuswanto (left) receives an award following his presentation and outreach at Andalas University (photo courtesy of Dr. Kuswanto).

During the third quarter of 2019, Dr. Kuswanto and his team have focused their research activities primarily on small-scale system testing and data downscaling, beginning with data from East Nusa Tenggara. Due to the complicated format and data structure, it has been challenging to connect the original source of raw NMME data to their online system. Now that the tests are working well for the small-scale region dataset, they are moving on to downscale, calibrate (bias correct), test, and make improvements at the Indonesia-wide scale. In the meantime, the PI and his colleagues published three papers during this quarter (see links below), and they will present another paper on downscaling and bias correction of earth system models at the International Conference on Combinatorics, Graph Theory, and Network Topology 2019. This conference will be held October 26-27, 2019, at the University of Jember.

Dr. Kuswanto continued his close collaboration with colleagues at BMKG during this period, visiting the agency twice to discuss progress and gather input, particularly about system development. He and his team also organized a focus group discussion with the Provincial Office of the Ministry of Environmental (KLH), East Java. The discussion was focused on future climate condition in Surabaya and how the system the PEER team is developing can help to reduce the climate change impacts such as prolonged drought. Other outreach and dissemination activities this summer included participation by Dr. Kuswanto in the Summer School and Workshop on Climate System Modelling at Beijing National University August 11-17, 2019. The following month, the PI also visited Harvard University September 15-28, 2019, where he took part in a residency program. During his stay, he learned about issues related to solar geoengineering development and extreme weather events, as well as downscaling methods highly relevant to his PEER project.

A no-cost extension has been issued on this project through March 2020 to give Dr. Kuswanto and his colleagues the time needed to finish downscaling, bias correction, and performance testing on their system. They plan to write at least two more papers in collaboration with their U.S. partners Dr. Justin Sheffield and Dr. Amir AghaKouchak. In addition, the PI expects to visit them in November or December 2019. The PI will also be a participant and speaker in a workshop entitled "Towards an interdisciplinary knowledge community on the critical understanding of emergent climate system intervention in Southeast Asia," which is being organized in Bali November 8-9 by Boston University and The Hong Kong University of Science and Technology. In January 2020, project members will also attend a conference on disaster management organized by Institut Teknologi Bandung.

Following are some recent papers produced by the team based on their PEER-supported work:

Kuswanto, H., Hibatullah, F., and Soedjono, E. S. (2019). Perception of weather and seasonal drought forecasts and its impact on livelihood in East Nusa Tenggara, Indonesia. Heliyon 5(8). E02360. https://www.sciencedirect.com/science/article/pii/S2405844019360207
Kuswanto, H., Setiawan, D., and Sopaheluwakan, A. (2019). Clustering of precipitation pattern in Indonesia using TRMM satellite data. Engineering, Technology & Applied Science Research 9 (4), 4484-4489. https://www.etasr.com/index.php/ETASR/article/view/2950
Faidah, Y., Kuswanto, H., Suhartono, and Ferawati, K. (2019) Rainfall forecast with best and full members of the North American Multi-Model Ensemble. Malaysian Journal of Science 38 (sp2), 113-119. https://mjs.um.edu.my/article/view/17652
Kuswanto, H., F. Hibatullah, E.S. Soedjono, and F. Efendi. (2019). Survey data of household perceptions of drought, mitigation and adaptation practices in East Nusa Tenggara, Indonesia. Data in Brief 24 (June 2019), 103944. https://doi.org/10.1016/j.dib.2019.103944
Kuswanto, H., and A. Naufal. (2019). Evaluation of performance of drought prediction in Indonesia based on TRMM and MERRA-2 using machine learning methods. Methods X 6 (2019), 1238-1251. https://doi.org/10.1016/j.mex.2019.05.029
Kuswanto, H., et al. (2019). Statistical downscaling to predict drought events using high resolution satellite based geopotential data. IOP Conf. Ser.: Mater. Sci. Eng. 546 052040. https://iopscience.iop.org/article/10.1088/1757-899X/546/5/052040/pdf
Kuswanto, H. (2019). Analysis of factors influencing the usage of seasonal forecast in drought prone area: a case of East Nusa Tenggara, Indonesia. International Journal of Research in Business and Social Science (2147- 4478), 8(3), 64-71. https://doi.org/10.20525/ijrbs.v8i3.254
Kuswanto, H., Fithriasari, K., Inas, R. (2018) Drought risk mapping in East Nusa Tenggara Indonesia based on return periods. Asian Journal of Scientific Research 11 (4), 489-497. DOI: 10.3923/ajsr.2018.489.497.
Kuswanto, H., Rahadiyuza, D. (2018) Multi model calibration of rainfall forecasts in East Nusa Tenggara using ensemble model output statistics. Journal of Physics: Conference Series 1028(1), 012231.
Kuswanto, H., Ramadhan, E., Rahadiyusa, D. (2018) Active zones detection of sea surface temperature or drought events in East Nusa Tenggara Indonesia using bootstrap. ARPN Journal of Engineering and Applied Sciences 1310, 1342-1348.
Back to PEER Cycle 5 Grant Recipients