Cycle 5 (2015 Deadline)

Using multi data for biodiversity conservation at Dak Nong Province in the Central Highlands of Vietnam

PI: Nguyen Thi Thanh Huong (huongthanh.frem@gmail.com), Tay Nguyen University
U.S. Partner: Volker Radeloff, University of Wisconsin–Madison
Project Dates: December 2016 - November 2020

Project Overview: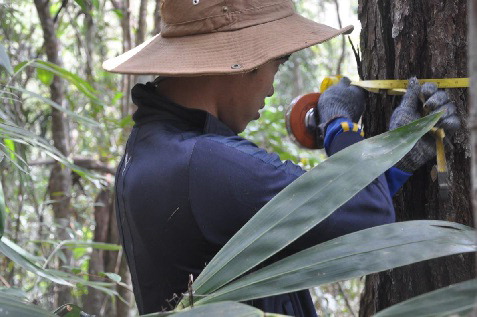 The team conducts data collection in the study area (photo courtesy of Dr. Nguyen)

Development of sustainable forest management and conservation strategies requires an understanding of how the composition and structure of tropical forests change in response to different disturbance regimes and how this affects both species distributions and people living in and near these forests. Most forests in Vietnam are affected by land cover change (LCC) resulting from human activities. To map and quantify the patterns of LCC, Dr. Nguyen and her team will analyze Landsat satellite images, GIS data, and field inventory data to classify forests by type and disturbance status. They will use these maps to stratify their field sampling and assess plant biodiversity among forest types and their changes following different levels of human disturbances (i.e., minor, moderate, and heavy impact). Furthermore, they will compare tree composition and structure along different ecological gradients, such as topography. By combining remote sensing, field data, and statistical processing, they expect to advance current methods to measure disturbance and biodiversity in the Central Highlands, which are largely based on field inventories. However, remotely sensed data is likely insufficient to map rare and endangered species, and hence areas of high conservation value. Therefore, the researchers will integrate spatial data with the experience of forestry workers and the indigenous knowledge of local people in the second phase of the project. Dr. Nguyen and her colleagues will collaborate closely with Dr. Radeloff, who will provide expert advice on forest sampling, analysis of vegetation diversity, and the use of remote sensing in ecology and biodiversity.

The project will involve all relevant stakeholders, including local authorities, forestry officers from various levels, and local people who depend on the forest. The project is designed so as to enhance conservation awareness among local people and improve skills and knowledge among forestry workers and officials responsible for conservation. The results will be transferred to relevant departments and reported to the Provincial People's Committee (PPC) of Dak Nong Province in the form of recommendations for forestry strategies. This will be of crucial importance for the PPC in order to implement proper forestry policies, conservation strategies, and forest management for the province in the context of climate change. Furthermore results from the project will contribute in several ways to the development of techniques, methodology, and training in forest biodiversity inventory and monitoring, which is still very limited in the Central Highlands, including Dak Nong Province. Combining remote sensing, terrestrial data, and social surveys will also provide insights into how forest dynamics in the Central Highlands have changed in recent decades. These inferences will contribute to development of a strategy for forest management that can incorporate payments for ecosystem services, REDD, and biodiversity conservation in the Central Highlands.

Summary of Recent Activities

Analysis of remote sensing and field data was the primary activity for Dr. Huong and her colleagues during the third quarter of 2019. They also conducted two field visits through the districts within Dak Nong Province and met with forest-owning units to collect more sample point GPS data to interpret forest types and status, as well as other land cover types. They also visited forest companies, national parks, forest units, forest ranger departments, and the DARD to discuss their planned dissemination workshop in Gia Nghia on November 7.


| | |
| --- | --- |
| | |
| The research team discusses rare tree species with forestry staff. | The team training the head of the forest station on how to use GIS for monitoring forests with his mobile phone. |
All photos courtesy of Dr. Nguyen

Beyond their research, the project team has been making impacts on the outreach and engagement side. Forest staff members and local people have become involved to help define forest status and land cover in the field. The researchers have led discussions on the topic of low quality forests as a means of engaging people in protecting the environment surrounding their communities and particularly their water sources. Training has also been an important aspect of the project, with the team providing instructions on remote sensing techniques for mapping land use and land cover to training forestry staff working on a World Wildlife Fund project in Yokdon National Park in Dak Lak Province. In recognition of her expertise, the PI Dr. Huong has also been invited to participate as a core member in a national project based at the Academy Institute of Technology and Science related to forestry remote sensing tasks.

Besides their dissemination workshop on November 7, the team will also be presenting their work at a GIS conference at Tay Nguyen University later that month, with the papers to be included in a published proceedings. They are also working on revising and resubmitting another paper to a major international journal. The team may conduct an additional biodiversity inventory in the field and will continue collecting and analyzing their forest data. Dr. Huong tentatively plans to visit her U.S. partner Dr. Volker Radeloff at the University of Wisconsin in April 2020. A no-cost extension has been issued through November 2020 to provide this team with the time they need to complete their work.


Back to PEER Cycle 5 Grant Recipients