Cycle 5 (2015 Deadline)

Bringing seasonal forecasts to the farmer: participatory climate smart villages for Green Growth in Ethiopia

PI: Belay Simane (simaneb@yahoo.com; belay.simane@aau.edu.et), Addis Ababa University
U.S. Partner: Benjamin Zaitchik, Johns Hopkins University
Project Dates: December 2016 - November 2019

Project Overview:

Climate change adaptation is a high priority for Ethiopia and other climate-vulnerable countries. At the farm and village level, however, long-term planning for climate change means very little. Subsistence agriculture communities survive on a year-to-year basis, and the productivity of the coming season's crops is typically too important and is often too uncertain to allow for adaptation planning on the decades-long time horizon of climate change projections. In this context, improved use of seasonal forecasts offers a climate resilience building strategy that pays dividends under current conditions and is likely to become even more essential as patterns of climate variability shift in coming years. The use of seasonal forecasts is also flexible and adaptable to context in a way that few adaptation strategies are. A specific cropping technology or seed variety may not work across agroecosystems, but improved approaches to interpreting and acting on seasonal climate forecasts can contribute to resilience in a wide range of settings.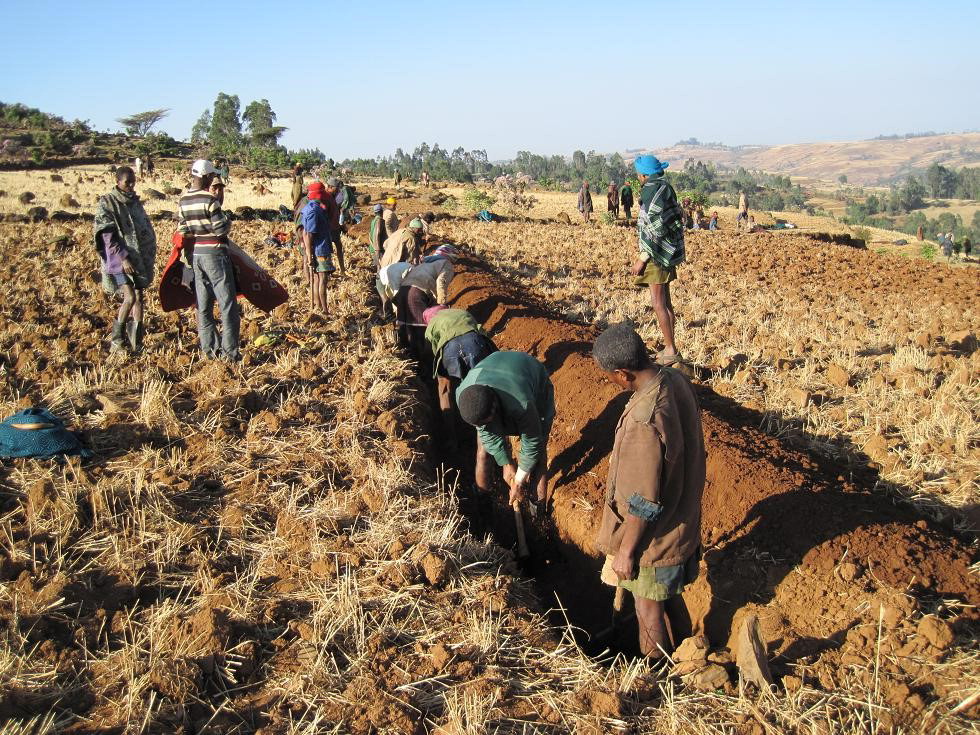 Farmers working to secure a climate smart village. Photo courtesy of Dr. Birhanu


The guiding principle for this project is that seasonal forecasts generated at the agroecosystem level, developed collaboratively with farmers, will advance understanding of the adaptation process and contribute to climate resilience in subsistence-based communities.

The proposed work would leverage and expand a climate smart village (CSV) network that has proven to be an effective mechanism to engage farmers in generating climate resilience solutions. The CSVs will inform application of forecasts through participatory forecast interpretation and communication.

They will also provide a platform for linking forecasts to culturally and ecologically appropriate actions to make use of forecast information. Meanwhile, the project focus on best-available seasonal forecasts will add a dimension of capabilities to CSVs that is currently absent.











Summary of Recent Events

During the reporting period, the major tasks done were capacity building on the applications and approaches of selected climate smart agriculture practices for the 14 CSVs members. In addition they formulated two action research proposals to be collected during the next quarter. While the first is on the data collection requirement for CSA, the second is On-farm Evaluation of newly developed agricultural implements.

Debre Markos University (DMU) through Choke Watershed Research and Development Directorate and Addis Ababa University (AAU) through College of Developmental Studies have made Memorandum of Understanding (MOU) entitled "Bringing seasonal forecasts to the farmer: participatory climate smart villages for Green Growth in Ethiopia" for undertaking community based participatory action research for three years (2009-2011 E.C). This project aimed in the area of agroecosystem based climate–smart landscape management prioritizing adaptation measures to achieve food security, reduce land degradation and improve water management in Choke Mountain Watershed, North- Western, Ethiopia. To this effect, capacity building for farmers and different stalk holders on climate smart agriculture (CSA) management practices have been made as part of the project activities. The training was attended by members of the government organizations engaged in the agricultural sector, administration heads in the respective sectors, and IP farmers. A two day training was held at Yejubie (Dendegeb and Lemechem IPs), Lumamie (Enebi and Gudalema IPs) and Kurar (Gelegele and Kurar IPs) on March, 2018.The training was jointly organized by DMU and AAU research staffs.

The objectives of the training were to familiarize the climate smart agriculture management practices to CSV farmers. The specific objectives of the training workshop were to provide the basic concept, principles, and components on the following issues that make climate smart agriculture:
I. Integrated crop and soil management practices.
II. Integrated livestock and fodder management practices
III. Sustainable land management and
IV. familiarize the new technologies planned for each CSV

Participants of the training were district and kebele level experts from crop, livestock, natural resource, irrigation, cooperative disciplines and administrative heads in their respective organizations. 15 farmers from each CSV also participated. Total numbers of training participants from the 4 districts are 141 (54 development agents (experts) and 87 farmers, respectively).

The second major activity was developing a framework to assess the sustainability of CSA technologies at CSV level. The project team concluded that agriculture is the main contributor to total Greenhouse Gas (GHG) emissions in Ethiopia. Climate smart practices include: conservation agriculture, soil and water conservation (SWC) structure, SWC cover crops, SWC water harvesting, soil management agro-forestry, improved crop varieties, fertilizer, compost, manure, crop rotation, soil nutrient and crop management; tillage/residue management; watershed based integrated farming systems; water management. They developed a matrix of measuring Climate Smart Agriculture indicators and a threshhold level to be measured at farm level.

The team also developed a research protocol on the agronomic and economic benefits of the improved farm tools (Berken Maresha, Aybar BBM (Broad Bed Maker), A new type of row planter) as part of the climate smart technologies for the existing 14 CSV. Economic data include time and labor required for each operation (tillage, planting and weeding). Biomass and grain yield as well as their current and local market price will be used to assess the economic benefits of the new implements using depreciation costs of the implements.

The following three activities are planned during the coming 3 months:

Implementation of Prioritized climate smart technologies for the existing 14 CSVs
On-farm Evaluation of newly developed agricultural implements
Assess the sustainability of CSA in all the 14 CSVs
Conducting the baseline survey: a multi-disciplinary group will conduct a comprehensive baseline survey for the 5 CSVs to capture the current socio-economic situation, resource availability, average production, income and risk management approaches.
Prioritizing and packaging of interventions: They will use a Multi-criteria Analysis (MCA) method to prioritize adaptation options for the 5 CSV. The decision will be based on five alternatives as well as 15 different economic, social and environmental criteria.
Recruit PhD and MA students and support their field works
Back to PEER Cycle 5 Grant Recipients