Cycle 5 (2015 Deadline)

Development of comprehensive performance evaluation and operations and maintenance strategy for the Indian solar sector

PI: Dibin Chandran (cse@wisein.org), World Institute of Sustainable Energy
Partner: Deepak Sagi, John F. Welch Technology Center, GE/India
Project dates: December 2016 - November 2018


Project Overview: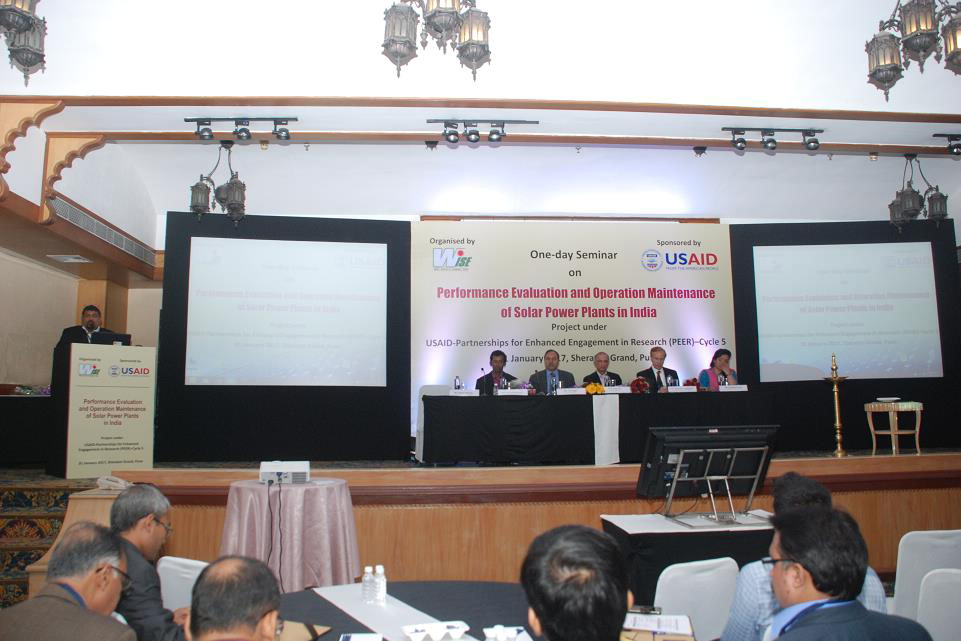 Seminar Inauguration welcome speech by Mr. Sanju Thomas, Head, Center for Solar Energy- WISE

This project is aimed at developing a strategic plan and methodology for carrying out performance evaluation and operations and maintenance (O&M) activities for solar power projects in India. Current practices and strategies follow common conventional methods like data collection, analysis, and scheduled and unscheduled maintenance. Although most of the country's current power production is from conventional energy resources, there are plans to increase the contribution of non-conventional power sources in the future. Sharp fluctuations in production from these non-conventional sources would have an impact on the total performance of the power grid, so in this context it is better to handle predictive maintenance and performance forecasting in a strategic manner.

The main objectives of the project are (1) development of a performance evaluation strategy considering all relevant factors, (2) development of standard O&M methods, (3) capacity building of government and private stakeholders for the long-term implementation of the strategies, (4) design of policy recommendations based on the project outcomes, and (5) provision of support for the Government of India to achieve its 2022 solar target.

Documentation of the performance evaluation method and O&M strategies for solar power projects should be useful in measuring performance guarantees, as an assessment of system performance, for verification of the performance model that can be applied to a new system. Although the measurement of this performance metric might appear to be straightforward, there are a number of subtleties associated with variations in weather and imperfect data collection that complicate the determination and data analysis.

The performance assessment is most valuable when it is completed with very low uncertainty and when the subtleties are systematically addressed; currently no standard exists to guide this process.

In the Indian scenario, a single performances analysis including O&M strategy will not make any difference because of the geographical complexity of the country and the different climate conditions found in each major region. Up to now, there has been no region-specific analysis, development of performance evaluation standards, or creation of O&M manuals in India.

This team's novel approach in performance evaluation and O&M strategy preparation should help to make a direct impact on the methods and strategies used by solar photovoltaic customers and developers during the implementation phase, while the indirect impact will be on government authorities, helping them to adjust policies accordingly. This research should have an impact on technology solutions so as to strengthen power production from solar photovoltaics at both the utility and small captive project scales.


Summary of Project Events

The project was started on 1st December 2016 with internal Kick start meeting. Afterwards project planning for the coming months has been done by project team members. All project activities have been explained to GE during the initial phase of the project itself. By considering the fact that this particular project includes large number of travel for data collection purpose, it was better to explain the projected outcome and its impact to project owners, developers, component manufactures etc. for getting permission to do the performance analysis of the existing power plants.

In January, the PI visited Lakshadweep Islands where in which environment was more corrosive than the main land, which became the part of some of the major initial finding presented during the seminar on 31st January 2017.

As the part of PEER Cycle-5, World Institute of Sustainable Energy with the Support of USAID organized One-day Seminar on "Performance Evaluation and O&M of Solar Power Plants in India" in January 2016. The event brought together some 80 delegates having proficient background and expertise in Indian Solar Sector. Key officials from autonomous Government agencies and Research institutes like the National Institute of Solar Energy (NISE part of MNRE) and National Centre for Photovoltaic Research and Education (NCPRE-IIT Bombay) have shared their views on Performance Evaluation and O&M of Solar Power Plants in India in promoting Sustainable development. It also provided a valuable networking opportunity and set the stage for further cooperation among government and Research institutions at different stages of development. Information and contact from this National Level Seminar gave proper directions towards data collection and analysis. The output and feedback from the delegates turned out to be positive. In the first week of April, the PI along with the other team member attended a training program at Indian Institute of Technology, Mumbai on topic "Onsite performance Evaluation of Solar PV Power plant".

The PI and his team have begun carrying out site survey. Selection of sites has been done based on literature survey and outputs from first conference. The team carried out a literature survey and selection of equipment's for site survey. Following instruments has been shortlisted for site survey
- PV IV tracer
- Irradiation sensor
- Thermal imaging camera
- AC/DC clamp meter
- Digital Multimeter
- Solar Panel and structure for internal lab setup

After each site survey project team submitted general site inspection findings to projects owners, most of the project owners have shown their interest in implementing preliminary inspection reports. Because of this positive sign from developers they are increasing their site sample number from 24 to >70. This will give more impact on outcome of the project. In this project year, the PI along with the team member visited GE Global Research in Bangalore, India for technical presentation and review of the project. NAS project coordinator, PEER members from US, USAID Indian mission members and GE researchers participated in this meeting. PI and the team member presented their project back ground, methodology, timeline and way forward. On 17th May, 2017, the PI attended PEER India Principal Investigators' Roundtable meeting at USAID/India.

In the next year, the PI and his team plan on assessing and analyzing the data collected and review initial results. They also plan on visiting manufacturers to get more information on solar and lastly, they will hold conferences to unveil the O & M and performance analysis and evaluation manual.



Mr. Dibin Chandran and Prof. Anil Kottantharayil during the O&M Seminar in Pune
Back to PEER Cycle 5 Grant Recipients