Cycle 5 (2015 Deadline)

Developing exposure and toxicity data for trace organic chemicals in wastewater, biosolids, and soils

PI: Bice Martincigh (martinci@ukzn.ac.za), University of KwaZulu-Natal
U.S. Partner: Natalie Mladenov, San Diego State University
Project Dates: February 2017 - January 2020

Project Overview: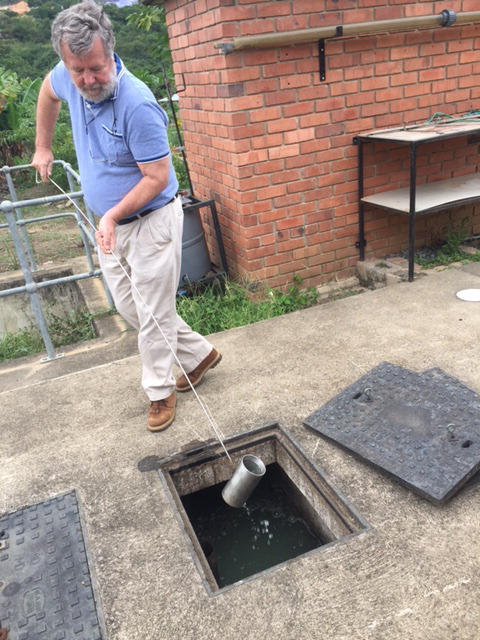 Dr. Chris Buckley at the wastewater treatment plant at Newlands Mashu

Contemporary lifestyles and the extensive use of organic chemicals in personal care and consumer products (PCCPs) leads to the constant discharge of enormous quantities of chemical residues from industries and homes into wastewater streams and, ultimately, the environment. In contrast to heavy metals, pathways of trace organic chemicals (TOrCs) derived from manufacturing and use of PCCPs are varied in the wastewater stream . The majority of TOrCs that reach wastewater treatment plants are destroyed through treatment and sludge processing, but recalcitrant TOrCs and their metabolites can pass through the treatment process intact and partition, dependent on their physico-chemical properties, in biosolids and aqueous media. Very little is known about the fate of TOrCs in the climatic context of South Africa.

This team has chosen to study a set of four classes of potential pollutants: flame retardants, the broad-spectrum herbicide glyphosate (Ro undup®, ubiquitously used in the local sugarcane industry), antibiotics, and HIV anti-retrovirals. Effluents from wastewater treatment plants in the Durban area, sewage sludge, biosolids, soils from effluent-irrigated farm land, and sludge and/or biosolid-amended soils will be analyzed and characterized for the presence of these TOrCs.

This project will have access to the local DEWATS wastewater treatment plant, which allows for detailed studies on the fate of the TOrCs during their passage through the plant and subsequent agricultural areas, providing a confined and controlled environment. Comprehensive target and non-target analytical techniques will be developed to detect and quantify the four classes of compounds in the selected matrices.

Furthermore, the team will develop a simultaneous extraction and clean-up method for each chemical compound class in the above-mentioned matrices.





Summary of Recent Events

During this reporting period, the PI and her team During this quarter we continued with analytical method development and sample analysis. We have analysed samples for the presence of antibiotics, pharmaceutical compounds, flame retardants and HIV-ARV drugs. The main problems experienced are that the samples are relatively "dirty" and this causes suppression of the standards added. Hence, quantification becomes more difficult. We are investigating ways in which to overcome this problem.

During this quarter one of the students, Ms Tolulope Lawrence, made a research visit to the University of Bath in the United Kingdom as part of the INTERWASTE programme. This enabled them to make contact with other researchers in the area and enabled them to learn from them in how they go about engaging with the community. Our collaboration with staff of eThekwini Municipality is continuing and we are also working with Professor Odindo's group for access to sludge-amended soils for sampling as well as plants grown on sludge-amended soils.

In the next reporting period, all the samples collected will be analyzed for the target analytes of interest.







| | |
| --- | --- |
| | |
| Chemistry lab at UKZN | The UKZN project team and PEER Project Manager |
Back to PEER Cycle 5 Grant Recipients