Cycle 5 (2015 Deadline)

Towards Smart Microgrids: Renewable Energy Integration into Smart Buildings

PI: Mohamed Riduan Abid (R.Abid@aui.ma), Alakhawayn University, with co-PIs Mohamed Bakhouya, International University of Rabat and Khalid Zinedine, University Chouaib Doukkali
U.S. Partner: Driss Benhaddou, University of Houston
Project Dates: December 2016 - November 2021

Project Overview: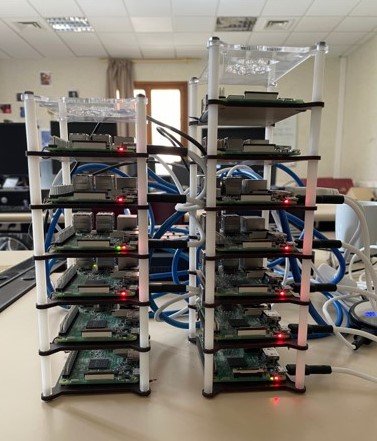 Energy-Efficient HPC (High Performance Computing) Raspberry-PIs Cluster developed at AUI. Photo credit Dr. Abid.

Besides being a global concern, energy efficiency is growing as a potential market with very promising development and environmental impacts. Smart Grids (SGs) promote energy efficiency in electrical grids, mainly via the integration of renewable energy (thus minimizing greenhouse gas emissions) and via the leveraging of Information and Communication Technology (ICT). ICT is a key element in the optimization of the Demand/Response (DR) variance, which stipulates a real-time dissemination of data between SG components, namely, smart meters at the production site (i.e., renewable energy sources), sensors measuring electricity consumption at the consumer site, and actuators. The interconnection of these components needs a reliable network: the Advanced Metering Infrastructure (AMI).

This project will leverage energy efficiency in smart buildings by promoting "context awareness" whereby the switching on and off of electrical appliances will be based on the context, i.e., temperature, number of people in rooms, humidity, light, and so forth.

To this end, these researchers plan to deploy a holistic platform that implements a real-world microgrid testbed at a building on the Alakhawayn University campus. The deployed smart microgrid model will be promoted for deployment by other organizations at the national level, especially since Morocco is adopting a promising policy for renewable energy integration. In the medium term, the team hopes to promote this technology in sub-Saharan countries as well, given Morocco's geographical location. Supporting research in renewable energy can foster the growth of the green economy in Morocco and in the longer term create job opportunities for Moroccan youth.

The project intends to have a positive impact in reducing greenhouse gas emissions, in line with USAID's Global Climate Change and Development Strategy. It is also in line with a Moroccan national initiative to promote renewable energy development.

Recent AUI Activities



With 6 months left to project end, the Energy-efficient Smart Building is settled. Renewable energy (Solar Panels) has been successfully integrated into the building. Data acquisition, system operation and performance are continuously monitored in real-time mode. Dr. Abid's team are promoting the acquired skills throughout this project as a potential seed towards attracting further funds and nesting promising cooperation with both governmental an non-governmental agencies, nationally and internationally, and thus widening the project impacts' scope. In this context, and despite the limitations imposed by Covid-19 constraints in terms of limited physical contact, the team was able to settle grounded links with local governmental authorities towards integrating "Smart Energy/Grids" and "Smart Data Acquisition and Analytics" into a larger governmental project financed by the Region of Fes-Meknes on "Smart Cities". The project will be hosted in Ifrane city, the home of Alakhawayn University. The team also started tackling two other promising energy-efficient topics: 'Smart & Energy-Efficient Irrigation' and 'Energy-Efficient HPC (High-Performance-Computing) for Big Data Analytics at the Cloud Edge'. Two Ph.D students have been already recruited to carry out relevant research: Mr. B. Ettaibi & Mr. S. Douch. PEER sponsored PhD student N. Najem is working on his last publication and is ready to defend his Ph.D thesis in coming Fall'21. PhD student S. Bourhnane recently received a Fulbright Scholarship and will be joining the Lab our the USG Partner Prof. D. Benhaddou at University of Houston during the summer to finalize her latest research and prepare for her Ph.D thesis defense that will take place in the fall of 2021. Fall'21. PEER sponsored Ph.D students S. Boulmrharj and A. ElMouatamid already defended their Ph.D theses.
| | |
| --- | --- |
| | |
| The Smart and Energy-Efficient Building at Alakhawayn University in Ifrane (AUI) site. | |
| | |
| Dr. Abid and his PhD students October 2020. Photo courtesy of Dr. Abid | The first prototype of the USAID-NI Lab at Alakhawayn University. Photo courtesy of Dr. Abid |
Summary of IUR activities (December 2016-December 2020)


The team members at Chouaib Doukkali University (UCD) and the International University of Rabat (UIR) collaborated since the first year of MIGRID project with the main aim to achieve the assigned tasks, while supporting involved PhD students, Sofia Boulmrharj and Abdellatif El Mouatamid, in finalizing their theses work. The team members developed and deployed a holistic and hybrid approach that takes into consideration three major aspects of the building, including passive building's systems (e.g., envelope), active building's systems (e.g., HVAC, ventilation), and the integration of renewable energy sources (e.g., PV panels, thermal panels, wind turbines) and storage devices, such as batteries, hot water tanks, hydrogen storage as well as its equipment, mainly hydrogen electrolyzer and fuel cell for cogeneration in buildings. The main aim of this holistic approach was to minimize the buildings' energy consumption (i.e., electrical and thermal energy) and reduce their greenhouse gas emissions while maintaining a suitable occupants' comfort. The team first deployed the EEBLab (a small Energy Efficient Building Laboratory) in order to validate in real-life scenarios the developed strategies. For large-scale deployment, and with the aim to exploit and disseminate our know-how knowledge gained in the framework of this PEER project, the team participated in the Solar Decathlon Africa (SDA) competition, which was held in Ben Guerir from 21st August to 27th September 2019, together with other students from the UIR, the Technische Hochschule Lübeck (THL) and a consortium of academic of Dakar. The team designed, constructed and deployed a smart and energy efficient house, named AFRIKATATERRE. Solar Decathlon Africa also presented an opportunity for the team's members to test and deploy on a large scale (i.e., in a real house) the technologies, approaches and platforms developed in the course of the project. During the SDA competition, visitors, including private companies, local USAID officials, funding agencies, policy and decision makers, visited the house where the team presented all deployed solutions. The AFRIKATATERRE house won the first prize in the Architecture contest and the second prize in the sustainability contest. All SDA houses are currently grouped together to create the
green and smart building park
.
IUR activities' outcomes:
AFRIKATATERRE and EEBLab platforms (large and small-scale, respectively), two R&D test sites for conducting further related research and development activities.
Ph.D students S. Boulmrharj and A. ElMouatamid defended their Ph.D theses. Sofia's thesis work was conducted between UIR and UCD under the supervision of M. Khaidar (UCD), K. Zinedine (UCD), R. Ouladsine (UIR), and M. Bakhouya (UIR), while Abdellatif's thesis work was conducted under the supervision of N. Elkamoun (UCD), K. Zinedine (UCD), R. Ouladsine (UIR), and M. Bakhouya (UIR).
The project helped its involved members (Ph.D., Master, and Undergraduate students) through training, scholarships, and meeting events allowing the exchange of ideas and results related to the project concepts and its related technologies. The training activities to exploit the exchange of research and technological skills were performed through the mechanisms of joint undergraduate/Master/PhD program and its related events, such as open days and seminars, new courses, and job fairs. The team also capitalized on many projects, mainly CASANET project, funded by CNRST (2016-2020), and PROPRE project (PROductivité Photovoltaïque à l'échelle REgionale dans tout le Maroc). The team members also established new research directions which target energy efficiency solutions for smart buildings including the electromobility and the integration of other sources (e.g., biomass) and storage systems (e.g., GES). Thanks to the PEER project, the team have formed a team and acquired skills in the development of technological platforms that can be leveraged into other projects and applications, such as smart agriculture and electromobility (e.g., the PSA OpenLab@Morocco).
The PEER project helped promote career development of the involved members. For instance, Dr. S. Boulmrharj and Dr. A. El Mouatamid are still working with the team, but as Postdoctoral researchers under other funded projects. Prof. Khalid Zinedine is currently affiliated with the Mohammed V University (UM5) in Rabat and continues working with the team. Prof. Mohamed Bakhouya has been nominated as the director of the LERMA Lab (Renewable Energies and Advanced Materials Lab) at the UIR. A close collaboration was established between Prof. M. Siniti (UCD), Prof. N. ElKamoun (UCD), Prof R. Ouladsine (UIR) and Prof. M. Bakhouya (UIR) in the field of storage devices (e.g., hydrogen, battery) along with their efficient integration into smart buildings. Tangible experience and gained skills will be leveraged to enrich, with new research directions (R&D), the two platforms (EEBLab, and AFRIKATATERRE) and hopefully the AUI's (Al Akhawayn University in Ifrane) Micro-grid system.
| | |
| --- | --- |
| | |
| The PV panels as well as the wind turbine installed on the EEBLab platform. Photo credit: co-PI Mohamed Bakhouya | The AFRIKATATERRE platform. Photo credit: co-PI Mohamed Bakhouya |
PEER reviewed journal articles:
[5]
El Ibrahimi, M., Khay, I., El Maakoul, A., Moussa, M. O., Barkaoui, A., & Bakhouya, M. (2020). Anaerobic co-digestion in a liquid recirculation pilot-scale reactor: Thermal and hydraulic study. Energy Reports, 6, 496-502. https://doi.org/10.1016/j.egyr.2019.09.014.
[7] NaitMalek, Y., Najib, M., Bakhouya, M., Essaaidi, M. (2021). Embedded Real-time Forecasting of Batteries State-of-Charge in Micro-Grid Systems. Ecological Complexity Journal, Volume 45.
Back to PEER Cycle 5 Grant Recipients