Cycle 5 (2015 Deadline)

Using contact tracing to assess barriers to diagnosis and treatment and develop an educational campaign surrounding childhood tuberculosis in Northern Philippines

PI: Flordeliza Bassiag, Isabela State University
U.S. Partner: Tania Thomas, University of Virginia
Project Dates: December 2016 - June 2022

Project Overview: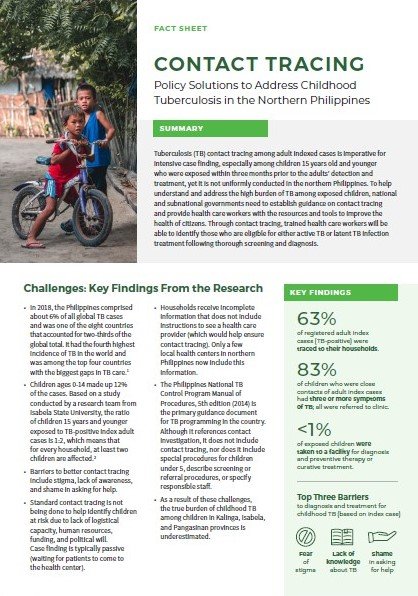 This
Factsheet
was produced by Population Reference Bureau under the Research
Technical Assistance Center (RTAC). The information in this policy brief is based on research led by Ms. Flordeliza Bassiag at Isabela State University and Dr. Tania Thomas at the University of Virginia.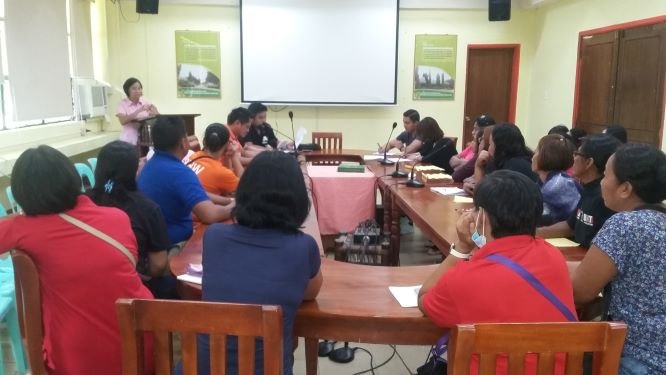 Orientation of frontline healthcare workers on childhood TB and contact tracing. Photo credit: Dr. Bassiag

The Northern Philippines is not exempt from the burden of childhood tuberculosis (TB), given its geographical locations with mountains and urbanizing valleys in all three regions of Ilocos, Cagayan Valley, and the Cordilleras, encompassing ten provinces and seven cities. The project will use contact tracing among adults with smear-positive TB in order to assess the disease prevalence and incidence among children in the Northern Philippines, and it will identify a spectrum of barriers to the diagnosis and treatment of childhood TB. Household contact investigations will be conducted among smear-positive index patients on TB treatment through DOTS/health facilities (public or private) within the three regions to screen for and obtain accurate baseline statistics of childhood TB and latent TB infection among children under 15. Cross-sectional surveys, key informant interviews, and focus group discussions will be employed among families and healthcare workers to identify barriers to the diagnosis and treatment of childhood TB. Results of the survey will be used to inform an educational campaign that builds upon the strategies of the Department of Health of the Philippines for improving lung health in children affected by tuberculosis.

The project aims to increase pediatric TB case detection from 1.2% to 15%, the global average detection rate for high TB-burden countries. Identification of barriers affecting treatment will inform methods to improve successful implementation of national childhood TB guidelines in the Philippines. The community-based education campaign will serve as an important advocacy tool for the lung health of children and will help decrease the stigma associated with TB. The global community is working towards the goal of "Zero TB deaths among children." Completion of the project aims will provide critical evidence about the burden of TB-exposed and diseased children in rural Northern Philippines. Contact investigations will build research capacity among individuals and at the programmatic and institutional levels. It will also foster local capacity building at the grassroots level by promoting educational campaigns. Active case finding will generate accurate baseline statistics on TB-exposed children from an understudied region, which can aid in resource allocation and benchmark creation for future programs.



2021 Project updates



As a result of high impact of the project, in late 2020, the PEER team received supplemental PEER funding to continue their PEER activities through 2021 to include: (1) Comprehensive education and communication campaign program for local levels on childhood and adolescent TB, based on the knowledge learned from recent key participant interviews. The team will also incorporate messages about other relevant respiratory illnesses including influenza and COVID-19; (2) Development of cell-phone based tools to increase awareness of TB and improve treatment adherence; and (3) Training toolkit on childhood and adolescent TB– intended for local healthcare workers at the provincial and local levels and among community members who were selected as TB ambassadors based on their willingness, testimonies and commitment to support the program.


During January-March 2021 reporting period, the team began development of appropriate messages on childhood and adolescent tuberculosis based on the project's brochure on childhood TB and other evidence-based materials. This will cater to the target earlier identified audiences such as healthcare workers involved in TB, Science Teachers under the local Department of Education, and the College of Nursing. The material (s) will also be uploaded in the Mobile App. Production of 30-second radio and video plugs are also in the process of being developed in coordination with ISU Cabagan Radio Station.


In terms of potential development impacts, the proposed policies for Childhood and Adolescent TB are on the road to adoption, according to Dr. Bassiag. The Province of Kalinga through the Provincial Governor, pledged a budget of One million pesos for the Ordinance or policy on Childhood and Adolescent Tuberculosis. The Provincial Health Office (PHO) and Provincial Health Officer requested the assistance of the PEER PI Dr. Bassiag to come-up with an action plan for their budget. A discussion with new Provincial Health Officer adopting an evidence-based scheme was undertaken to finalize the Ordinance featuring realistic targets for CATB in the Province for this year and onwards. According to the PI, the Legislative Body is anticipated to enact the policy by April 2021. The municipalities and City of Tabuk are anticipated to follow in adopting the Ordinance for their localities, as well.


Publication work has been ongoing as well. Since July 2021, the project team were able to submit eight (8) papers:

1.

Healthcare Workers' Perceived Barriers to Diagnosis and Treatment on Childhood Tuberculosis in northern Philippines Flordeliza R. Bassiag, Tania Thomas, Beulah B. Estrada, Edmelyn Cacayan, R. Tuppal, Alexander F. Ritua, Sorick Bassiag

2.

Cascade of Care for Childhood Tuberculosis in northern Philippines Tania Thomas, Flordeliza Bassiag

3.

Cost-effectiveness Analysis to Assess Various Mechanisms of Expanding Tuberculosis (TB) Preventive Treatment (TPT) to Ages 5-14 in the Philippines: A Mathematical Modeling Ghassan Ilaiwy, Tania Thomas, Tito Rodrigo, Flordeliza Bassiag (UVA, USAID, ISU)

4.

Knowledge, Attitudes and Practices (KAP) on childhood tuberculosis among Household Indexed and community members in Northern Philippines Flordeliza Bassiag, Tania Thomas, Romella Tuppal, Edmelyn Cacayan, Alex Soriano

5.

Assessment on the Indoor Air Quality During TB Treatment Setting among Households Indexed Participants in Northern Philippines Flordeliza Bassiag, Tania Thomas, Alexander Ritua, Elmer Rosete, Beulah Estrada

6.

Mobile Application: Childhood and Adolescent Tuberculosis (CATB) Knowledge Line as Source of Local Information in TB among Healthcare Workers and Households Flordeliza Bassiag, Tania Thomas, Joe D. Lagarteja, Romella Tuppal, Beulah Estrada, Alexander Ritua

7.

Assessing SMS-based Reminder Tool on Treatment and Follow-up Adherence among Chilhood and Adolescent Tuberculosis (CATB) Patients Flordeliza Bassiag, Tania Thomas, Joe D. Lagarteja, RomellaTuppal, Beulah Estrada, Alexander Ritua, Ricmar P. Aquino

8.

Policy Uptake of LGUs on Childhood and Adolescent Tuberculosis in Northern Philippines Flordeliza Bassiag, Beulah Estrada, Ricmar P. Aquino, Sorick Bassiag

Papers presented during October 5-7, 2021 workshop are as follows:

1.

Healthcare Workers' Perceived Barriers to Diagnosis and Treatment on Childhood Tuberculosis in northern Philippines Flordeliza R. Bassiag, Tania Thomas, Beulah B. Estrada, Edmelyn Cacayan, R. Tuppal, Alexander F. Ritua, Sorick Bassiag

2.

Cascade of Care for Childhood Tuberculosis in northern Philippines Tania Thomas, Flordeliza Bassiag

3.

Cost-effectiveness Analysis to Assess Various Mechanisms of Expanding Tuberculosis (TB) Preventive Treatment (TPT) to Ages 5-14 in the Philippines: A Mathematical Modeling Ghassan Ilaiwy, Tania Thomas, Tito Rodrigo, Flordeliza Bassiag (UVA, USAID, ISU)

4.

Assessment on the Indoor Air Quality During TB Treatment Setting among Households Indexed Participants in Northern Philippines Flordeliza Bassiag, Tania Thomas, Alexander Ritua, Elmer Rosete, Beulah Estrada

5.

Mobile Application: Childhood and Adolescent Tuberculosis (CATB) Knowledge Line as Source of Local Information in TB among Healthcare Workers and Households Flordeliza Bassiag, Tania Thomas, Joe D. Lagarteja, Romella Tuppal, Beulah Estrada, Alexander Ritua

Back to PEER Cycle 5 Grant Recipients