PEER Participants' Conference in Arusha, Tanzania, August 4-7, 2014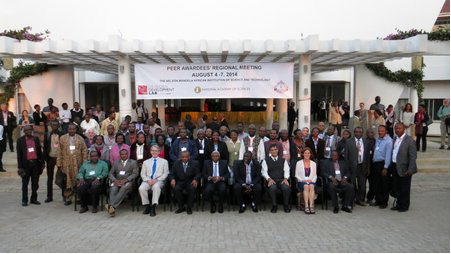 The 2014 PEER Participants' Conference was held at the Nelson Mandela African Institution of Science and Technology in Arusha, Tanzania, August 4-7. The conference was aimed at facilitating networking among current PEER PIs based in sub-Saharan Africa, to help them build productive linkages not only with their research colleagues but also with representatives from the U.S. Agency for International Development (USAID). In addition, the conference was designed to promote capacity building by providing training in various non-research skills such as writing proposals, identifying and approaching potential funders, preparing and presenting research results to both technical and non-technical audiences, and reaching out to government agencies and non-governmental organizations to provide input on science-related policy issues. Besides our program's Africa-based PIs and co-PIs, participants included guest speakers on the topics listed above, representatives from our sponsors at USAID and program partners at the National Science Foundation, and program staff from the National Academy of Sciences (NAS).


Following are links to download presentations made by speakers at the conference:

(Presentations not currently available will be added when received from the speakers)

Monday, August 4: "Big Picture, Getting to Know Each Other"
9:00 am Welcome Remarks, Introductions, and Meeting Logistics
Opening Remarks: Dr. Dalal Najib, National Academy of Sciences
Host Welcome Remarks:
Dr. Burton Mwamila
, NM-AIST
Welcome Remarks: Mr. Tim Donnay, Deputy Mission Director, USAID/Tanzania
9:40 am PEER Program Overview: History, Purpose, Significance, and Future
Mr. Jerry O'Brien
, USAID
Dr. Jessica Robin
, NSF
10:20 am PANEL: Connecting Your Research to USAID and its Mission in Sub-Saharan Africa
Dr. Kerry Reeves,
South Africa Mission
Mr. John Brighenti, Ghana Mission
Prof. B.L. Ramakrishna, Power Africa/Washington
Dr. Hancox Jaoko, East Africa Regional/Power Africa
11:45 am The Art of Effective Negotiation
Prof. Geraldine Richmond
, University of Oregon and President-Elect,American Association for the Advancement of Science
2:00 pm Conveying Science through Flash Talks
Dr. Djuke Veldhuis
, Famelab
4:15 pm Communicating with Your Grant Manager on the Financial and Administrative Management of Your Grant
Dr. Dalal Najib, Dr. Elizabeth Sharp, and Mr. Robert Gasior
, National Academy of Sciences
Tuesday, August 5: "Resources that Add Value to your Research Program"


9:00 am Research4Life: Accessing Scientific Information
Ms. Kimberly Parker
, WHO
Mr. Gracian Chimwaza
, Research4Life
1:00 pm AuthorAid Research Lifecycle Seminar Part 1
Mr. Ravi Murugesan
, INASP
3:15 pm AuthorAid Research Lifecycle Seminar Part 2
Mr. Ravi Murugesan, INASP
5:15 pm Keynote Speech by The Honorable Dr. Mohamed Gharib Bilal, Vice President of Tanzania
Wednesday, August 6: "Development Impact with your Research"
9:00 am ONRG's Activities and Holistic Approach in Addressing Energy Challenges: Education, Research, and Commercialization
Dr. Cung Vu
, Office of Naval Research
9:45 am Connecting Science Diplomacy with Development
Dr. Abdulazeez Atta
, National Research Institute for Chemical Technology (NARICT)
11:00 am SciDev.NET: Plugging into development-centered media
Mr. Kaz Janowski
, SciDev.NET
1:00 pm Entrepreneurship and Technology Transfer
Dr. Surya Raghu
, Advanced Fluidics LLC
Dr. Moses Musaazi
, Makerere University
3:00 pm Identifying and Approaching Future Funders
Dr. Cung Vu, Office of Naval Research
Ms. Nesia Mahenge
, The British Council

Thursday, August 7: Extending the PEER Community


2:00 pm Research into outcomes & impacts - the importance of evaluation in research
Dr. Julius Nyangaga
, Right Track Africa