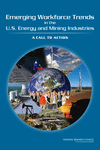 Emerging Workforce Trends in the U.S. Energy and Mining Industries: A Call to Action (March 2013)


Read online free

Buy the book or Download the Free PDF

December 14, 2015
7 News Right Now
KMGH (ABC)
Here's another staggering number, the National Academy of Sciences estimates that 70% of mining industry experts will retire in the next 10-15 years.
June 3, 2014
Energy Boom Spurs Sector's Need For Young Workers
Investor's Business Daily
The report mirrors a finding last year by the National Research Council that said the U.S. isn't producing enough qualified younger workers to replace baby boomers retiring from the mining and energy sectors.

March 22, 2013
Aging Baby Boomers, Few Replacements Threaten U.S. Mining Sector—NRC Report
MineWeb
A new report by the National Research Council of the National Academy of Engineering is concerning that the loss of a large number of experienced energy and mining workers in industry, academia, and government may actually impact the high standard of...