Media Coverage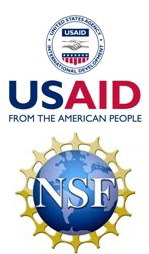 Partnerships for Enhanced Engagement in Research (PEER)
View PEER Website





September 13, 2016
Vietnamese scholars win four US scientific research awards
Vietnam Net
Administered by the U.S. National Academy of Sciences, PEER is a competitive grants program that invites scientists in developing countries, partnered with USG-supported collaborators, to apply for funds to support research and capacity-building activities on topics with strong potential development impacts.

June 21, 2013
Mozambique: New USAID-Science Foundation Projects Focus on Development
AllAfrica.com
A complete list of award recipients is available on a National Academies Web page about the program. "We are really excited to see the growth of the PEER Science program," said Alex Dehgan, science and technology adviser to USAID Administrator Rajiv ...
May 3, 2012
USAID, Science Foundation Support Developing World Research
IIP Digital
The National Academy of Sciences convened review panels of topical experts to evaluate nearly 500 applications from 63 developing countries. Among these, 41 projects from 25 countries were selected based on scientific merit, projected development impact…
May 3, 2012
Africa: USAID, Science Foundation Support Developing World Research
allAfrica.com
The competitive grants were awarded through the Partnerships for Enhanced Engagement in Research (PEER) program, funded by USAID and administered by the National Academy of Sciences in coordination with the NSF...