Media Coverage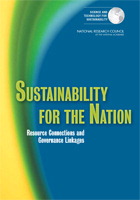 Sustainability for the Nation: Resource Connection and Governance Linkages (June 2013)


Read Online Free

Buy the Book or Download Free PDF




June 10, 2014
Quiet Collaboration; Big Impact
Mitchell Foundation
I remain convinced of this and always want to shine the light on glowing examples of collaboration in action. One such example is the National Academies' Roundtable on Science and Technology for Sustainability (STS), of which I have been privileged to be a member over the last six years.

July 9, 2013
Restructure US Government to Make "Huge" Green Changes in America, Study Proposes
Fox News
... and overcome legal barriers to help install the nebulous principle of "sustainability" across government, the economy and society at large, according to a new National Research Council study sponsored by many of the federal departments that would ...


July 8, 2013
Sustainability Policy Needed, Report Says
CEN
The U.S. should have a federal policy on sustainability, says a report from the National Research Council. The government is not organized to deal with complex and long-term challenges that sustainability poses for the economy, natural resources, and social well-being, according to the report…
July 1, 2013
Federal News Radio
It's not laws or politics, but culture that most prevents the federal government from tackling issues of sustainability. That's one finding in a new report from the National Research Council. A committee of academics, industry experts…
June 28, 2013
eNews USA
A report from the National Academy of Sciences (NAS), National Research Council (NRC) indicates that the United States should establish a National Sustainability Policy and take additional steps to encourage federal agencies…