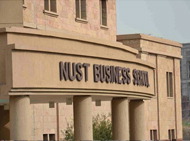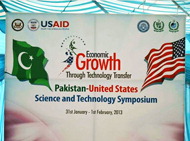 (photo courtesy of Dr. Dr. Franklin Carrero-Martinez, AAAS Roger Revelle Fellow on Global Stewardship)
Pakistan - US Science and Technology Cooperation Program Symposium
In late January, American and Pakistani grantees traveled to Islamabad for the first symposium on technology transfer held at the National University of Science and Technology (NUST). The two-day symposium, attended by more than 100 participants, brought together scientists, entrepreneurs, government officials, and media on January 31-February 1, 2013. Day one focused on university-industry technology transfer primer plus a showcase of seven projects funded by the Pakistan-U.S S&T Program. These projects, with commercialization potential, covered diverse topics.




---
Presentations from the symposium by topic:
| | | | |
| --- | --- | --- | --- |
| Wastewater Reuse Project | Small Scale Sewage Treatment and Wastewater Reuse System for Pakistan: Dr. Rumana Riffat, George Washington University, Washington, DC; Dr. Safia Ahmed, Quaid-i-Azam University | Rapid Test for TB | Rapid Detection of Infection and Drug Resistance in Tuberculosis Patients by Multiplex Analysis: Dr. Imran Khan, University of California, Davis; Dr. Waheed Akhtar, Punjab University and Allama Iqbal Medical College |
| Asphalt Pavement Recycling | Development of Guidlines for Asphalt Pavement Recycling in Pakistan: Dr. Gilbert Baladi and Dr. Syed Waqar Haider, Michigan State University, East Lansing, Michigan; Dr. Tayyeb Akram, NUST, National Institute of Transportation | Hybrid Solar Water System Using CO2 | A Hybird Solar Water Heating System Using CO2 as Working Fluid: Dr. Sumathy Krishnan, North Dakota State University; North Dakota; Dr. Nasrullah Khan, COMSATS Institute of Information Technology (CIIT) |
| Air Quality Monitoring | Ambient Air Quality Monitoring Using Integrated Secure Wireless Sensor and Vehicular Networks: Dr. Hafiz Malik, University of Michigan, Michigan; Dr. Muhammad Tahir, University of Engineering and Technology, Lahore | High-Performing Engineered Fertilizers | The Development, Optimization, and Application of a High-Performing Engineered Fertilizer: Dr. Syed H. Imam, Dr. Gregory Glenn, and Dr. Mark Jackson, USDA Agricultural Research Service, Western Regional Research Center, Albany, California; Dr. Farooq-e-Azam, Nuclear Institute of Food and Agriculture (NIFA), Peshawar |
| Medicinal Plants | Standardization and Quality Assurance of Medicinal Plants: Dr. Allan Showalter and Dr. Melanie Schori, Ohio University, Ohio; Dr. Zabta Khan Shinwari, Quaid-i-Azam University | | |
The second day highlighted research and private sector engagement such as developing elevator pitches, intellectual property, finding finance, and technology forecasting. Post-Symposium assessment indicated a strong desire from participants to have additional capacity building symposiums in Pakistan on technology transfer.
Following the symposium, Washington-based travelers visited three projects in Islamabad -two at Quaid-i-Azam University and one at NUST funded by this program. We visited laboratory facilities, listened to presentations, met faculty and graduate students (many were women), giving us an appreciation of the power of science and technology as an engine for social and economic development in Pakistan.
View full agenda of the symposium