Special Events

2020

Pakistan-U.S. Science & Technology Startup Training Program, August 10-14, 2020
This training is open for applicants,follow the link below for more info. Applications are now closed.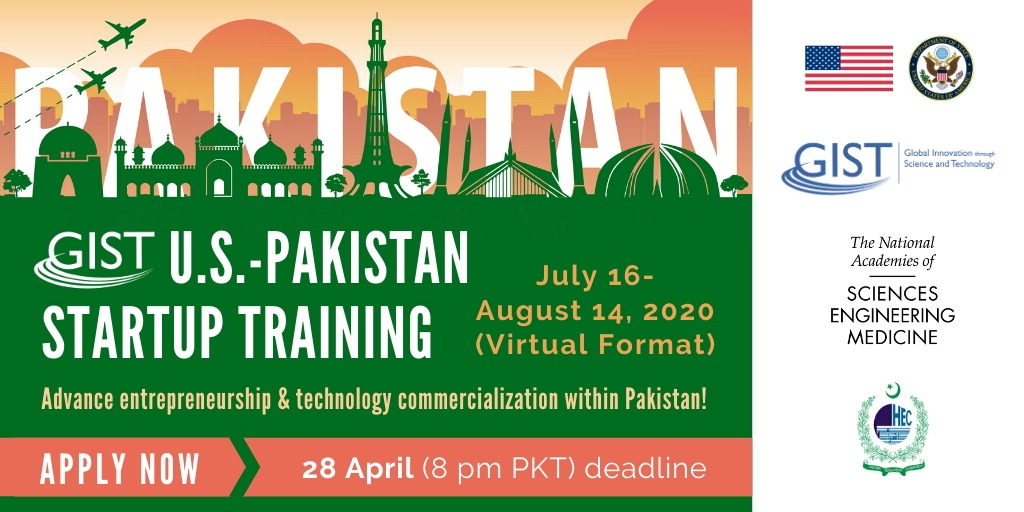 2018

Pakistan-U.S. Science & Technology Startup and Ideation Training Program, August 28-30, 2018, Dubai, UAE
A blended online/in-person training was held to provide teams of grantees from the Pakistan-U.S. Science and Technology Cooperation Program the ability to think entrepreneurially while building their skills to assess the commercialization potential of their projects.

During the training program, teams learned concepts including lean startup, customer discovery, market sizing, and finding and interviewing customers. Prior to attending the in-person workshop in Dubai, participants joined weekly interactive virtual sessions focused on commercialization and entrepreneurship. Fifteen two-person teams from Phases 4-7 were competitively selected for the training. The training was made possible with support from the RTI International Innovation Advisors, USAID, the US Department of State, Global Innovation through Science and Technology (GIST) Pakistan's Higher Education Commission, and the National Academies of Sciences, Engineering and Medicine.

2014

Workshop on Entrepreneurship for Scientists and Engineers and the STE4D International Conference, June 2 - 7, 2014, Islamabad, Pakistan.
The conference was convened to discuss ways in which Pakistan could use its strength in science, technology, and engineering to address the needs of low-income citizens while creating a favorable climate for a global, knowledge-based economy. Through speaker sessions, round-table discussions, and technology exhibitions revolving around water, energy, agriculture, and health, the conference exchanged ideas on how to implement change in low-income communities via education, research, development and innovation, and enterprise creation.

2013

First Symposium: Economic Growth through Technology Transfer, January 31 - February 1, 2013, Islamabad, Pakistan
This event was organized to introduce concepts of technology transfer. In addition it promoted new interactions between the private sector and research projects in an effort to enhance the utility of research across science and technology domains. Principal investigators were given the opportunity to present their projects and connect with leaders in industry and potential investors. The symposium was held at the National University of Science and Technology.