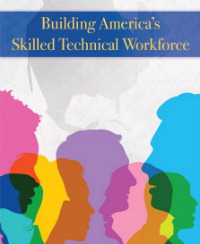 Please join Senator Jeff Bingaman, German Ambassador Peter Wittig and other experts on December 12 at the National Academies of Sciences, Engineering, and Medicine for a discussion on how we can build a stronger skilled technical workforce. This workshop will address two key issues identified in the recent National Academies report on Building America's Skilled Technical Workforce: the need to reduce barriers to worker mobility (such as licensing and certification requirements that are not related to public safety) and the need to draw in lessons from apprenticeships and other "work and learn" programs in Europe and the United States.


---
Fostering Worker Mobility and Apprenticeships
for a Skilled Technical Workforce
December 12, 2017
The Lecture Room
National Academy of Sciences
2101 Constitution Avenue, NW
Washington, DC

9:00 AM Introduction
The Hon. Jeff Bingaman, Chair, NASEM Committee on the Supply Chain for Middle-Skill Jobs


9:15 AM Panel I: Advancing the Mobility of the Skilled Technical Workforce
Moderator: Susan Sclafani, Pearson (retired)
The Economics of Workforce Mobility View Slides
Harry Holzer, Georgetown University

Movement of Skills Across Borders
Caroline Vicini, Delegation of the European Union to the United States
Easing State Barriers to Labor Market Entry View Slides
Martin Simon, National Governors Association
Standardizing Credentials View Slides
Scott Cheney, Credential Engine

10:30 AM Coffee Break


10:45 AM Panel II: Lessons from European Workforce Programs
Moderator: Mark Tomkins, German American Chamber of Commerce of the Midwest (View Slides)

Expanding "Work and Learn" Opportunities in the United States
Emily DeRocco, E3 and LIFT

Learning from the Swiss about Apprenticeships View Slides
Suzan G. LeVine, Former U.S. Ambassador to Switzerland and Liechtenstein

A Practical View of Implementing German-style Apprenticeship Programs in the U.S. View Slides
Arnd Herwig, Brose North America Inc.


11:45 AM Keynote: Opportunities and Challenges of the German Apprenticeship System
H.E. Peter Wittig, German Ambassador to the United States
12:05 PM Concluding Remarks
The Hon. Jeff Bingaman, Chair, NASEM Committee on the Supply Chain for Middle-Skill Jobs
12:15 PM Adjourn





---