PAST ACTIVITIES AND EVENTS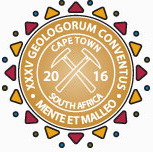 2016 International Geological Congress: Cape Town, South Africa
From August 27th to September 4th, 2016, the International Geological Congress will be held in the southern African sub-continent for the first time since 1929. Three main conference themes have already been identified for the 35th IGC: Geology in Society, Geology in the Economy, and Geology in Science. For more details, please visit the 2016 IGC website.


70 years of Geoscience at UNESCO
By Pat Leahy, member of the U.S. National Commission, for the UNESCO February 2016 Update

In recognition of the 70th anniversary of the UNESCO, a symposium entitled "70 years of Geoscience at UNESCO: Past, Present, and Future" was held as part of the Geological Society of America Annual Meeting in Baltimore, Md. in November 2015. Jack Hess and Pat Leahy, who serve on the U.S. National Commission for UNESCO, convened the session which was sponsored by the American Geosciences Institute, the Geological Society of America, and the U.S. National Committee for Geological Sciences of the U.S. National Academies.

The full symposium summary can be found on the February 2016 Commission Update webpage.

UNESCO Global Geoparks Program Approved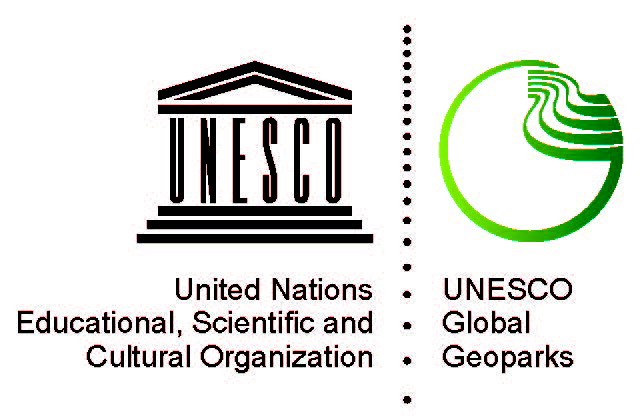 On November 17, 2015 at the 38th General Conference in Paris, UNESCO's 195 Member States ratified a formal label for the existing 120 Global Geoparks. This program has been a long time in the making, beginning in 2001 as an ad hoc effort to conserve sites and bolster geotourism. Since its inception, Global Geoparks has grown to include sites in
33 countries under subsequent regional networks. China currently holds most of the world's geoparks (33 total), while Spain holds 11.

"Geoheritage: Preserving Earth's Legacy," an article featured in the July 2015 edition of Earth Magazine, is an excellent resource for learning more about Global Geoparks. Science writer Terri Cook and University of Colorado - Boulder professor Lon Abbott examine the evolution of UNESCO's efforts to form a global community of parks, including what the future may hold for the United States. Click here to download the full article PDF.

UNESCO-Paris has also released their new Global Geoparks Booklet. You may download the vibrant, full 20-page PDF here.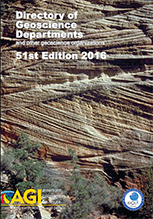 51st Edition of Geoscience Departments
The Directory of Geoscience Departments (DGD) has been published annually by AGI since 1955. This publication lists all U.S. and most Canadian, Mexican academic geoscience programs and a growing number of programs around the world. Each department listing contains faculty, faculty specialties, faculty degree information, enrollments, and degrees awarded. In addition, the DGD now has sections related to US federal agencies and geological surveys. Updates are solicited from all listed organizations between October and December of each year, and the new editions are published usually around February of each year.
This year AGI is releasing the 51st edition of the Directory. For this edition, departments were able to provide social media contacts and indicate whether they host a field camp. The field camp listings are categorized as either open enrollment to students outside the department or department only enrollment. This edition also has two different faculty indexes sorting the department faculty by their specialization and alphabetically.
Description taken from the American Geosciences Institute website.

Earth and Space Science News Article Examines IAVCEI Geoheritage Initiative
Following the 2015 IUGG General Assembly in Prague, Earth and Space Science News (EOS) has released an article detailing the IAVCEI's particular attention to volcanic landscapes. The article explores various goals of the newly-formed Commission on Volcano Geoheritage and Protected Volcanic Landscapes (VGPL), including the creation of a volcanic science "knowledge hub" and protection of designated UNESCO World Heritage sites.

2014 GSA Annual Meeting: October 19-22 in Vancouver, Canada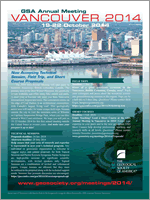 The 2014 Geological Society of America (GSA) Annual Meeting took place in Vancouver, British Columbia, Canada from October 19-22, 2014. The annual meeting included more than 250 technical sessions and symposia, plus special events. More details can be found on the 2014 GSA Annual Meeting website.





2013-2014 IUGS Report Now Available For Download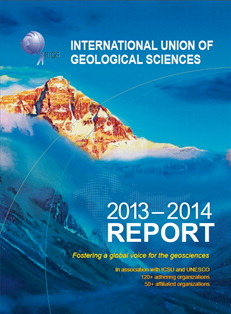 Following the 2012 redefining of IUGS goals, the Union has released a report covering the activities of 2013-2014. This report includes words from prominent IUGS officers, various highlights from the last two years, and lists of publications, affiliated organizations, collaborative projects, and important upcoming dates. The IUGS also looks to the future within the report's final pages, summarizing plans for the 2016 Congress in Cape Town, Africa, the 2018 Resources for Future Generations (RFG) conference in Vancouver, Canada, and the 2020 Congress in Delhi, India. Download the 29-page report PDF here.
SYMPOSIA AND PRESENTATIONS
February 15, 2014 AAAS Session: "Santa's Revenge: The Impacts of Arctic Warming on the Mid-Latitudes"

---
December 12, 2013 AGU Session (PDF): "Science Diplomacy in the Geosciences"

---
February 15, 2013 AAAS Session: "U.S. Climate and Weather Extremes: Past, Present, and Future"

---
December 7, 2012 AGU Town Hall (PDF): "International Geoscience"

---
February 19, 2012 AAAS Session: "Causes and Effects of Relative Sea-Level Changes in the Northeast Pacific"

---
February 17, 2012 AAAS Session: "Toward Stabilization of Net Global Carbon Dioxide Levels"

---
February 20, 2011 AAAS Session: "The Practice of Science Diplomacy in the Earth Sciences"

---
February 19, 2010 AAAS Session: "Dust in the Earth System"

---
December 17, 2009 AGU Poster Sessions: "Extreme Natural Hazards: Risk Assessment, Forecasting, and Decision Support"

---
February 16, 2009 AAAS Session: "Global Sea Level Rise: Observation, Causes, and Prediction"

---
September 25, 2008 BISO Symposium (PDF): "Global Connections among Earth Sciences, Health, and Policy"

---
February 15, 2008 AAAS Session (PDF): "Planet Earth: Lessons Ignored, Lessons Learned"