BISO Home > USNC/MI Homepage > About the China-U.S. Mathematics Workshop

ABOUT THE U.S.-CHINA MATHEMATICS WORKSHOP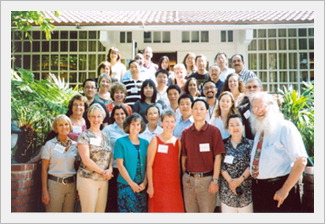 China-U.S. Math Workshop Participants (Photo Credit: Mari Muri)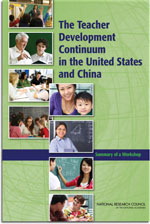 The USNC/MI organized "Teacher Development Continuum in the United States and China," a workshop on the career ladder of mathematics teachers and the structures in place to support teachers of mathematics within the Chinese and U.S. educational systems. Held at the Hyatt Regency Newport Beach in Newport Beach, California from July 31-August 2, 2009, the workshop originated from a collaborative meeting at the China Math Education Conference at the University of Pennsylvania in 2008.
Members of the USNC/MI Planning Committee were particularly interested in how the professional lives of teachers are structured to receive ongoing professional development. They were also interested in how experienced and highly qualified teachers participate in this process as providers of professional development as master teachers, mentors, or coaches. These roles are titled differently within and across the United States and China. The Planning Committee referred to these teachers in this program outline as "master teachers" even though that may not be their official title. One important focus for the Planning Committee's discussions involved comparing and contrasting the roles and status of master teachers in the two countries.

To download a free PDF of the report or to purchase the book, please visit the National Academies Press. View a complete list of event participants and read their biographies (PDF).

The 12-minute video below features the highlights of the U.S.-China workshop. The workshop brought together 40 mathematics educators, mathematicians, education researchers, and other mathematics education specialists from the United States and China.
This material is based upon work supported by the National Science Foundation under Grant Number DRL-0638656. Any opinions, findings, and conclusions or recommendations expressed in this material are those of the author(s) and do not necessarily reflect the views of the National Science Foundation.

To comment on this webpage or report an error, please send feedback to the
BISO Site Manager
.