BISO Home > USAC/ICO Homepage > USAC/ICO Activities: Revisiting Harnessing Light
USAC/ICO ACTIVITIES
Revisiting Harnessing Light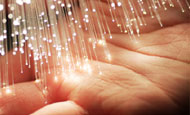 Optical science and engineering has been foundational for many of the scientific and technical advances of the past 100 years and is one of the key disciplines driving our 21st century economy. In 1998, the National Research Council with support from the Board on Physics and Astronomy and the National Materials Advisory Board issued a landmark report, Harnessing Light, Optical Science and Engineering for the 21st Century, which not only captured the importance of optics and photonics but also described the major challenges facing the field. As the first comprehensive report in the field of optics, Harnessing Light clearly demonstrated that optics is an enabling technology to many industrial, governmental, military, and health care organizations.
In the past ten years, enormous progress has been made in the development of optical technologies for fiber optic telecommunications, solid-state lighting, digital photography, displays, and diagnostic medicine. While the report has been extremely useful to both U.S. and foreign academic, industrial, and governmental organizations, the U.S. Advisory Committee for the International Commission on Optics (USAC/ICO) feels there have been sufficient changes that an updated report is needed both to address new and emerging fields of optics and to show the strong economic impact that optics has on U.S. industry and the global economy as a whole.
The USAC/ICO believes that a new report should address the role optics plays in strengthening U.S. companies.
To comment on this Web page or report an error, please send feedback to BISO Site Manager.